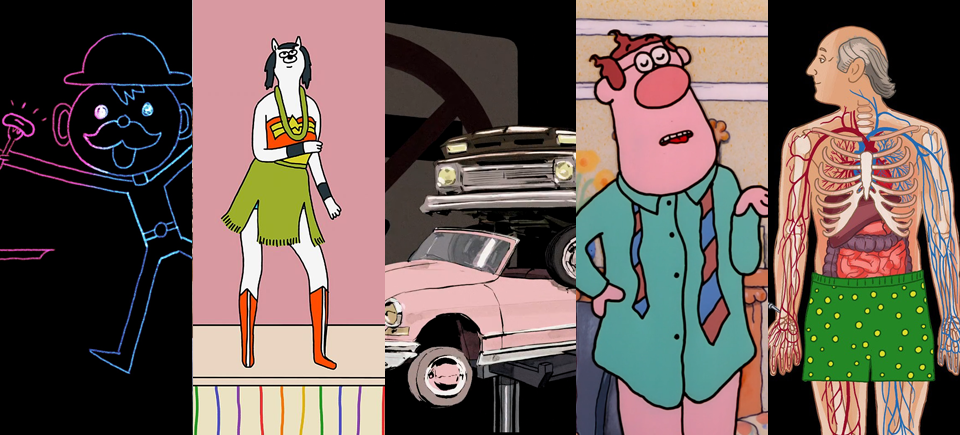 Adult Animation Vol. 2: Afternoon Delight
And…. we're back. I had so much fun compiling the first collection of Adult Animation that when I saw all these great films were already online for free, I knew it was time for a follow-up post.
Enjoy 5 more films that, while animated, are definitely not for kids.
I Like Girls
This short film from Diane Obomsawin (Obom) is a compilation of several shorter films, in which different women tell the story of their first love. For the most part, it's very sweet and tender, though like all loves stories, there are some bittersweet moments, too. It's a celebration of the discovery of one's sexuality, and it's fabulous. Rated for nudity.
I Like Girls, Diane Obomsawin, provided by the National Film Board of Canada
My Heart Attack
This tale of a "nice Jewish boy with Buddhist inclinations" is a hybrid of animation and documentary. It's an animated version of the true-life events experienced by filmmaker Sheldon Cohen when he suffered a heart attack several years ago. Using humour to talk about heart disease might sound strange, but Cohen pulls it off beautifully. No nudity in this one, but it is pretty adult subject matter.
My Heart Attack, Sheldon Cohen, provided by the National Film Board of Canada
Bob's Birthday
Shame on me for not having included this film in my first roundup of Adult Animation, but truth be told I only saw it for the first time a few months ago. Now I wonder how I could've lived so long without it. Zero surprise that it took home an Oscar, because who can't relate to this movie? I mean, granted, we don't all flaunt our stuff unknowingly in front of company, but we've all be in a cringe-worthy situation at some point of our life. Pure comedy gold. Nudity, and adult themes.
Bob's Birthday, Alison Snowden & David Fine, provided by the National Film Board of Canada
Carface
Claude Cloutier has created a masterpiece with this biting satire on Big Oil. It is so lush, so gorgeous, and so ultimately devastating. It starts off lovely, with a little nod to Ethel Merman-era aquatic numbers, only to get a little questionable, then dark, then downright eerie. And all the while, we're lulled by the strains of the sultry classic Que Sera Sera. Viewer discretion advised, due to some carnifornication.
Carface, Claude Cloutier, provided by the National Film Board of Canada
Sweet Childhood
Oh, this film. I love this film. I adore this film. It is so perfect. I have cassette tapes like this. I can totally feel her agony at the end. And I do feel for her, but oh my god, it's been a long time since I laughed like this. If you haven't seen this film, hit the play button and find out what happens when a young woman packing boxes discovers a cassette tape she made as a child. You'll never look at innercourse the same way again.
Sweet Childhood, Zviane, provided by the National Film Board of Canada
---
📺 Dive into our collection of animated films that are definitely not for kids.
📰 Read more: Adult Animation: Films To Watch After The Kids Go To Sleep.