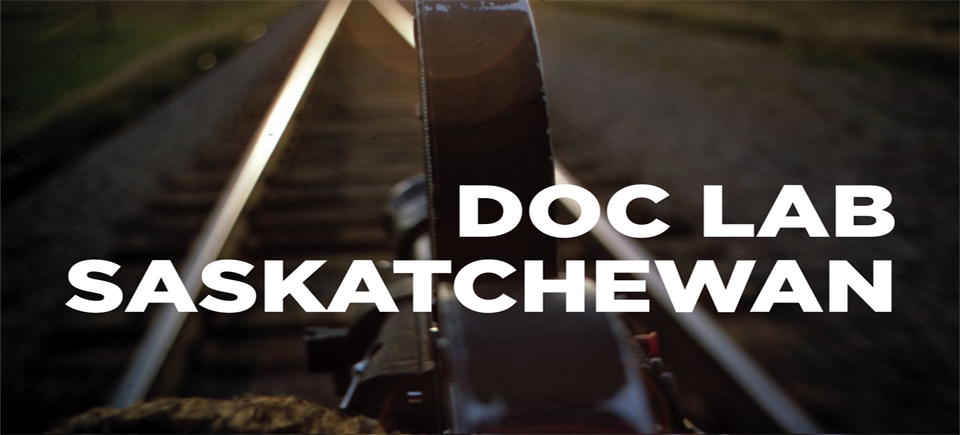 Doc Lab Saskatchewan – Call for Proposals
New deadline: Monday, July 17, at 9am CT
The NFB's North West Studio is announcing the launch of Doc Lab Saskatchewan, a 10-week intensive program for emerging documentary filmmakers, taking place from September 4 – November 17, 2017. Over the course of the program, three participants will each complete a short (5-7 min) documentary, going from concept to post-production.
During this time, participants will work with an experienced production team, led by NFB producer Jon Montes, director mentors (TBA), and professional crew. It's an incredible opportunity to develop visual storytelling skills and gain insight into what it takes to produce a documentary.
Who Can Apply?
The Doc Lab is open to Saskatchewan-based filmmakers who have completed no more than 3 productions (not including film school or training projects), or other artists/creators/storytellers who have the equivalent experience in their own field and are interested in exploring the form of documentary.
We are seeking proposals from across the province. No relocation is required, but there will be some travel.
Participants will each be paid about $10,000 through writer and director fees from the NFB.
Eligibility is limited to Canadian citizens and landed immigrants.
What Does the Lab Involve?
The doc lab is an opportunity to immerse yourself in a creative environment with two other participants and a production team. The first few weeks will be reserved for orientation and pre-production, and then we will shoot, edit (picture and sound), and do post-production.
What are the Criteria?
We're looking for stories with strong points of view; films that make us see the world differently, even if it's just for a few minutes.
Think about people or places that you find extraordinary and go from there. Pay attention to how your story will unfold (i.e.: what we'll see on screen) and stories you have access to (i.e.: within your community).
We're also looking for stories that can be told visually, without having to rely on narration, interviews, or music for context. For examples of films like this, watch At the Beach, Hell Runs on Gasoline!, Nippaq, or 19 Days.
Also:
Films are limited to 5 – 7 minutes.
There will be 2 days to shoot your film.
The story should be local – we can afford some local travel, but our budget is very limited.
How Do I Apply?
Submit a short proposal (1 – 2 pages) that:
Describes the story you're looking to tell. What will we see unfold? Push yourself when it comes to visual storytelling – we're looking for creative and original ideas.
Include a short bio.
Include links to some of your most recent work.
Deadline to apply is Monday, July 17, 2017 at 9am CT. Send all materials to Jon Montes at j.montes@nfb.ca. Email attachments only, PDF preferred.
The Selection Process
A jury made up of members from the NFB's North West Studio, along with other industry professionals, will review and make decisions on all proposals.
The proposals will be evaluated based on their creative concept and production potential, i.e.: can this be done within the scope of this project?
We are committed to a diversity of stories and perspectives and are seeking participants from across the province.
Remember!
There is a serious time commitment involved here. This will essentially be your full-time job for 10 weeks.
Even if you're not a filmmaker, you can still apply. We welcome proposals from creators of all kinds in all media who are interested in exploring documentary. But keep in mind – the learning curve will be steep!
Take the time to explain why your story is important, who's in it, and who they are. Show us how why your film will resonate with audiences.
All costs related to the production of the film will be assumed by the NFB. As producer, the NFB retains all rights around distribution and copyright.
Need More?
To see the full call for proposals, click here.
If you require any more information, please contact Jon Montes at j.montes@nfb.ca.
Doc Lab Saskatchewan is produced through the National Film Board of Canada's North West Studio, in partnership with Creative Saskatchewan, Saskatchewan Filmpool Cooperative, and Paved Arts.