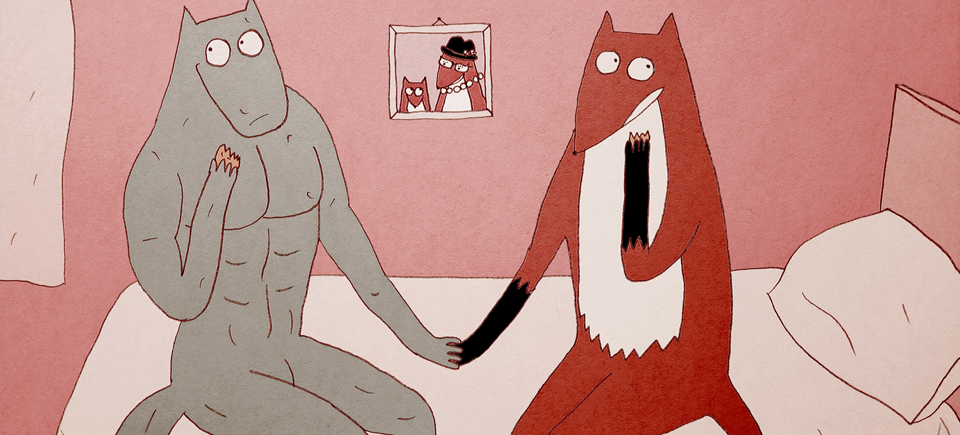 Meet Manivald, a Wannabe Troubadour with Mommy Issues
Our latest animated short, Manivald, is now available online. Discover more about Manivald, a wannabe troubadour with mommy issues, below!
Manivald, a fox, is turning 33. Overeducated, unemployed and generally uninspired, he lives with his overbearing, retired mother and spends his days learning piano while she makes his coffee and washes his socks.
Manivald, Chintis Lundgren, provided by the National Film Board of Canada
Their unhealthy co-dependence is about to collapse when the washing machine breaks down and in comes Toomas, a sexy and adventurous wolf repairman, to fix it, and them.
Tinged with typically absurdist Estonian humour, and featuring animator Chintis Lundgren's faulty but loveable anthropomorphic characters, Manivald mixes the surreal and the heartfelt in its timely tale of an emotionally unnourished generation that continue to live with their parents well into their adult lives. The film pokes fun at the loving but sometimes unhealthy ties that bind parents and children, while celebrating the liberties of independence, self-discovery and growth.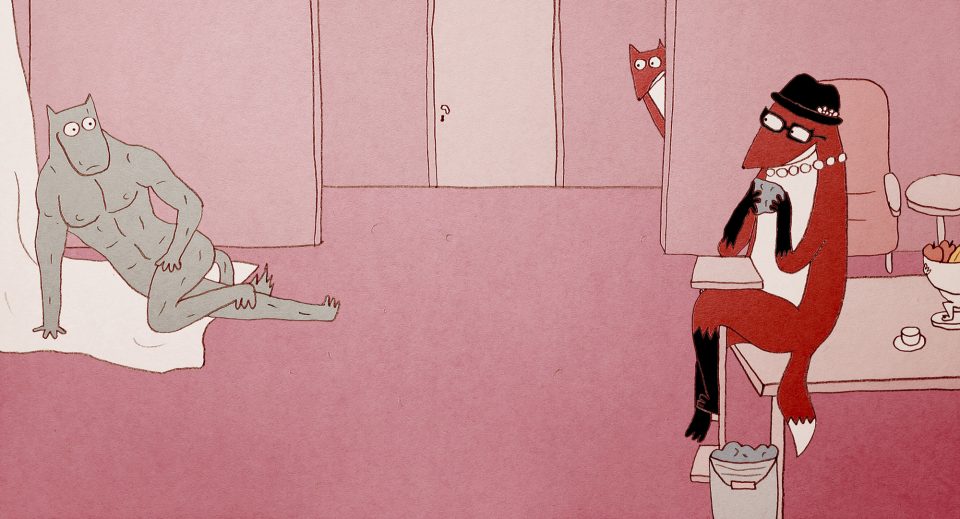 A co-production between the National Film Board of Canada, Adriatic Animation, and Chintis Lundgreni Animatsioonistuudio, Manivald is Lundgren's sly, quirky and refreshing take on the difficult and delicate bonds between a mother and son.
Manivald, Chintis Lundgren, provided by the National Film Board of Canada
Interview with Chintis Lundgren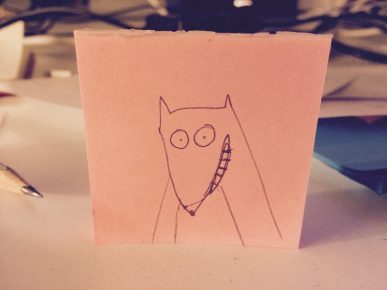 NFB: Your work tackles contemporary adult issues, yet you use animals as protagonists. Why? What inspired you to use animal characters? What do you feel it adds to your work?
Chintis Lundgren: They're simple to draw and I'm lazy. But also they're easier to relate to than human characters, and that gives you a chance to laugh at yourself. Anyone can recognize themselves in a fox or in a rabbit, but if it was a bald man with a moustache, the character would only be relatable to other bald, moustached men.
NFB: Manivald deals with what seems to be a very contemporary issue: educated young adults living at home with their parents. What do you think has created this situation, and why did you feel this was a subject that needed to be explored?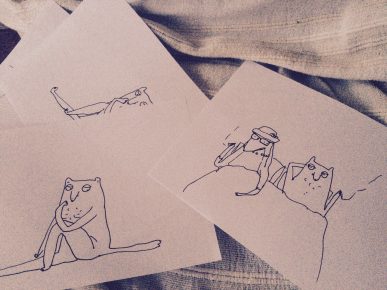 CL: I don't think anyone really wants to grow up: I certainly don't. Being independent is nice, but having to work nine hours a day is so boring. I was 25 when I got my first job, and I really didn't want to, but my mother went bankrupt and moved to another country. I also tried to live without money, so I ate mouldy bread and drank cheap vodka for six months, but in the end it started to affect my health, and I decided to get a job.
I and my co-writer, Draško Ivezić, decided to explore this topic because we know quite a few adults who still live at home, and we wanted to make something these friends of ours (or their parents) could hopefully laugh about. Hopefully it will scare them into moving out.
NFB: A unique aspect of the Manivald story is the straightforward way in which sexuality is explored. Was it important to you to avoid making a big deal out of sexuality?
CL: Yes, it was important. Making a big deal out of Manivald being gay (or his mother being sexually liberal) would mean presenting it as if it's something that's not really normal, and I think being gay (or sexually liberal) is totally normal, so why not treat it as such?
The Style
NFB: Most of your films are very distinct, visually. Aside from that rough and minimal design that people often associate with Estonian animation, all of your films are dominated by strong shades of red and brown (along with some white and black). There's almost an earthy feel. What is the appeal of these colours?
CL: Experiencing a perfectly balanced monochrome picture gives me a strange sense of satisfaction. I can't explain why, but having too many different colours in one frame disturbs me. At the moment, I really like the combination of different shades of reds and pinks; I'm not sure why, I just like it. I probably also spend way too much time on this.
The Absinthe Rabbits universe
Chintis and co-writer Draško Ivezić are currently developing a series called Manivald and the Absinthe Rabbits, named after the travelling group of drunken musicians that show up in Manivald.
It focuses on Manivald's life after Manivald, and involves more hilarious and quirky animals like a cross-dressing hedgehog named Tiit who runs a clandestine gay bar called The Hedgehog's Closet, and his wife, a conservative but oblivious, bear named Brunhilda (who, according to Chintis, hasn't noticed that it's a gay bar or that her husband is a cross-dresser). Brunhilda has some secrets of her own, since she's having a secret affair with a local policeman, Herman, a grumpy rat from Chintis' previous short film, Life with Herman H. Rott, which you can watch below.
Follow Manivald and the Absinthe Rabbits on Facebook
About the Director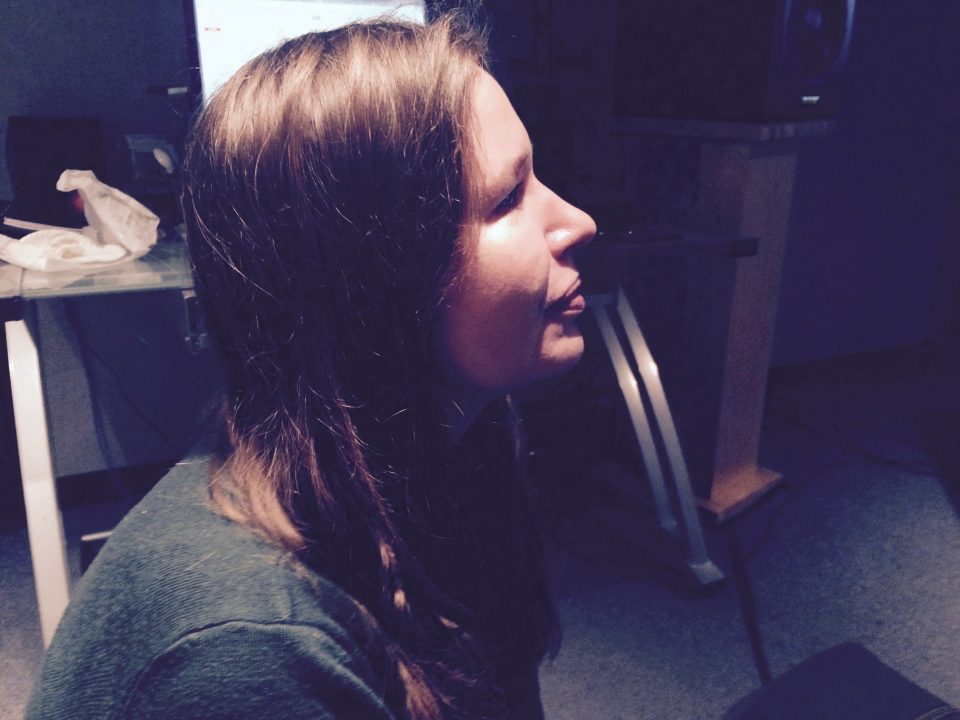 Chintis Lundgren is an Estonian-born animator currently living in Croatia. She studied fine arts at an alternative art school in Estonia called Academia Non Grata before pursuing a career as a painter. Lundgren later taught herself animation and quickly gained attention in the animation world for her quirky music videos, PSAs, and short films featuring a light, absurdist tone and distinctive anthropomorphic characters. In 2011, Lundgren created her own animation studio, Chintis Lundgreni Animatsioonistuudio, and later co-founded Adriatic Animation, an animation studio based in Croatia.