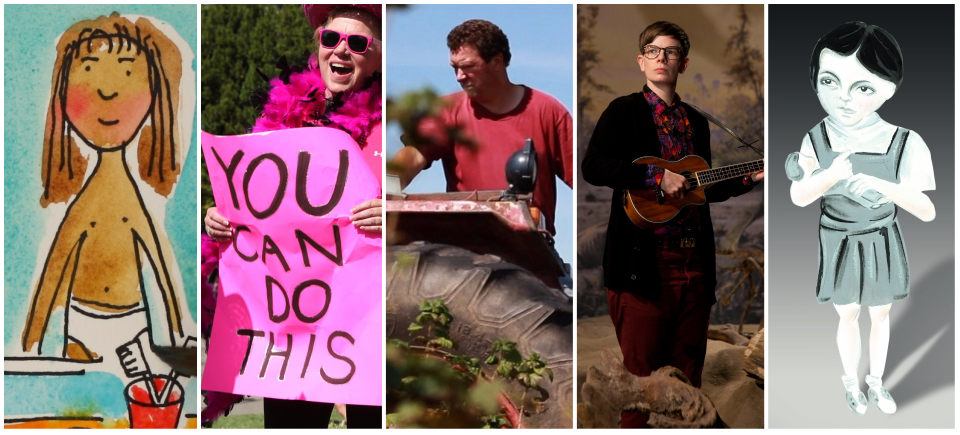 10 Study Guides Every High School Teacher Can Rely On
Whatever theme your students are exploring in class, you can help them understand its relevance in real life—and in the context of their own lives—through a combination of film screenings and interactive learning activities. We've worked with educators from across the country to create study guides that will get your students talking and thinking critically about NFB films and the topics they explore. The activities give students a rich, dynamic and personalized learning experience. Check out our collection at NFB.ca/education; we have hundreds of films and activities geared towards secondary school students. Here are some thought-provoking titles, on a range of themes, to get you started.
Self image and support systems
Flawed, Andrea Dorfman, provided by the National Film Board of Canada
Adolescence can be a tough time, and many youth question whether they fit in. The charming animated short Flawed, by Andrea Dorfman, encourages youth to embrace their flaws and not to measure their self-worth by how closely they live up to so-called ideals of beauty. Through the accompanying study guide, you can take Grade 7–12 students through a variety of activities, from class discussions to writing personal stories to creating audio diaries. By exploring healthy lifestyles, the importance of building positive relationships, and the way that media can warp our beliefs, they can apply their learning in positive ways to real life.
To go deeper into personal identity, family and community issues, try the study guide for Invisible City, a look at inner city youth and the barriers faced by race, poverty and social pressures.
Deconstructing cause marketing
Pink Ribbons Inc., Léa Pool, provided by the National Film Board of Canada
Léa Pool's controversial feature doc Pink Ribbons, Inc. challenges us to rethink the glamorization and commercialization of breast cancer as a cause. Secondary students of all levels can use this film as a learning tool in diverse disciplines, including Psychology, Global Issues, and Media Literacy. The study guide is full of inspired ideas: students can create their own advertising campaign, start a petition or create a parody video, among other hands-on activities.
To extend students' learning around Women's Issues, also consider the study guide for The Boxing Girls of Kabul, which follows a group of young Afghan women who embark on a political journey through their pursuit of Olympic dreams.
Big agriculture's dirty little secrets
Island Green, Millefiore Clarkes, provided by the National Film Board of Canada
Prince Edward Island is known for its gentle rural landscapes and the potatoes grown in its iconic red soils. Less known is the fact that it has become the Canadian capital of cancer and respiratory disease. In Island Green, the poet Tanya Davis asks viewers to examine the possible connection between the rise of chemical-heavy industrialized farming and fatal diseases in this province. High school teachers can work from the study guide to have students discuss the intentions of the filmmaker, examine her filmmaking techniques and strategies, and respond to the issues raised in the film through poetry.
For a deeper dive into the environmental consequences of human advancement, also look at the study guide for Surviving Progress, a documentary that questions the reality of progress following the financial collapse of Wall Street and growing global inequity
Gender identity, family and acceptance
My Prairie Home, Chelsea McMullan, provided by the National Film Board of Canada
The film My Prairie Home follows transgender musician Rae Spoon on tour, taking a poignant look at their childhood growing up in an ultra-religious family and their journey to self-acceptance. Educators can draw on activities from the study guide, such as discussions around "safe spaces," myth busting about gender identity, and creating a manifesto about gender and inclusion. The film and guide are excellent learning resources for subject areas such as Human Rights, Family Studies and Media Education, for students aged 13 and up.
To examine music from another angle, try the RiP! A Remix Manifesto study guide, which explores copyright and content creation in the digital age.
Inherited trauma
I Was a Child of Holocaust Survivors, Ann Marie Fleming, provided by the National Film Board of Canada
Ann Marie Fleming's powerful animated short I Was a Child of Holocaust Survivors tells a personal story of growing up with inherited survivor's guilt, as the child of Jewish parents who were traumatized by living through the Holocaust. The study guide will help teachers of high school classes such as World History, Judaism, and English Language Arts to deepen their knowledge. Activities include having students identify the primary messages of the film, learn about Yiddish words that have entered the English language, and interview the child of a Holocaust survivor in their own community.
To further explore the traumatic effects of war, discrimination and persecution, check out the study guide for the animated short film No Fish Where to Go.
This post was written by Valerie Howes, Senior Editor, Special Needs, at Today's Parent. She was nominated for a National Magazine Award and won Gold at the Canadian Online Publishing Awards and Canadian Society of Magazine Editors Awards in her previous role as the food editor for Reader's Digest. Valerie's first book, Lure: Sustainable Seafood Recipes from the West Coast, co-authored with Ocean Wise Chef Ambassador Ned Bell, was published in 2017.