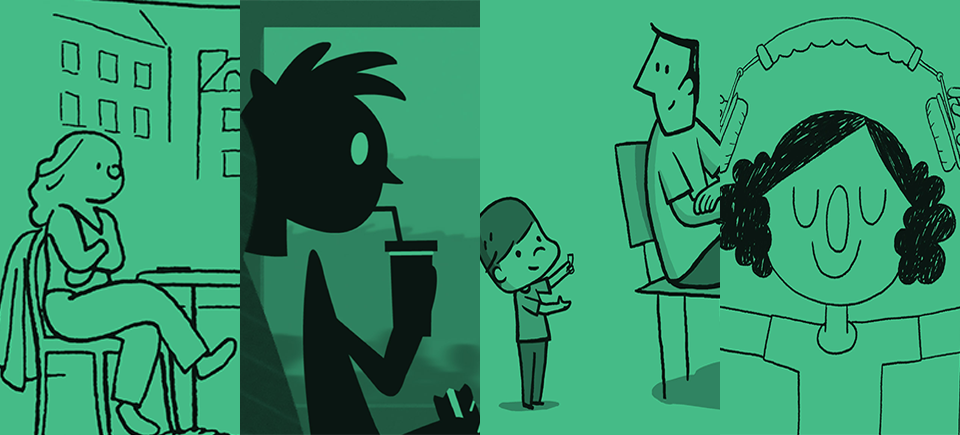 Watch 4 Animated Slices of Life
We recently released the Comic Strip Chronicles on NFB.ca. It's a series of 4 short films (around 3 minutes each) that present an animated slice of everyday life. Each film was created by a different artist, and the project was produced by Canal+, Sacrebleu, and the NFB.
I love these films. Each one is a gem, capturing the ordinary and making it something more. They're funny, concise, and simple yet profound. The films were released on Facebook a few months ago, and they're finally on NFB.ca. Take 15 minutes out of your day and watch them. Enjoy.
The Tooth
Losing a tooth is a rite of passage during childhood. What child doesn't dream about their first visit from the tooth fairy? But what happens when the tooth fairy fails to show up? I know many parents are familiar with this scenario, including myself. This is a great little film that resonates.
The Tooth, Guy Delisle, provided by the National Film Board of Canada
Sweet Childhood
This film is pee-in-your-pants funny. Everyone will recognize at least a part of themselves in this, and it's a great little trip back to childhood… At the expense of someone else's most embarrassing moment. The short was created by Zviane, and is based on an actual recording, which just makes it funnier.
Sweet Childhood, Zviane, provided by the National Film Board of Canada
Free Love
This seemingly run-of-the-mill meeting between two longtime friends in Paris results in a poignant film that explores the complexity of female relationships and romantic relationships alike. Created by French cartoonist Aude Picault, the film is touching in its simplicity, always emphasizing the contrast between what's spoken, and what's really being said.
Free Love, Aude Picault, provided by the National Film Board of Canada
Panoramic Chronicles
Ever ride public transportation and just watch people? Look at your fellow commuters and wonder who they are and where they're going? This is the film for you. Get inside the heads of all the passengers sharing a train car and see what's really going on. This short is funny, smart, and hand-to-god, I am the woman with the sandwich. Except I've learned to turn it upside when I eat it. Hurts less.
Panoramic Chronicle, Lewis Trondheim & Jean-Matthieu Tanguy, provided by the National Film Board of Canada