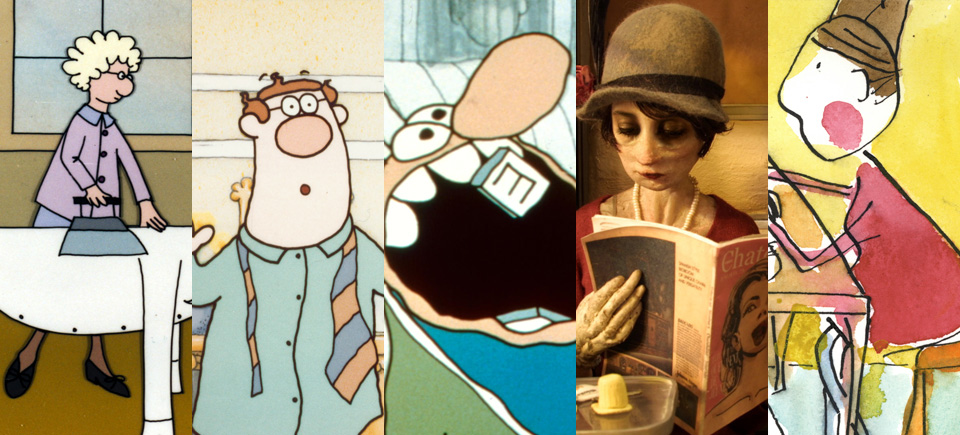 The Award for Best Animated Short Goes To…
Let's face it. This is an impossible category. I will remind again – these awards are completely subjective. They've been screened, selected, and voted on by me. That's it. I say this because I know you're all going to be outraged that some film or other was left out of this category. I mean, there are favourites like The Cat Came Back, The Sweater, The Danish Poet, Strange Invaders, When the Day Breaks, and so many more. But that's okay, because after you've voted for your favourite of these 5, you can leave your own Top 5 in the comments below.
We've been so lucky to work with animators from all over the world. And we've been home to legends like Norman McLaren and Evelyn Lambart. Through the, we've seen it all. I've tried to put together a well-rounded category, with some funny, some sad, some inspirational, and some just downright eerie films.
The Big Snit
This film is completely bonkers. It's long been one of my favourites, as its humour is right up my alley. Richard Condie is a master, and the way he ties domestic discord to outright nuclear war is genius. It's an NFB classic.
The Big Snit, Richard Condie, provided by the National Film Board of Canada
Bob's Birthday
This is a brilliant film, which I'm ashamed to say, I saw for the first time only recently. It's true – you can tell because I didn't include it in my Adult Animation post. I howled through this short; it's funny, touching, cringe-inducing, and sad – all at the same time. It's a must-see.
Bob's Birthday, Alison Snowden & David Fine, provided by the National Film Board of Canada
My Grandmother Ironed the King's Shirts
I know it was The Danish Poet that brought home the Oscar, and I do love that film, but there's something about the charm and humour in this film that simply delights me. It's such a tall tale, filled with flights of fancy and amazing detail. Torill Kove is awe-inspiring. All of her films have such a simple, straightforward style that lets the characters and stories shine. I'm a huge fan of her work.
My Grandmother Ironed the King's Shirts, Torill Kove, provided by the National Film Board of Canada
Madame Tutli-Putli
This is another film that I only saw for the first time this past year. It blew me away. The animation is out of this world, and it's completely mesmerizing to watch. Although I have to admit, some of it was difficult for me and I had to look away. It's about one woman on the night train, taking an existential journey. But what a character, what exquisite animation. This is the kind of film that haunts you. But in a good way.
Madame Tutli-Putli , Chris Lavis & Maciek Szczerbowski, provided by the National Film Board of Canada
Flawed
I fell in love with this film the first time I saw it, right from the first frame. I think it's an absolute masterpiece. I love the storyboard device as a storytelling style, with the quick drawings and splashes of colour. I love the story itself, and the message it holds for young girls… and women in general. And people. It's about one woman who learns that it's not so much about whether she can get along with her boyfriend than it is about whether she can accept herself. This is a film that deserves to be seen.