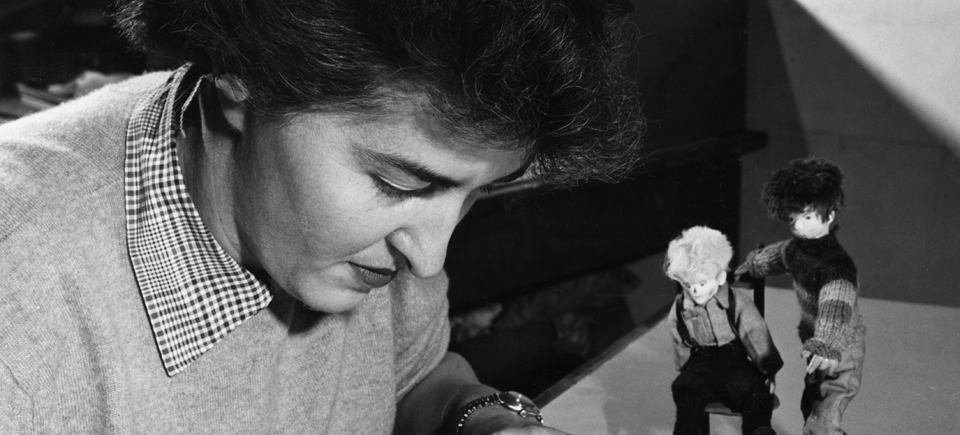 The Masters Series: Evelyn Lambart
Evelyn Lambart is known as the First Lady of Animation, and was in fact the first female animator to work at the NFB. She joined in 1942, and naturally worked on films for the war effort. She then spent a significant amount of time working by Norman McLaren's side, animating several of his most famous films with him. Then finally, she struck out on her own.
Lambart was a pioneer in her time, and helped pave the way for generations of women animators who followed in her footsteps.
Begone Dull Care
In one of her earlier collaborations with McLaren, the duo experimented with painting directly onto the filmstrip. They played with colours, shapes, lines, and movements, and then set the entire thing to soothing sounds of the Oscar Peterson Trio.
Begone Dull Care , Norman McLaren & Evelyn Lambart, provided by the National Film Board of Canada
Lines Horizontal
Ever the experimental pair, Lambert and McLaren are at it once again. This time, they're making lines directly onto the film strips, and setting them against different-coloured backgrounds, which change with the music. Folk music replaces jazz as Pete Seeger plays wind and string instruments.
Fine Feathers
This animated short marked Evelyn Lambart's first solo film after striking out on her own. She uses cut-outs as her animation technique to tell the tale of two birds fighting to change their plumage. It's a morality tale about the consequences of vanity, and marked a strong debut for Lambart.
Fine Feathers, Evelyn Lambart, provided by the National Film Board of Canada
Mr. Frog Went A-Courting
This film is a perennial favourite amongst NFB fans and employees alike. It's a vibrant film, and the music and animation are fantastic, but first you have to get past the inter-species relationship and the rather grim conclusion. It seems almost subversive for its time.
Mr. Frog Went A-Courting, Evelyn Lambart, provided by the National Film Board of Canada
The Town Mouse and the Country Mouse
Almost 40 years after joining the Board, Evelyn Lambart proves she's still got it with this charming take on one of Aesop's classic fables. Using what has become known as her signature style, she crafts the tale of the two mice with completely different lifestyles. And I just have to say – I love how she uses human hands in these films.
The Town Mouse and the Country Mouse, Evelyn Lambart, provided by the National Film Board of Canada