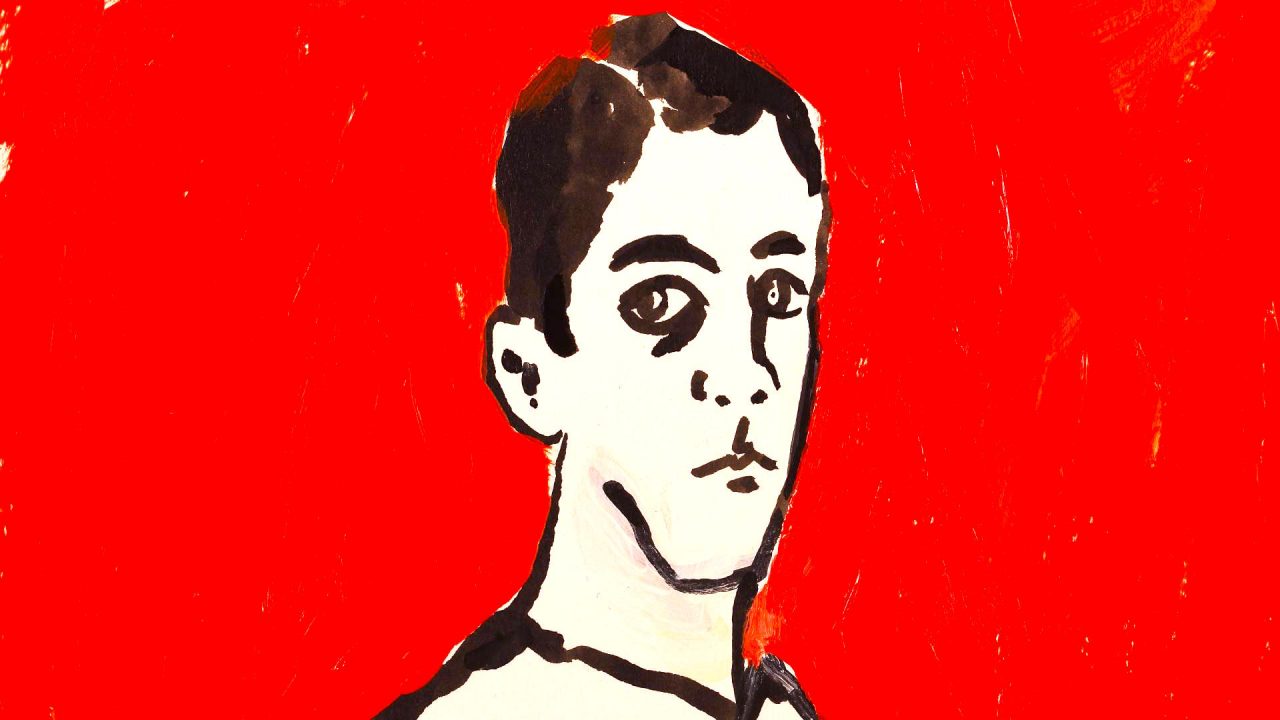 Animation sans frontières: Annecy and the NFB
The year was 1960. The place: Annecy, a historic town in the French Alps, where a group of local cinephiles were mounting the first competitive edition of the Annecy International Animated Film Festival. Among the titles in the inaugural program was a wildly inventive short by NFB legend Norman McLaren.
It was called Short and Suite — five minutes of astonishing abstract animation set to an original jazz score by Eldon Rathburn in which McLaren and his collaborator Evelyn Lambart etched and painted directly onto film stock. It caused a sensation. The influential critic Louis Macorelles, writing in Cahiers du cinema, called it "the masterpiece of the festival," drawing parallels to Mozart, Brecht, and Joyce. With McLaren, he proclaimed, "We've reached the extreme limit of cinema."
Fired up by the creative possibilities of their art and inspired by post-war internationalism, attending filmmakers seized the opportunity to forge new cross-border relationships, creating the first incarnation of ASIFA, an international animated film association that would play a vital networking role in the pre-internet years, promoting "peace and mutual understanding through the unified interest in the art of animation." And when it came time for ASIFA to chose its first president, members elected none other than the NFB's own great internationalist, Norman McLaren.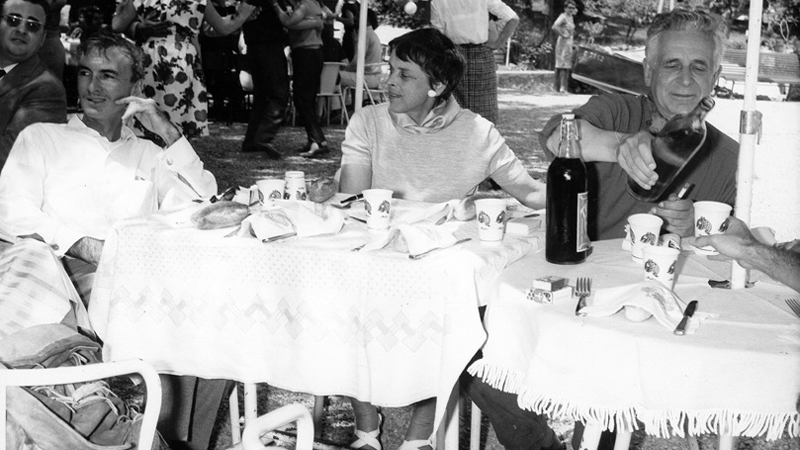 "Mecca for animation"
In the ensuing decades Annecy has developed into what Variety has called a "Mecca for animation" — and the NFB has been present at every step along the way, prominent not only in the program and at the market, but also as host to numerous parallel events. Over the years the NFB has initiated events like The Unknown McLaren, a 1995 program curated by Don McWilliams showcasing unfinished projects from McLaren's oeuvre, and a well-attended SANDDE showcase in 2005 where director and animator Munro demonstrated the NFB's groundbreaking work in stereoscopic 3D animation.
In the 58 years since that celebrated screening of Short and Suite, Canada's public producer has sent over 300 titles to Annecy, representing the work of filmmakers from a wide range of backgrounds, winning over 50 major awards. This year the NFB heads to the festival with no fewer than seven projects, including two international co-productions, a playful foray into animated VR, and an ambitious animated feature doc on the Israeli/West Bank security barrier.
The 2018 line-up features five shorts — Animal Behaviour, directed by Oscar-winning duo Alison Snowdon and David Fine; Le Sujet, directed by Patrick Bouchard; Un printemps (Winds of Spring), directed by Keyu Chen; Étreintes (Embrace), a France/Canada co-production directed by Justine Vuylsteker; I'm OK, a UK/Canada co-production directed by Elizabeth Hobbs — along with Paloma Dawkin's VR project Museum of Symmetry, and Cam Christiansen's feature-length WALL.
Animal Behaviour: Animation with bite
Dr Clement, a soft-spoken hound in horn-rim glasses, is conducting group therapy with his assorted animal patients when the office door flies open. Enter Victor — a gorilla with anger management issues.
With Animal Behaviour, the Oscar-winning team of David Fine and Alison Snowden return to Annecy with another sharply etched comic spoof of contemporary life.
It was here, back in 1985, that Snowden won Best First Film Award with her student film Second Class Mail, made with Fine's assistance. Annecy would set the tone for their extraordinarily successful partnership. Together they've created international hits like George and Rosemary, nominated for an Oscar in 1987; Bob's Birthday, which took home the prize in 1995; and the animated TV series Bob and Margaret, which enjoyed critical acclaim and top ratings in both North America and the UK.
"David and Alison are leading lights in auteur animation," says NFB producer Michael Fukushima. "Their work is always surprising, sophisticated and wickedly funny, and it's a honour to be bringing their latest film to Annecy." Animal Behaviour is produced by Michael Fukushima for the NFB.
Le sujet: Anatomy of an artist
What's going on in the mysterious recesses of Patrick Bouchard's creative psyche? Dare to glance and there's no looking away. Combining a mastery of stop-motion animation with a wonderfully warped sense of art direction, Bouchard has left an indelible mark with unsettling and beautifully crafted shorts like Les Ramoneurs cérébraux/The Brainwashers, which won a Jutra for Best Animation in 2003, and Bydlo, which nabbed the 2013 Best Animated Film Award at the Clermont-Ferrand Short Film Festival.
His latest opus, Le sujet, is a dark yet strangely moving auto-examination in which he dissects a life-size plasteline model of his own body and employs hyper-magnified images of his own blood and saliva. "It's often said that filmmakers only ever really make one film," says Bouchard. "The body, its role as a receptacle of everything we are, the way our entire lives are in us, embedded in our memories and the unconscious but also in our conditioning, our scars, all our old wounds — these are the questions that fire me up."
Le sujet arrives in Annecy fresh from its world premiere at Cannes, where it was the only Canadian film featured in the 2018 program, and will be showcased at Brazil's Anima Mundi Festival later this year. It was produced by the NFB by Julie Roy.
Un printemps: Assured NFB debut by Keyu Chen
Inspired by Chinese ink painting and rendered in a delicate greens and greys, Un printemps (Winds of Spring) is Keyu Chen's elegant reflection on a child's bond to her grandmother, a young woman's hunger for independence, and the great wheel of time.
"The film is a dreamlike mix of my memories," says the Chinese-born Montreal-based Chen. "Some, like my grandparents' house, are from my origins, and some, like the scenes of nature, are from my life here." Chen began her animation studies in Beijing before moving to Quebec, where she studied interactive media at UQAT in Rouyn-Noranda and completed a masters in visual arts at Laval University, going on to win the NFB Cinéaste recherché(e) competition.
Un printemps (Winds of Spring) is her first auteur outing with the NFB. "It's a wonderful school," says Chen. "I started at the NFB as an intern working on someone else's project. Today I'm making my own film." Produced by Marc Bertrand, and executive produced by Julie Roy, Un printemps (Winds of Spring) appears in Annecy's Perspectives program, which showcases work by emerging filmmakers.
Étreintes (Embraced): Pinscreen work from Justine Vuylsteker
The art of pinscreen animation has a long history at the NFB, and with Étreintes (Embraced) Justine Vuylsteker revisits the technique, working on the very last pinscreen built by its inventors, the Russian-born artist Alexandre Alexeieff and his American collaborator Claire Parker.
Alexeieff and Parker constructed the first pinscreen in their Paris studio in the 1930s. An ingeniously crafted board perforated with tens of thousands of retractable pins, the technology took animation in new directions, away from traditional cartoon aesthetics, and Norman McLaren was immediately intrigued. Newly established as the head of NFB animation and always alert for new trends, he commissioned Alexeieff and Parker to use their pinscreen on En passant (1944), one in a series of NFB shorts set to traditional folk songs, and decades later, in 1972, he finally convinced them to build a model at the NFB.
NFB animators Jacques Drouin and Michèle Lemieux used the device to create extraordinary chiaroscuro effects in films like Mindscape (1976) and Here and the Great Elsewhere (2012), and when France's Centre national du cinema et de l'image (CNC) recently needed help to restore the 'Épinette,' the last Alexeieff/Parker-built model, they turned to the NFB, and to Drouin and Lemieux in particular, for guidance. Lemieux subsequently conducted a master class on the technique at the centre – and among the participating filmmakers was Justine Vuylsteker.
Vuylsteker had been interested in pinscreen animation ever since film school, where she'd seen Alexeieff and Parker's influential early work, but the Lemieux master class clinched it. "It became obvious — I wanted to make a film with this material," she says. Working with the retooled 'Épinette', she has conjured up the vast inner life of a solitary woman at her window, contemplating a shifting landscape of windswept woodland and turbulent skies.
Étreintes (Embraced) began production in France and was completed at the NFB. A France/Canada coproduction, it is co-produced by the Paris-based Offshore Productions (Rafael Andrea Soatto, Fabrice Préel-Cléach and Emmanuelle Latourrette, producers) and the NFB (Julie Roy, producer). The production benefited from residencies at CICLIC Animation in France and Montreal's Cinémathèque québecoise.
Elizabeth Hobbs channels Oskar Kokoschka
With I'm OK, British visual artist Elizabeth Hobbs makes inventive use of simple ink and paint to evoke the tempestuous youth and feverish artwork of Austrian painter Oskar Kokoschka. Situating her story in WWI Vienna, where Kokoschka is recovering from wartime injuries while embroiled in a doomed affair with the charismatic Alma Mahler, Hobbs employs handcrafted aesthetics and excerpts from operatic scores by Gluck to craft a vivid account of sex, love, heartbreak and loss.
"I used elements of his work or writing as a starting point for each shot or scene," says Hobbs who enjoys the challenge of working with old school art materials. "I'm always looking for playful new ways to make animation with limited means."
Active in animation since 1999, the London-based Hobbs has made similar projects on other historic personalities, prominent figures like Bonaparte and the more obscure but equally fascinating Imperial Provisor Frombald. A part-time lecturer at Anglia Ruskin University, she came to animation from a background in printmaking and art publications and collaborates regularly with the Creative Research Collective, a team of artists and researchers working with constituencies whose voices are overlooked in mainstream public debate.
I'm OK is co-produced by Elizabeth Hobbs, the UK-based Animate Projects (Abigail Addison, producer; Gary Thomas, executive producer), and the NFB (Jelena Popović, producer; Michael Fukushima, executive producer).
WALL casts Israel/Palestine conflict in new light
Israeli officials refer to it the 'security barrier.' Palestinians routinely call it 'the apartheid wall.'
With WALL, a 80-minute animation appearing in this year's feature film competition, Calgary-based animator Cam Christiansen and British playwright David Hare offer a fresh perspective on a structure that's come to epitomize one of the world's most intractable conflicts.
In approaching an all too familiar issue in a novel way, animation creates space for new perspectives on the Mideast conflict. "The issues around the Middle East, Israel and Palestine are complex and polarizing," says producer Bonnie Thompson. "We thought making an animated film was a way to better understand this wall."
The project was conceived by David Christensen, executive producer of the NFB Northwest Studio, who happened upon a podcast of David Hare's dramatic monologue of the same name while commuting between Calgary and Edmonton. "It's not for nothing that David Hare is called British drama's leading foreign correspondent," says Christensen. "He completely reframes the issue, and I immediately thought, this could make really interesting animation."
Adopting a handcrafted look and incorporating material shot on location, Cam Christiansen uses advanced animation tools and 3D motion-capture footage to document Hare's enquiries on both sides of the wall. Featured is insight from Israeli novelist David Grossman, Professor Sari Nusseibeh of Al-Quds University, Ramallah-based attorney Raja Shehadeh and many others.
Written by David Hare, WALL was produced at the NFB (David Christensen and Bonnie Thompson, producers; David Christensen, executive producer). WALL will screen later this year at Brazil's Anima Mundi Festival.
Museum of Symmetry: Paloma Throws a VR party 
"There are no rules here. Just enjoy."
Part invitation, part dare, our hostess welcomes us into Paloma Dawkins's pleasure dome, a delightfully disorienting VR playground inspired by geometry and nature — and wired with infectious dance beats.
"I love clubs and celebratory environments where people come together to dance and have fun," says Dawkins in this 2016 interview. "I want to bring that culture into my creation process."
Appearing in the VR@Annecy program, Museum of Symmetry incorporates Dawkin's own hand-drawn 2D animation into a VR environment. It represents the NFB Animation Studio's first foray into interactive VR, following its success with Minotaur, a 360° VR project that was showcased in Annecy in 2016. Museum had its world premiere at A MAZE, Berlin's International Games and Playful Media Festival.
An alumna of NFB Hothouse mentorship program, Dawkins shares the writing credit withAshley Obscura. Original music is by Caila Thompson-Hannant and game development is by Montreal's Casa Rara Studio. Museum Of Symmetry was produced by the NFB (Maral Mohammadian, producer; Michael Fukushima, executive producer).
Short and Suite: a collaborative effort
Short and Suite, Norman McLaren, provided by the National Film Board of Canada
Short and Suite, which retains all of its stylish effervescence almost six decades after its Annecy debut, was one of many films that McLaren made in close collaboration with Evelyn Lambart, an animator whose own remarkable achievements have tended to be overshadowed by McLaren's towering presence. In 2017 Don McWilliams, whose previous credits include Creative Process: Norman McLaren, teamed up with talented graphic designer Mélanie Bouchard to make Eleven Moving Moments with Evelyn Lambart, an artfully crafted feature-length tribute to a filmmaker now recognized as Canada's first woman animator. Below: Lambart at work.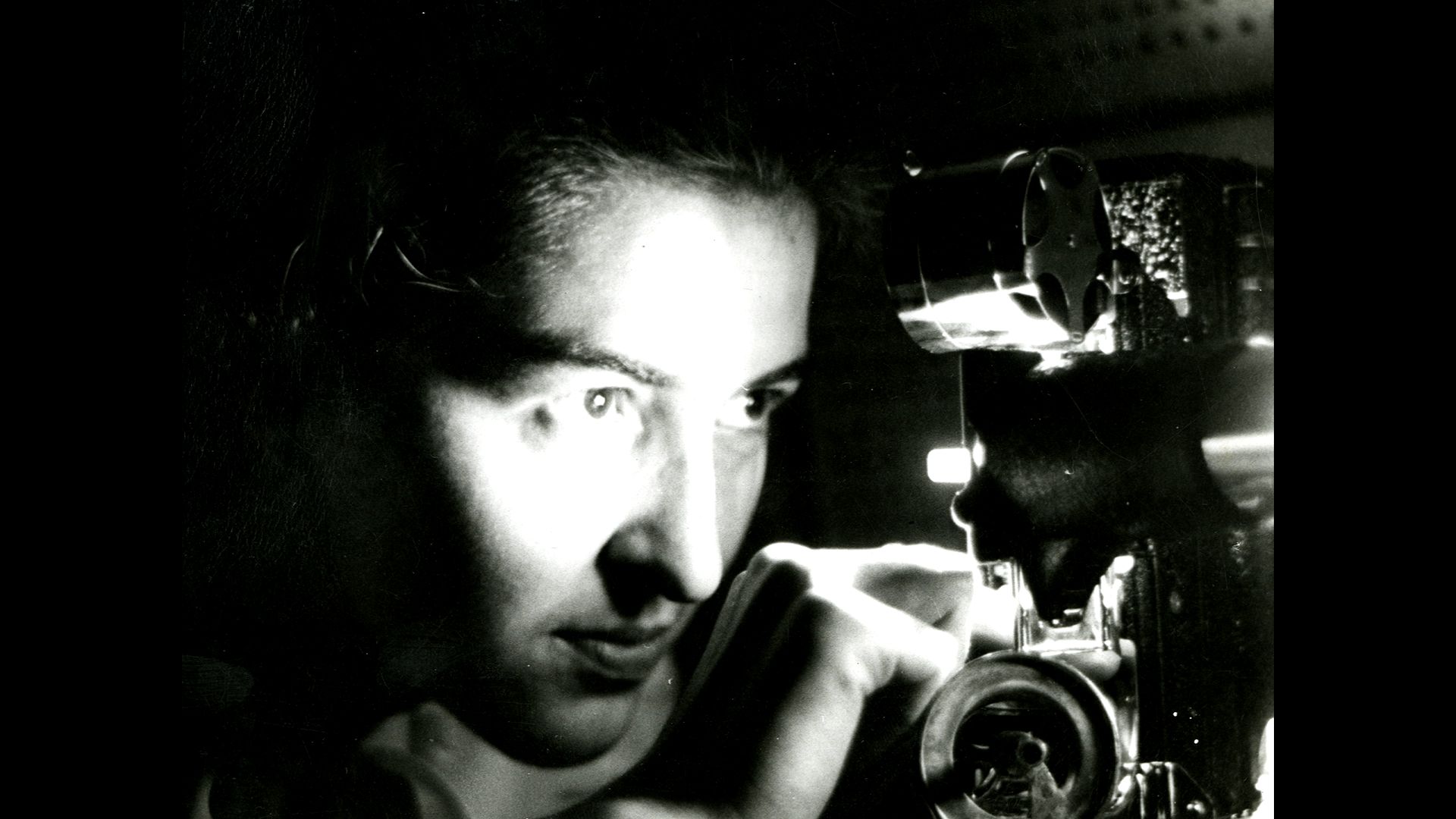 Visit www.annecy.org for information on the 2018 program.