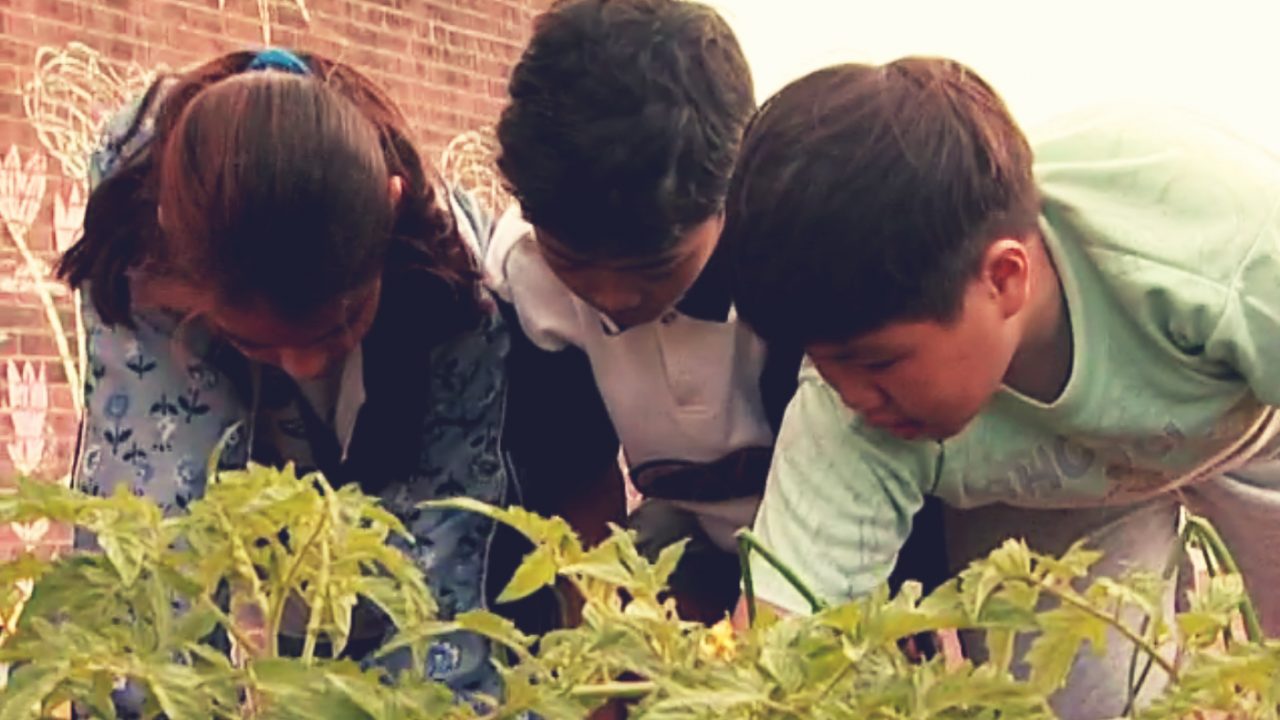 Saturday's Playlist: 5 films about school from a different perspective
Well, there's no denying it now. We are toe-deep in the school year. The house is empty, the classrooms are full, and once again we're faced with the problem of lunch.
I know we've done the back-to-school thing already, but this week, with school actually in session, we thought we'd suggest a few more off-the-beaten-path films. Films that are about school, without being about school. Films that look at school from a different perspective.
But before that, join in the school cheer (or jeer) with NFB Pause :
The Hungry Squid
We can always count on John Weldon to take us on a very special adventure with his animation. This time, it's a wild ride with an unruly squid.
The film introduces us to Dorothy, a little girl with big problems – parents who aren't around, bad hair, and some issues with her homework and a hungry squid. She's got an awful lot on her mind for someone so young. And to top it all off, people think she might be nuts, or at least telling some fanciful stories.
But when her alleged homework-eating squid goes tearing through town, people suddenly sit up and take notice. Turns out, the weird creature wasn't completely made up. But as everyone around her comes to one realization, Dorothy comes to one of her own…
The Hungry Squid, John Weldon, provided by the National Film Board of Canada
The Child of the Future: How Might He Learn
This film, from 1964, tackles the issue of how technology will fit into the education system. It's a little wild to watch this film now, when a child getting down on the floor for a worm's eye view was considered the height of engagement and watching a screen display multiplication was an opportunity for child to practice their observation skills. Oh, what we wouldn't do to return to such innocence.
We get to see all the revolutionary forms of technology being introduced into the classroom at the time, like film loops. And lots of heavy hitters from places like Harvard weigh in with their opinions on how tech should be used in school.
The film is hosted by none other than Dr. Marshal McLuhan, and he speaks at length about using technology to keep students interested. Oh, the irony! But even though so much has changed, some things remain the same. For instance, I can personally vouch for the fact that both my kids have had to learn their multiplication tables by rote – iPad learning be damned.
The Child of the Future: How Might He Learn, Theodore Conant, provided by the National Film Board of Canada
Bus Story
I love this animated short. It's about a woman who always dreamed of being a bus driver, and had her wish fulfilled in an unexpected way.
The film is based on the actual experiences of the filmmaker, Tali, when she worked as a bus driver in the Easter Townships of Quebec. She had been hoping for a quiet, at-one-with-nature life in the countryside. What she got was something else entirely. She got to be at one with nature, all right, but certainly not in the way she'd anticipated.
I think what draws me to this film is that it's a school-related film, but from the perspective of a refreshing new character. It's not a student or teacher, but the bus driver, someone who sees a completely different side of these kids. I also just adore Tali's sense of humour.
Bus Story, Tali, provided by the National Film Board of Canada
A Crack in the Pavement: Growing Dreams
This short documentary is about a group of kids who take on the task of creating their dream schoolyards.
It's an amazing thing, to watch these kids take the initiative and dedicate themselves to turning their ideas into reality. By planting trees, growing vegetables, or building a refuge for wildlife these kids are learning so much outside of the classroom.
The film was made in 2000, and clearly, it's an idea that took root. My own kids' school has its own garden, which the entire student population was involved in preparing for. Each class grows seeds indoors, then families get together the prep the garden and plant the young seedlings. Teamwork, coordination, and good communication are all involved, and it's a great lesson in agriculture, too.
A Crack in the Pavement: Growing Dreams, Jane Churchill & Gwynne Basen, provided by the National Film Board of Canada
No Apple for Johnny
Well, we opened with a John Weldon film, and we're closing with a John Weldon film. This time his perspective shifts from the student's to the teacher's, as he takes us through a year-long training course to become an educator.
Like Tali, Weldon based this film on his own life experiences. Which weren't great. I mean, the guy did end up becoming an animation filmmaker. Not exactly the usual path for a teacher. But his adventures provide us with some raucous entertainment. And it's fine that he's poking fun at the profession, because we know the perspective he's coming at this from.
And the truth is, teaching is hard. We all know this. I thank the stars every day that someone else is at school teaching my children. I don't know how they do it. John Weldon does, and he chose another line of work! Teachers are some serious heroes.
No Apple for Johnny, John Weldon, provided by the National Film Board of Canada