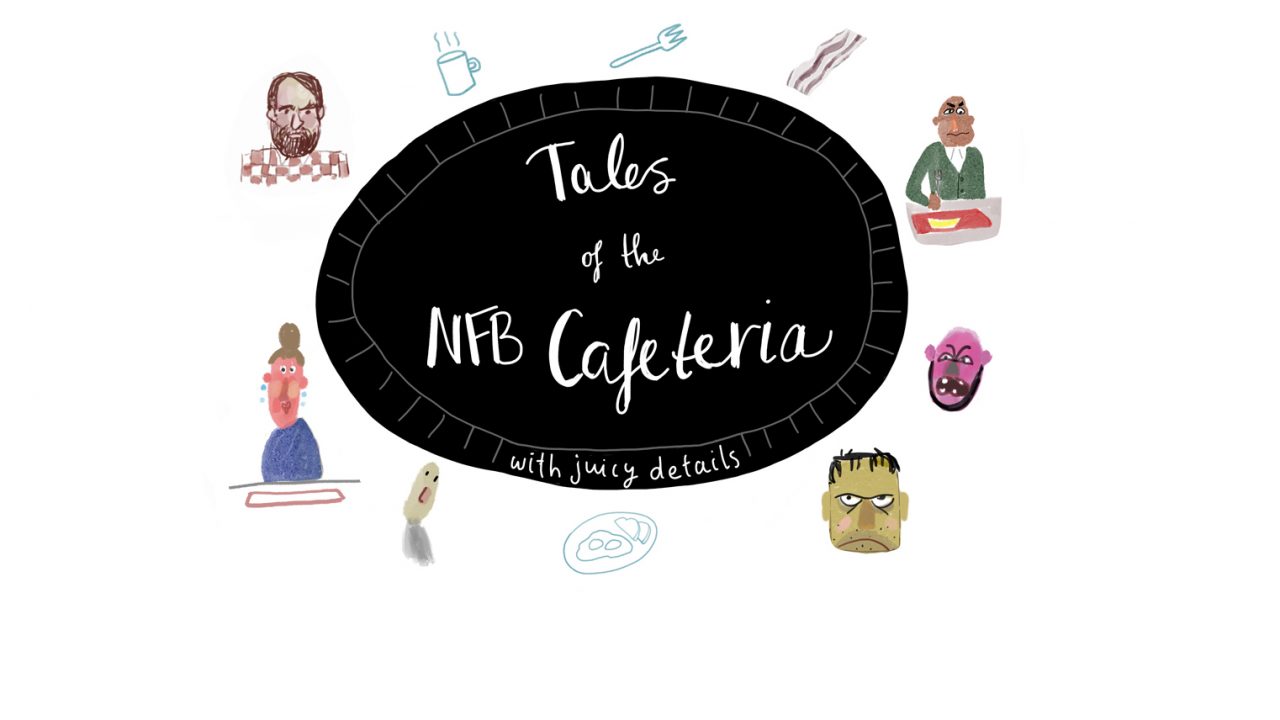 Tales of the NFB Cafeteria (with juicy details!)
Ever wonder what goes on behind the storied walls of the National Film Board's Montreal headquarters? Finally, we can show you.
Like many places of work, the most interesting stuff usually happens outside of the individual offices. It happens in the common areas like the water cooler, and of course, the cafeteria. Luckily for us, animator Janet Perlman documented some of her favourite memories in true NFB-fashion – with images and words.
Janet Perlman
Janet is an Oscar®-nominated writer and director, as well as a children's book author/illustrator. For decades, her work has been intrinsically tied to the NFB. She developed the ShowPeace series, which includes Bully Dance and Dinner for Two, and is the filmmaker behind classics like The Tender Tale of Cinderella Penguin and Invasion of the Space Lobsters.
In addition to giving workshops all around the world, Janet has taught animation at Harvard, The Rhode Island School of Design, and Concordia University. Her work with the NFB spans from the mid-seventies right up to the present.
On the occasion of our "BIG MOVE," Janet has put together a series of true stories from her early filmmaking days at the NFB, a place for which she has great affection.
---
1. PETRIFIED BACON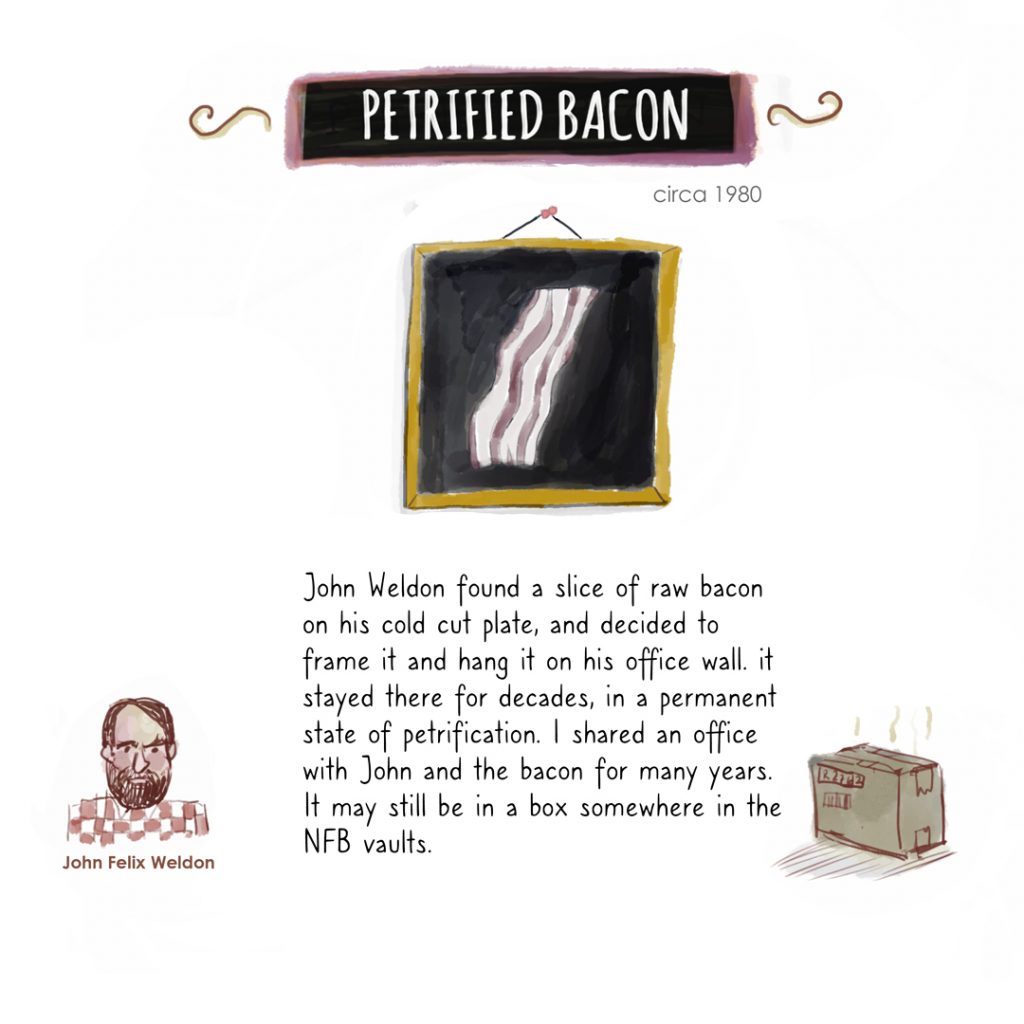 2. MY LUNCH WITH NORMAN
I was in awe of Norman McLaren, but I missed many opportunities to talk to him about film and art, mainly because I was so shy. One day, in 1978, I was left alone with him at lunch after everyone else finished eating. I recognized this as a special moment, one that I would cherish forever! My mind raced searching for something to say. This is what I came up with.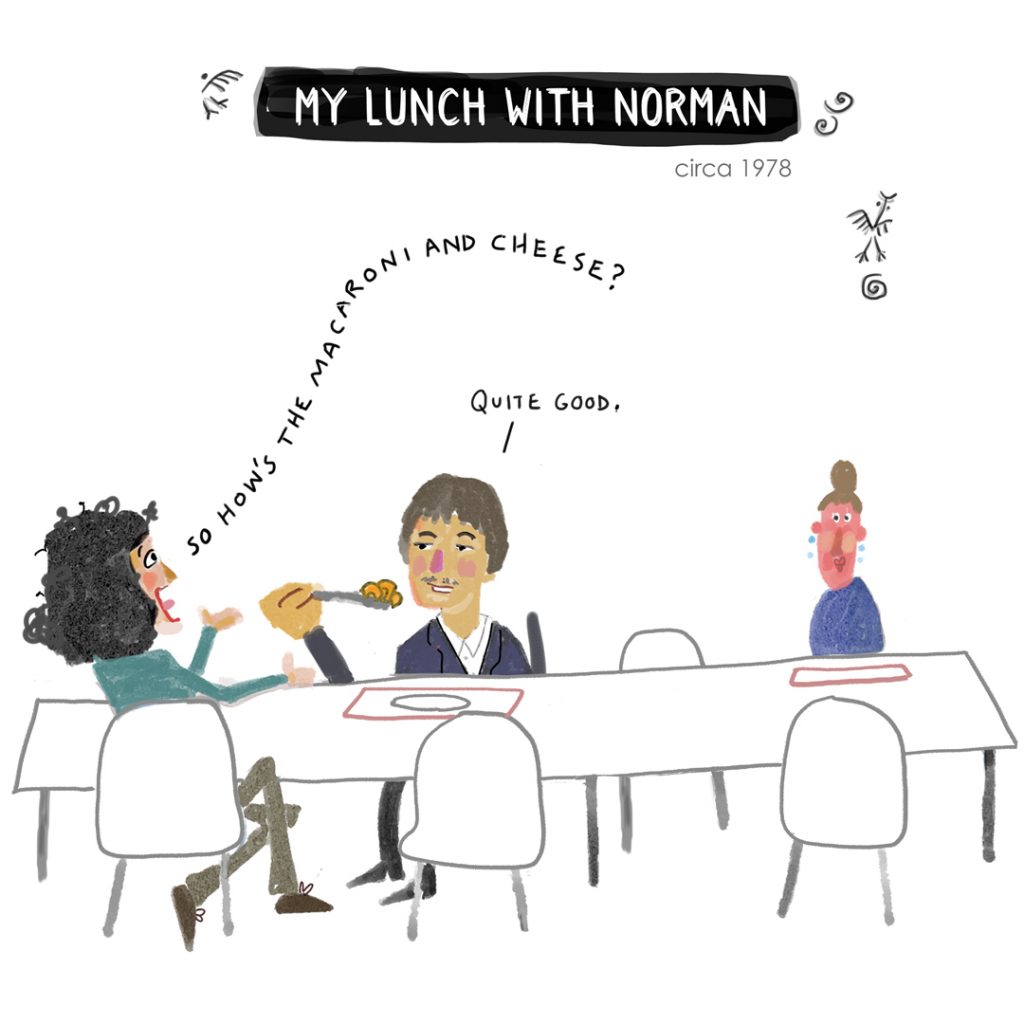 3. WRESTLERS!
Around 1982, there was an actual fist fight in the cafeteria! Another time, a bunch of superstar pro wrestlers were at the NFB for a film shoot. There was Killer Kowalski, Mad Dog Vachon and other big stars. They bought sandwiches and cake slices and were very well-behaved. No chairs were broken!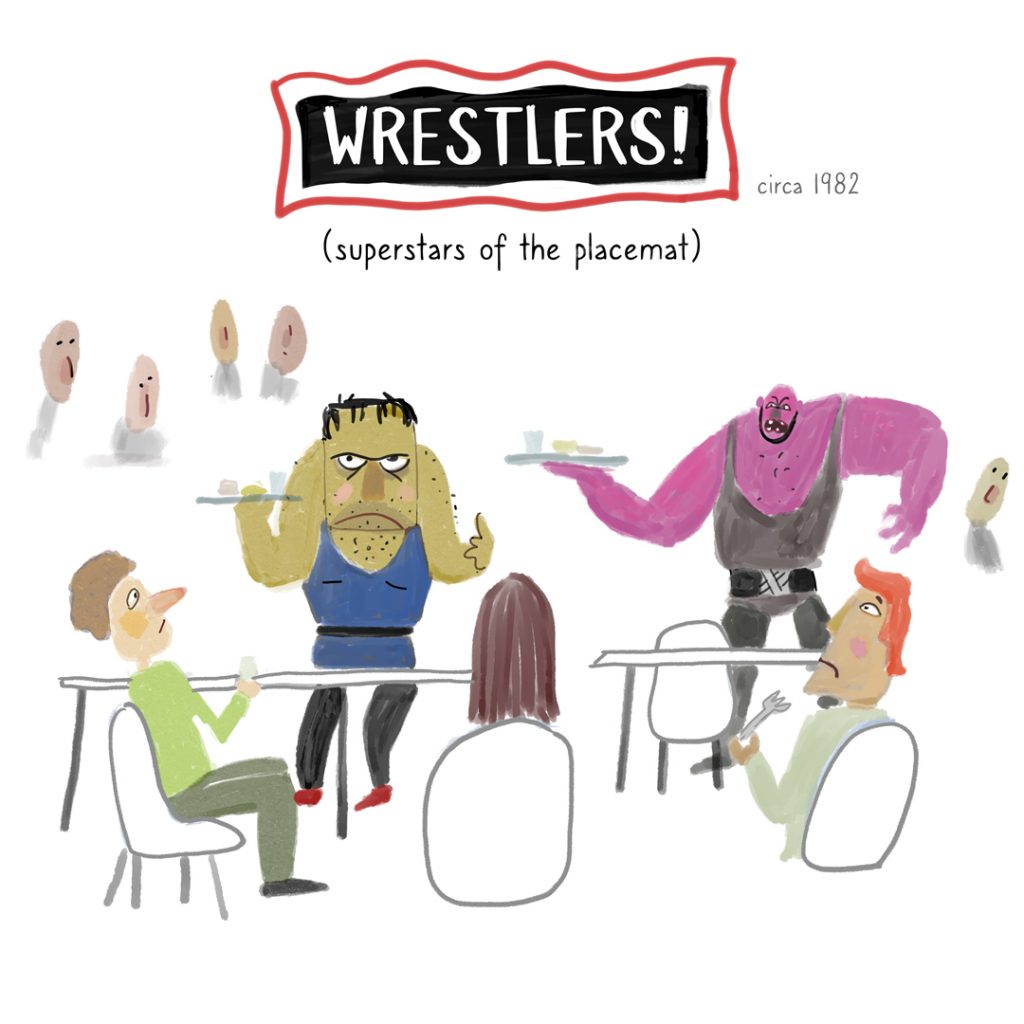 4. FLOOR PLAN
The cafeteria was at least twice the present size and was open until 4pm. Everyone ate there. There was nowhere else to eat. At lunchtime there was a line-up that went out the door and down the hall. There were machines with real sandwiches in them for filmmakers who were working late hours.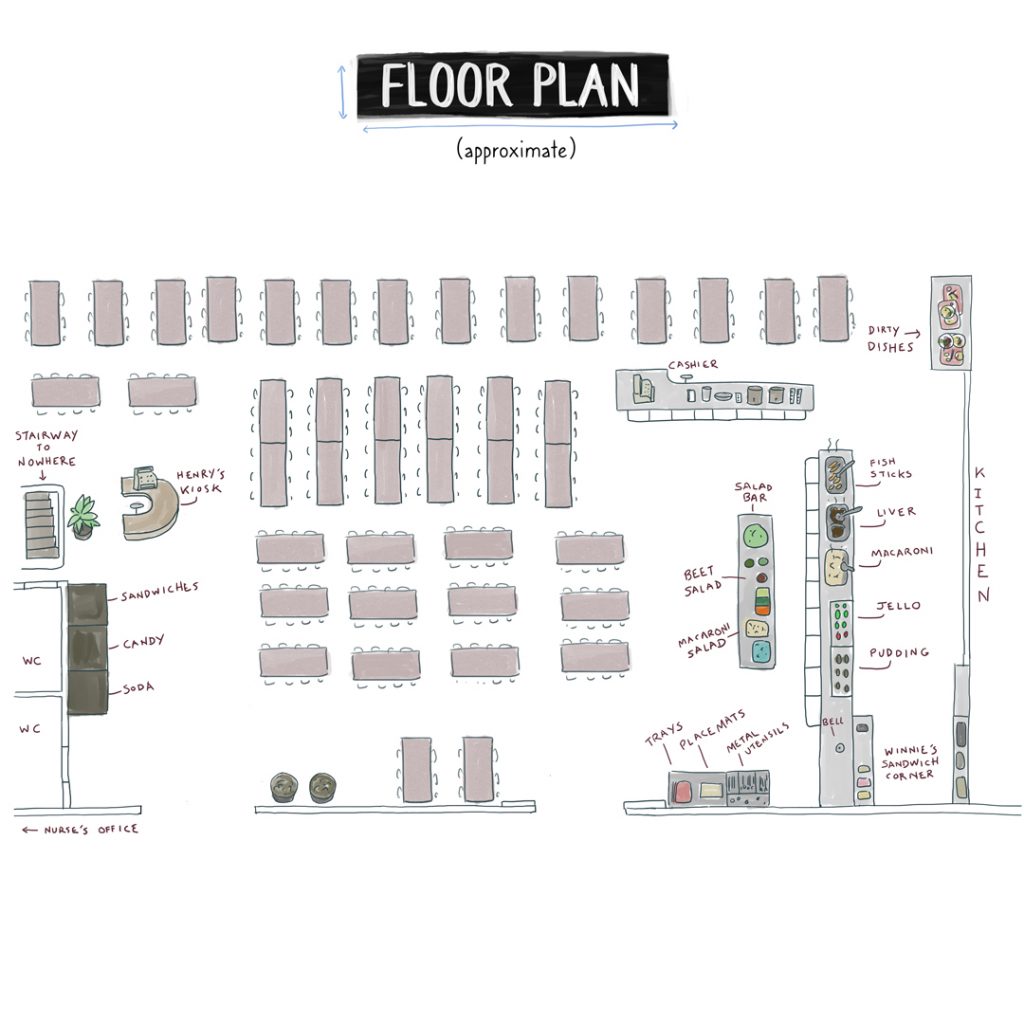 5. SMOKETERIA
Everybody smoked everywhere at the NFB. People dined in a cloud of Export "A", Player's and Gitanes. Micheline Lanctot was directing a film in the animation studio, and she smoked cigarillos, a kind of tiny cigar, which seemed very cool. Sorry to say, I was responsible for some of that smoke. I'm glad those days are over.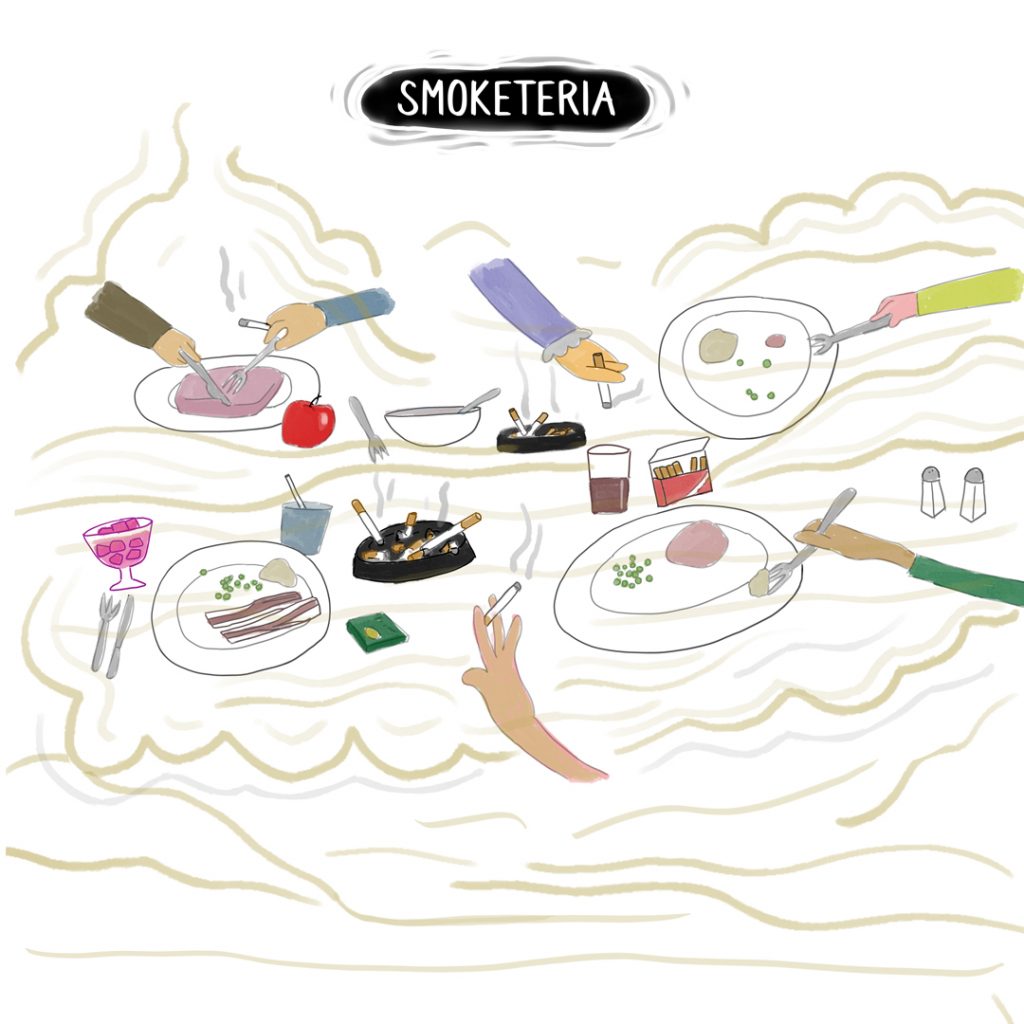 6. THE MAITRE D'
One cafeteria manager was an over-achiever. He wore a full chef's uniform and bowed and greeted people like he was a maitre d'. There was a salad bar, an all-you-can-eat spaghetti day, and one time there was a lobster festival. It was his version of a film festival!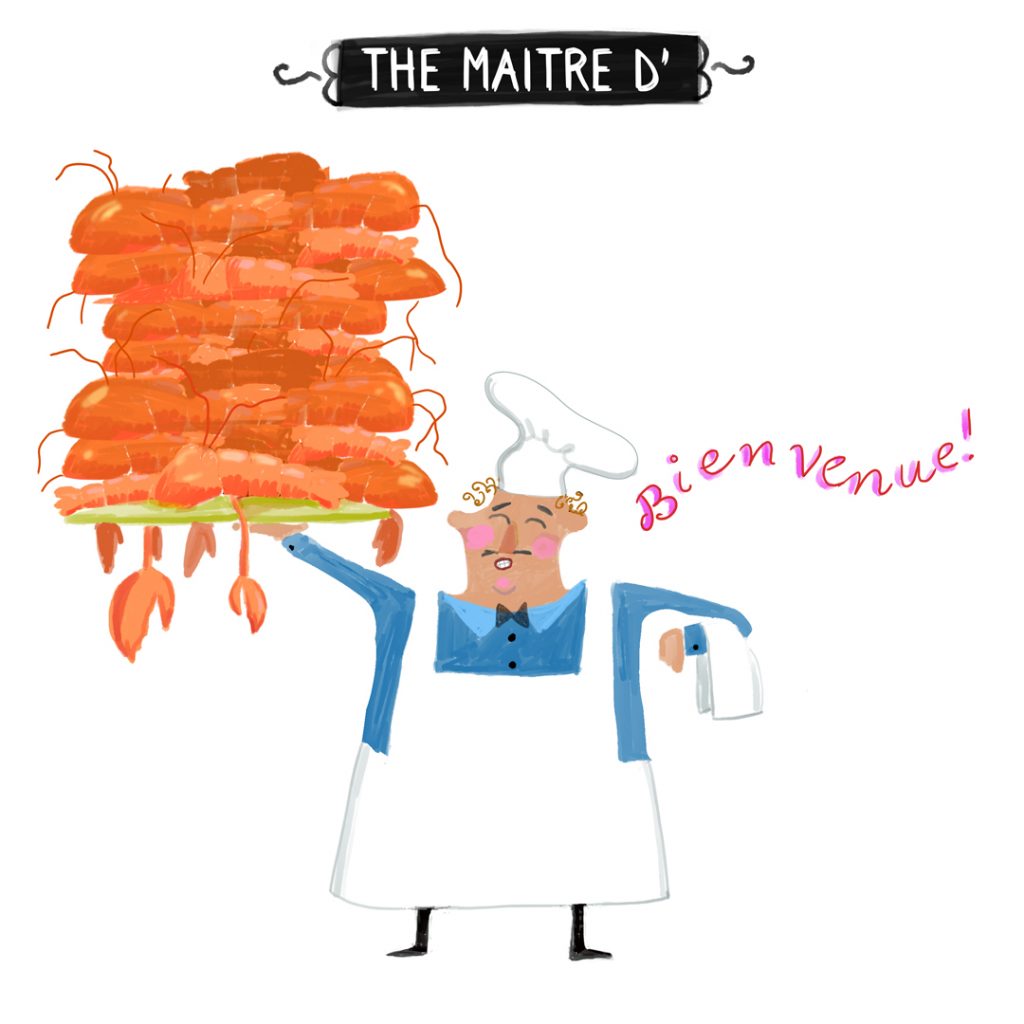 7. THE COOKIE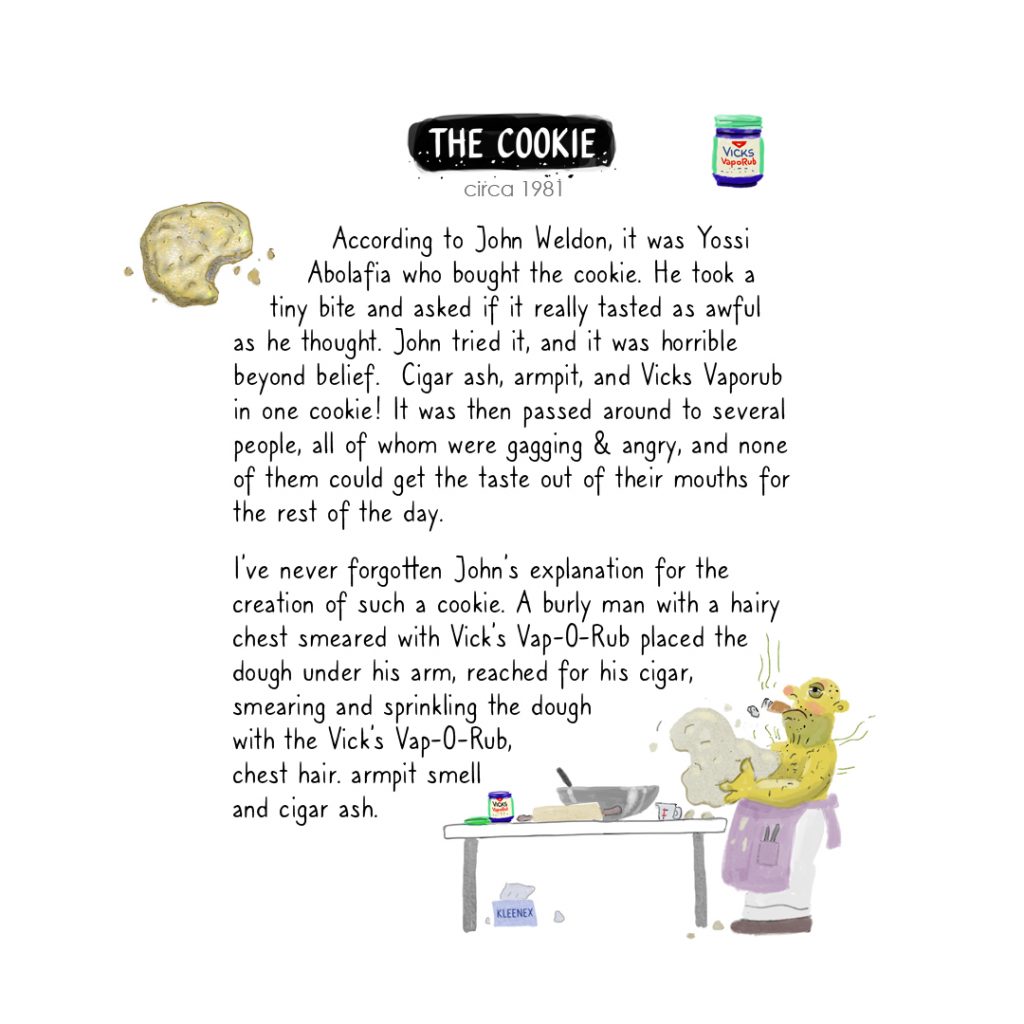 8. HEROES OF THE CAFETERIA – Winnie
Winnie prepared all the breakfasts and sandwiches. Because she remembered every detail, you could just ask for "the usual", which might be the "special", or the "half-special", with or without tomato slice. When your order was ready, she would ring a bell and make eye contact with you. She had such a good head for detail that she was given a job in the film lab. She was also cast in the starring role in Robert Awad's film The National Scream.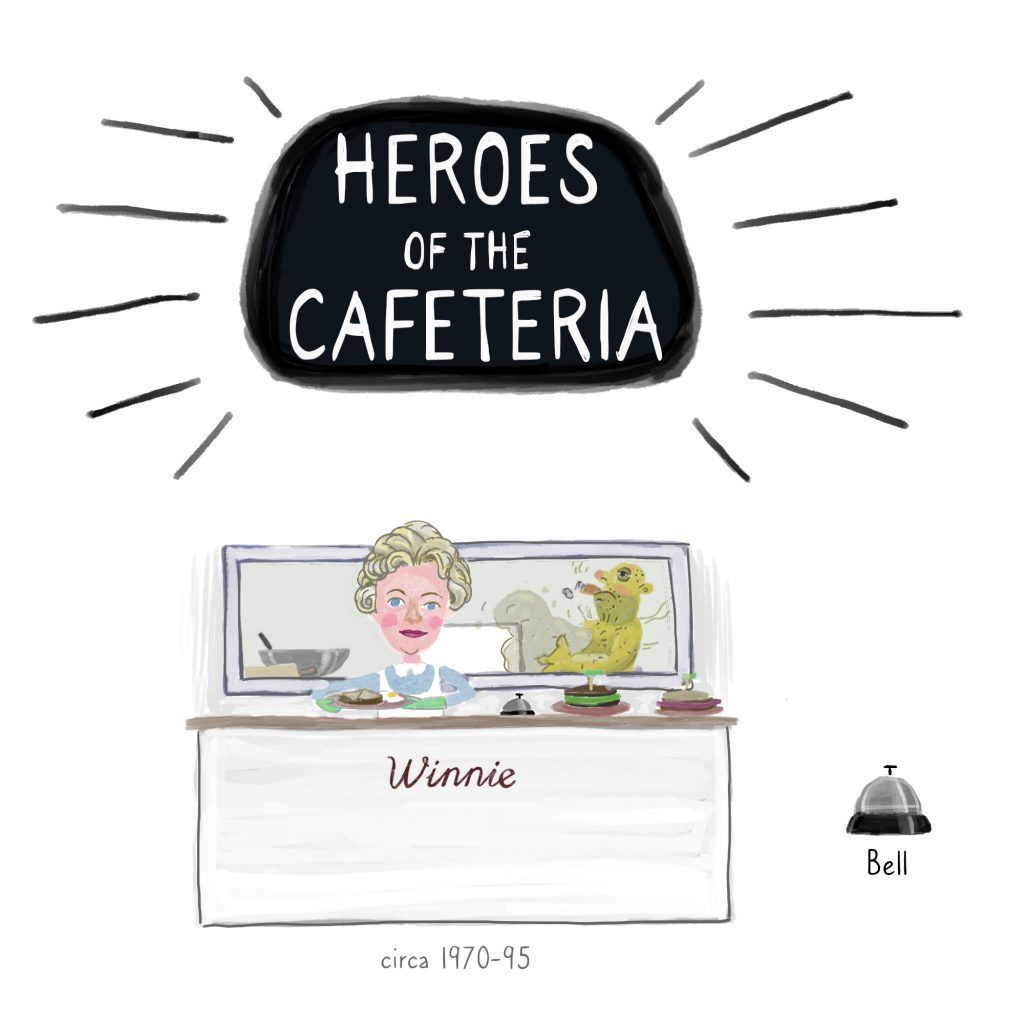 9. HEROES OF THE CAFETERIA – Henry
Henry ran the concession stand that sold candy and cigarettes. He was blind, and when he was handed paper money, he had to ask if it was a one or a five or a twenty. It would have been easy to cheat him, but I don't think it ever happened. He knew everyone by voice and it turns out that for years he'd been listening to all of our conversations, in particular Grant Munro's hilarious stories.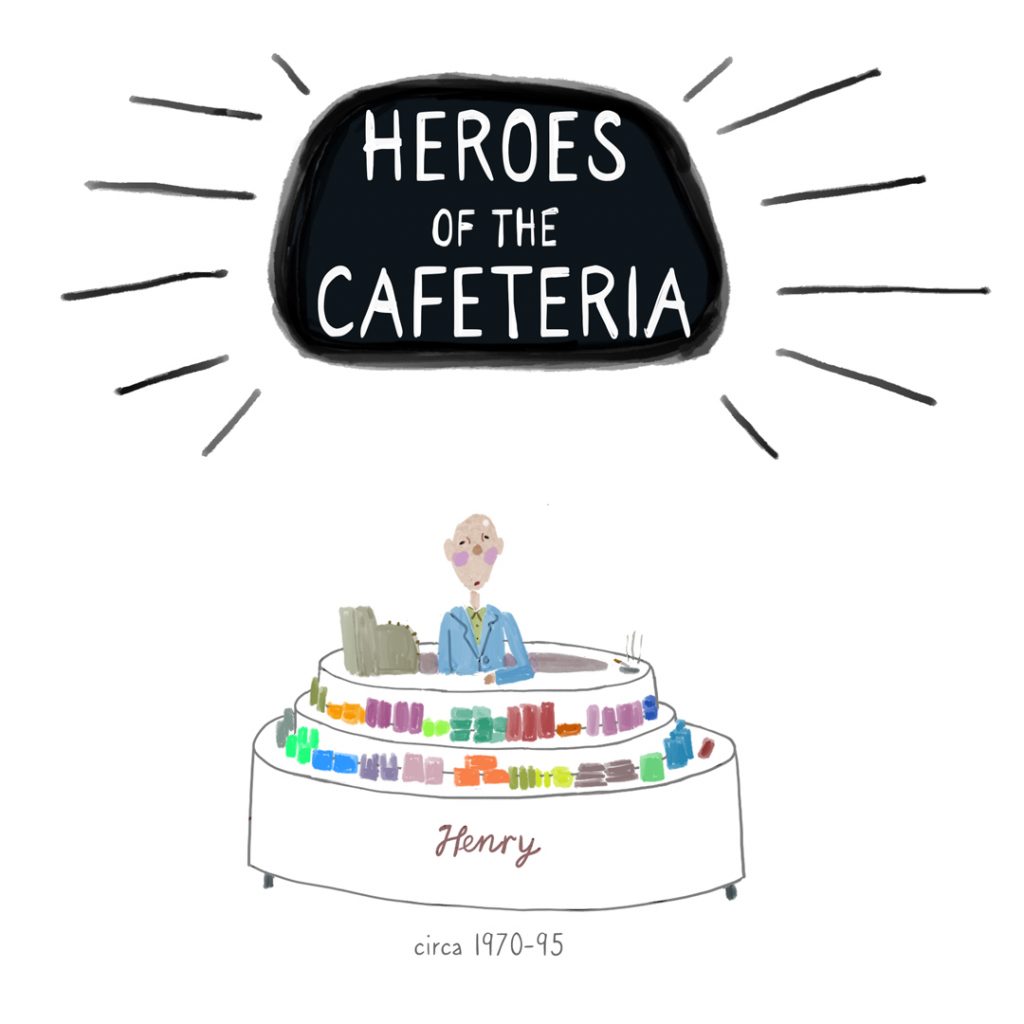 10. A PLACE FOR ART
The animators held a group "paint-a-thon", where each person painted the same painting using the step-by-step instructions from a Bob Ross video. Each canvas had the same rustic barn with a broken fence and a fiery sunset. They were all exhibited in the cafeteria, and a few were even sold. You can see the results of the second Bob Ross Revival Paint-a-thon, currently on display in Salle Bob Ross in the French animation studio.
Other exhibitions include Lois Siegel's photographs of notable film personalities, which were displayed and admired for many years.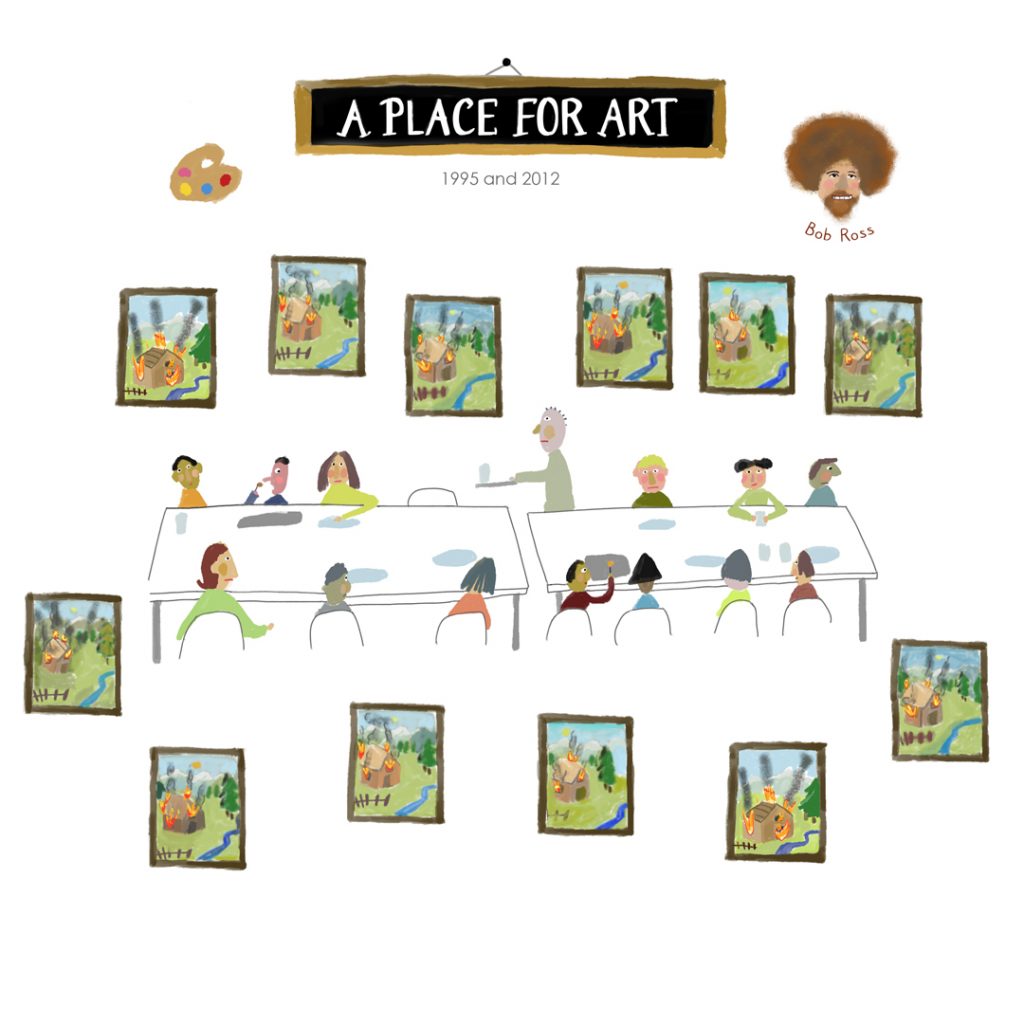 11. CREATIVE JUICES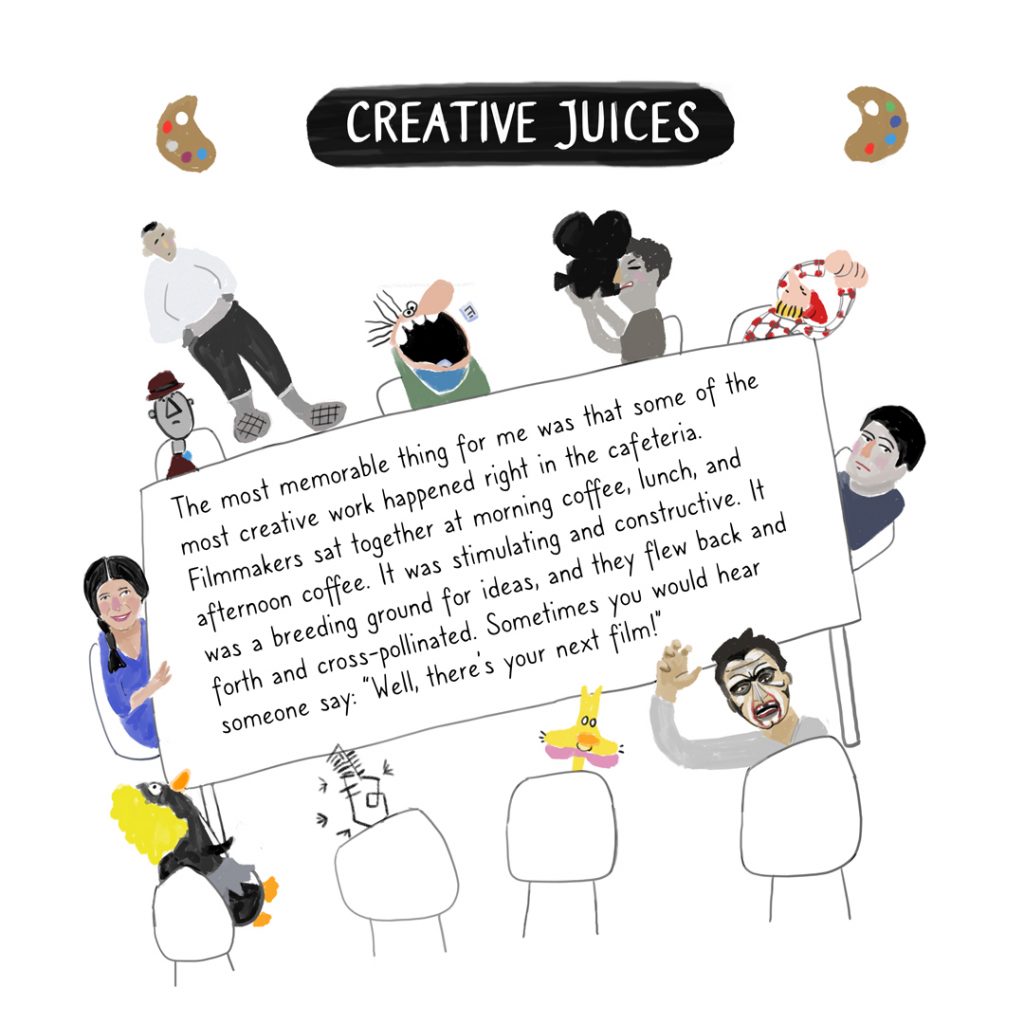 12. MODERN HEROES
This is not a tale, just a big thank you to our modern-day cafeteria heroes. Thank you for the millions of fries, the coffees, the sandwiches and the chit chats! You are the best!