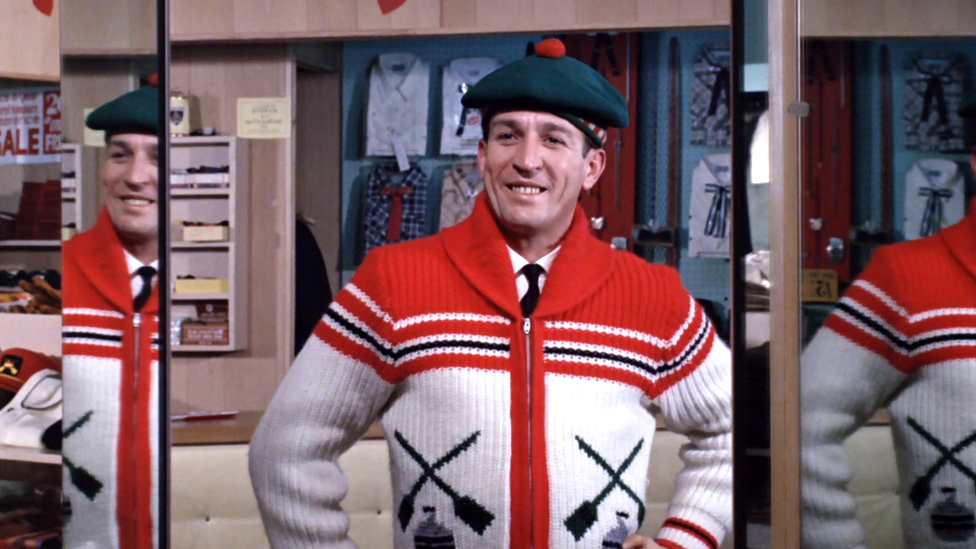 Gone Curling: A Winter Tale | Curator's Perspective
Someone once told me that the only way to get through winter 
is 
to embrace winter sports. I totally agree. It makes the long, cold months that much more enjoyable. One sport I tried about 10 years ago is curling.
A friend invited me to join her team, and for an entire week we participated in a bonspiel (a curling tournament). It was loads of fun, but it was a lot harder than it looks (my arms hurt like crazy for several days after).  
 This brings me to the subject of this blog post, John Howe's hilarious Gone Curling, produced in 1963. In it, a travelling salesman who's just taken over a territory in South Saskatchewan arrives in Eston (200 km southwest of Saskatoon) only to find all the stores deserted. All of them have hung signs saying the shopkeepers have "gone curling." 
 At the hotel, also deserted, he finds a book on curling. After reading a few pages and familiarizing himself with the rules, he starts to imagine himself as a curling champion. Of course, once he goes to the rink and gets to play, he realizes that this is a very hard sport. 
 This charming 10-minute film was first proposed by screenwriter Charles Cohen (Drylanders) in September 1960. He went to Saskatchewan to familiarize himself with the game. He wrote a preliminary script with the working title Winter Fever, focusing on a small community preparing for and participating in a bonspiel. After several drafts, it was felt that it would be better to see the game from the perspective of an outsider. The travelling salesman was then introduced into the story.  
Gone Curling, John Howe, provided by the National Film Board of Canada
 Director John Howe does double duty in the film, also taking on the role of the salesman. He is quite funny as the city dweller who thinks that the sport of curling is so easy that he can excel at it just by reading the rules. Highlights of the film include his fantasy sequence choosing a cardigan and dominating the play. Of course, it's also very funny to see him crash back down to earth when he participates in a real game. Howe shot the film like a silent comedy, with many slapstick moments. 
 Gone Curling was filmed in Eston and specifically made for theatrical release. It was shown throughout the country and in many overseas territories, doing excellent business. It was versioned into seven other languages, including Dutch, Spanish, German and Norwegian. It is a hilarious introduction to the sport, and an excellent look at the cult of curling in the Prairies. 
 If this doesn't satisfy your curiosity about curling, we also have the 1955 short fiction The Curlers, which focuses on the conflict between two farmers who play on the same team. With an important bonspiel coming, will the two be able to put aside their differences and play the big tournament?  
The Curlers, William Davidson, provided by the National Film Board of Canada
So there you go, two films to inspire you to get out of the house and onto the rink this winter. Enjoy.