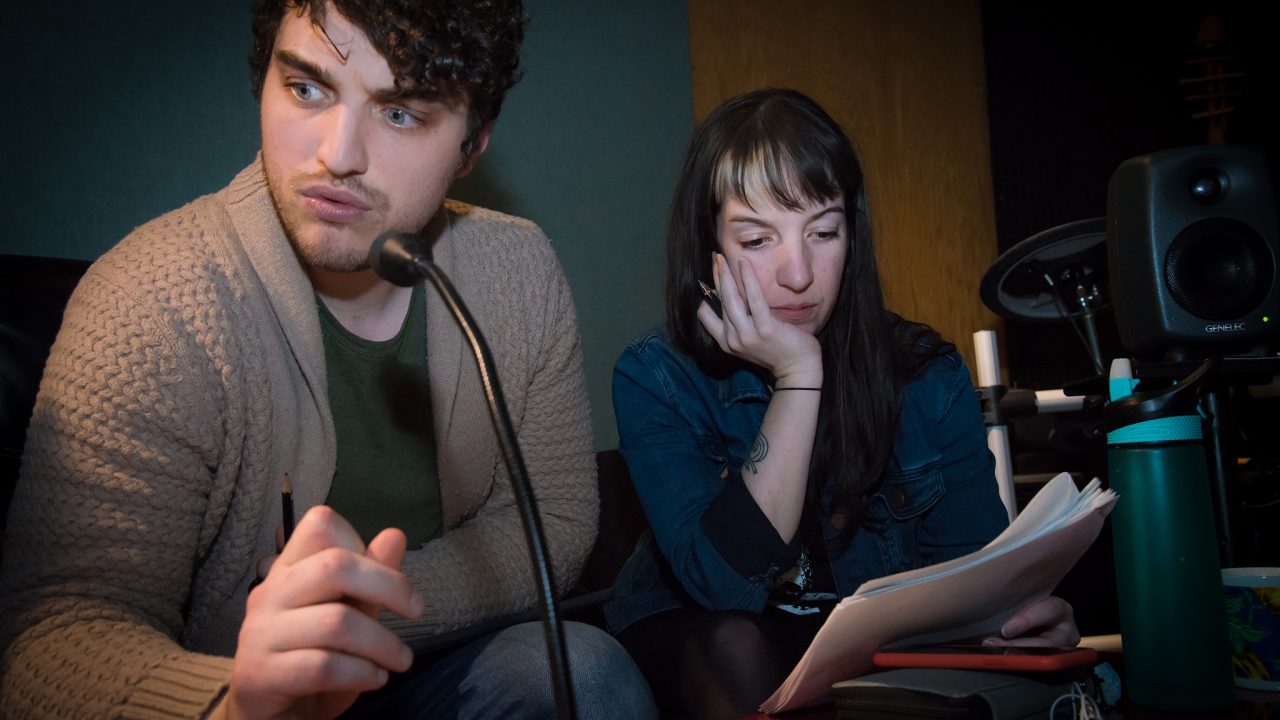 How a Popular Comic Book Became an Animated Series
Produced by La Pastèque and the NFB in partnership with Télé-Québec, the web series The Great List of Everything is now online.
This animated adaptation of the popular comic book was co-directed by its authors, Iris and Cathon, and by filmmaker and animator Francis Papillon.
The backstory
About 10 years ago, comic book writers and friends Iris and Cathon started a blog featuring humorous anecdotes, and later a fanzine describing the origins, factual or fictitious, of everyday objects. In 2013, La Pastèque published a comic book based on the blog (La liste des choses qui existent), which became a huge hit. After the release of a second volume (Encore plus de choses qui existent) and then a complete edition, the two friends were ready for a new adventure—adapting their zany creation into an animated web series.
But how to go about it? Was it hard to keep the spirit and humour of the original comic book intact? "Making a comic and making a web series are two very different processes," says Cathon, who has been publishing comic books since 2011. "For the book, we would work separately and then put it all together. But with the series, we found ourselves working with a huge team. Actually, in the animation world, I don't think it was considered a huge team, but it was for us!"
Iris agrees: the two friends had no inkling that their "list" would one day become an animated series. Working at the NFB's animation studios was a huge leap from working alone at home. But since the original comic book was already a series of distinct vignettes, each dedicated to a specific object, the material readily lent itself to adaptation.
A new audience
The authors' primary goal for the web series was to gear it specifically toward young people, whereas the comic books had been intended for a broad audience. "When I was writing the comics, I'll admit I mostly had adults in mind," says Iris, who made a name for herself through, among other titles, the comic book L'ostie d'chat (created with Zviane, another NFB collaborator). "But from the comments we received, we soon realized that children also really enjoyed the books. The whole family was reading them. I thought that was really cool."
"When it came time to do the animation, we had to constantly keep kids in mind," continues Iris, who, like her colleague Cathon, also writes for young audiences. The web series is specifically intended for the 9-to-12-year-old audience of Télé-Québec's Squat platform. "The original content of the comic books works really well for a youth audience, but there were a few, let's call them 'raw,' jokes that were less appropriate," notes Cathon, laughing. "Suffice it to say that we wanted to avoid complaints from parents," adds Iris.
So some gags had to be removed and others added, but it wasn't too hard to preserve the essence of the popular books. Each of the web series' 13 objects was carefully selected from the ones that appeared in the books. But first off, the authors had to consider the ratio of true to false information presented, since this was part of what made the project so unique. Then they had to determine which ones were most suitable for 9-to-12-year-olds. (The authors' favourite episodes are "Pants" and "The Phone," partly because of their fart jokes, which Iris admits, giggling, to being particularly fond of.)
The Great List of Everything | Season 1 | The Pants, Iris Boudreau & Francis Papillon, provided by the National Film Board of Canada
WATCH THE GREAT LIST OF EVERYTHING
From duo to trio
Once they had selected the objects, Iris and Cathon began to storyboard and write the episodes together, but gradually divided the work up into individual tasks. "At first we worked closely together to find the series' tone. We tended to stick closely to the books, but as we got comfortable with the format, we distanced ourselves from the books and found a freer style. We had to change our thought processes and how we developed jokes," explains Cathon.
The friends were thrilled to see the characters of their creation—who had been conceived of as their alter egos—come to life and actually speak. Actors Debbie Lynch-White and Émilie Bibeau were cast to voice the characters. "We gave ourselves really extreme personalities in the books, but readers who knew us actually associated them with us. So they were shocked to discover that they weren't actually our voices. They still find it a bit troubling," the women laugh, stressing that the characters really are fictional.
In what turned out to be a fortuitous reunion facilitated by producer Vali Fugulin, Iris and Cathon turned to Francis Papillon to animate their creation. "Cathon and I studied visual arts together at CEGEP, and then we lost touch," explains Francis, who, after studying animation filmmaking and directing, became a motion-design specialist. "Vali suggested that I work on the demo for The Great List without realizing that Cathon and I knew each other, and I leapt at the chance. It was a real stroke of luck. I already knew and loved the world, the humour, and the characters that Cathon and Iris had created in their blog, and the comic books made me love them even more."
A learning process for everyone
From November 2018 to July 2019, Francis set to work animating the drawings of Iris and Cathon, assisted by Louis Meilleur. Since he had been brought on board at the start, Francis took part in the creative and writing decisions and became a co-director for The Great List.
"We only had 12 days to do each episode—including storyboard and animation—so it was imperative to find an animation process that was efficient but not boring," explains Papillon, noting that he learned how to use Montreal animation software Toon Boom for the project. "I developed a hybrid method that allowed me to preserve the books' visual world, which I felt was already very suitable for animation, without having to change too much." This ensured that many of the comic books' visual elements could be kept, with Cathon drawing any that were missing, like character poses, objects, and components of the set design.
"My goal was to remain as faithful as possible to Cathon and Iris's world, because I liked it so much already. Together, I think we managed to preserve the characters' spirit and sense of humour. That was really important." – Francis Papillon
The three co-directors are eager to share the fruits of their labour. While Francis is now working with the NFB on a new animated project for young people, Iris and Cathon are thrilled to return to their medium of choice, even if they both agree that the project was a rewarding learning experience.
"I'm very happy to return to my comic book projects," notes Iris, "but it was really satisfying to be a director and take part in every step of the project. I enjoyed the storyboarding the most. In some ways it gave me confidence, a little pat on the back, to assert myself as a writer. I'd like to pursue that avenue. But the comic book is my medium, for sure."
---
Feature Image : Directors Francis Papillon and Iris (Photo: Stephan Ballard)