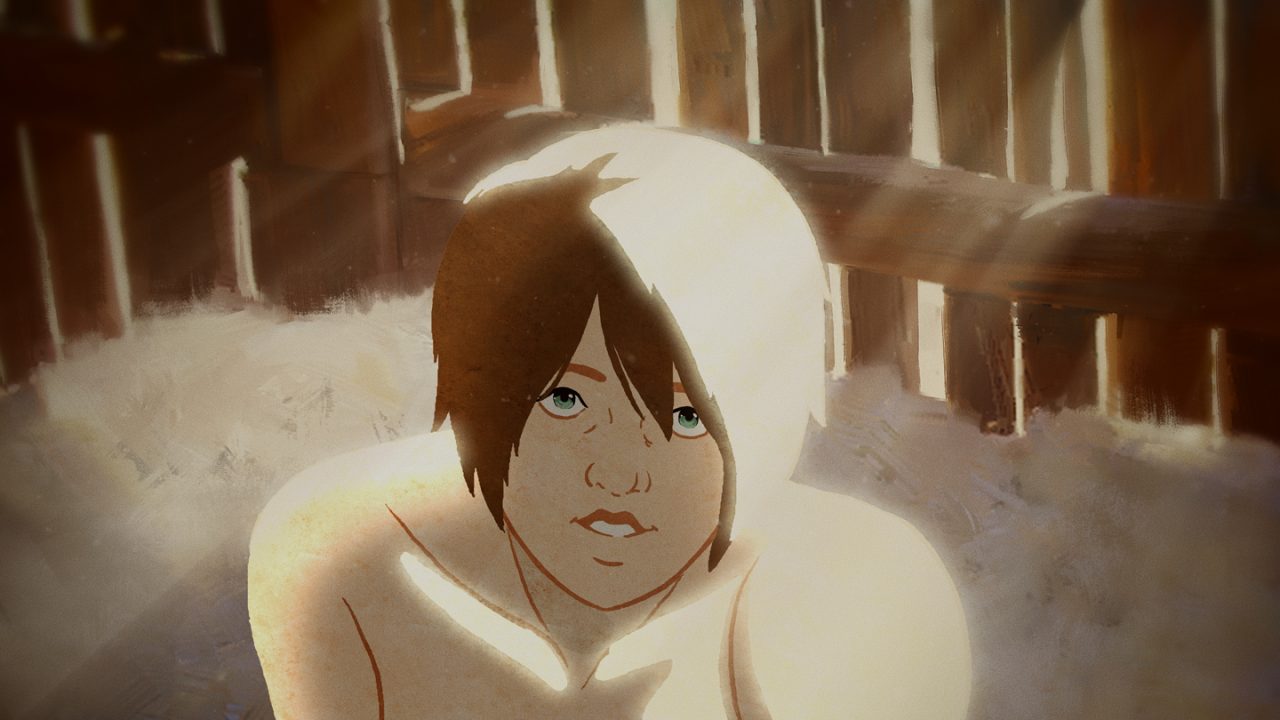 Interview with Filmmaker Chris Dainty: Shannon Amen and Art as Therapy
Shannon was made to feel uncomfortable for being gay. This film is going to make you feel uncomfortable, but that's why her story is so important.
I hope that when watching this film, people will reflect on the fact that their actions, words, and acceptance can have a profound impact on someone else's mental health—how they feel, how they think, and even how they view themselves.
This film is a reflection of Shannon and her art and internal struggle; it explores ideas that those outside of the LGBTQIA2+ community may not have previously thought about, especially the mindset of some that being gay is a sin. I hope that this film can be a catalyst for change and spark dialogue in broader communities about accepting others for who they are. This film is an elegy to an amazing friend gone too soon, and a reminder that society has a role to play in the mental health of individuals.
— Chris Dainty, director of Shannon Amen
---
Learn more about the film through this Q&A between filmmaker Chris Dainty and Chris Robinson, Artistic Director of the Ottawa International Animation Festival.
Following Shannon Jamieson's tragic suicide, was there a particular moment that triggered your decision to make a film for your lost friend?
One of the last things I told Shannon was that I was going to make an animated film about her. It would have been a comedy film, though in a totally different context. I just always had this feeling that I wanted to make something about her. After she died, I saw so much of her art that I'd never seen before, and that triggered a sort of epiphany. There was just so much of her art that no one had seen; darker work that she hadn't really shared with anyone. She had done a few art shows, but seeing the later stuff really blew me away. In one small piece, she had written "I feel guilty" over 100 times, in extremely small letters. This piece really shocked me as I had never really put all of the pieces together—that she had internally felt this guilt for who she was—since she projected such confidence.
And you approached the subject differently. Rather than just telling a sort of conventional narrative, you used her art as a guide and narrator.
I wanted to show as much of her as possible. There are over 100 pieces of her art in the film. There was just so much content. It's so raw and authentic. She didn't care what people thought of her art. It was just for her and she had an obsessive need to create.
You use an array of different techniques in the film: 2D drawing, live action, icemation. It must have been challenging not just to manage them but to then also ensure that they adapt to the style/tone of Shannon's art. 
From the start, I wanted to animate with ice. I had done a test of ice animation for the Ottawa International Animation Festival and I wanted to include the icemation technique in a film. I wanted to challenge myself, and the human body is as hard as it gets with ice. There was also 2D animation, some of it done traditionally on paper, some of it digitally. And then we went through a process of cleaning up every frame, and added Shannon's artwork as textures overtop. Every single frame of the film features Shannon's art in some way.
Shannon used her art as a form of therapy, or at least to unleash her hidden torments. Was making the film a form of artistic therapy for you as well?
 Yeah, I dealt with a lot of internal demons. I had a lot of guilt about what I could have said and done. I saw her two days before and there was no indication that anything was wrong. I kept going back to the barn shoot I did of Shannon, which are some of the best photos I've ever taken and are included in the film. She had this idea of wanting me to photograph her nude and hanging for a stained-glass art project. We were just joking around, making experimental art with a noose and feathers, playing with the light coming in through the barn cracks. The photos I took were beautiful, but it was unsettling later when we realized that this same location is where she would take her life. Recreating this moment for the film allowed me to re-define this moment for myself. Making the film gave me time to re-evaluate what it meant to me and how I would look back at this chapter and the friendship we had.
Shannon Amen is not just your tribute to your friend; you also asked a number of Shannon's friends and family to participate.
Shannon's mom (Ellie Forbes) was involved as a creative consultant from the start. Shannon's brother was involved too, although he was a bit more hands-off; he filmed the final shot of the film, paging through Shannon's Bible. Ellie, though, was really involved from day one. We had a lot of conversations. We changed some scenes based on her feedback. She was like another representation of Shannon, and her feedback was extremely important.
We also had Lyndell Montgomery create beautiful and haunting violin music for the film. Lyndell and Shannon were friends, and Shannon really looked up to Lyndell as a positive lesbian role model, and musician. Lyndell was the last person to see Shannon alive. My direction to Lyndell was, just watch the film and improvise, let your emotions be your guide. We also had some darker atmospheric music pieces done by another one of Shannon's friends, Brett Despotovich. I think Shannon would love the fact that her friends were involved.
Shannon Amen could be seen as a film about suicide and suffering, but it's really a film about love. It's less about Shannon's death than it is about the vibrant life she led.
 Her mom said to me that suicide did not define Shannon, and that really stuck with me. It is a part of her story, but I think that her art is the crux of the story. I was so blown away by her art. I looked at this as my way of taking the audience by the hand and introducing them to Shannon and her art. Through her art and her voice, I hope that people will want to know more about her.
As personal a film as Shannon Amen is, Shannon's struggles are not uncommon. Many from the LGBTQ+ community have struggled to reconcile their sexuality with their religious beliefs. Shannon also battled some mental health issues. Is it your hope that the film might contribute to existing dialogues about both mental health and religion's problematic views of sexuality?
Shannon was self-aware of her reality and the general issues that can arise from growing up in a religious community and being gay. I hope her art sparks conversation, as she perfectly captured the struggles and emotions that so many other youths have felt. Telling authentic, hard stories can create empathy so that the wider society can better understand what it must feel like to not be accepted, and how that can negatively affect one's mental health.
---
WATCH SHANNON AMEN
Shannon Amen, Chris Dainty, provided by the National Film Board of Canada