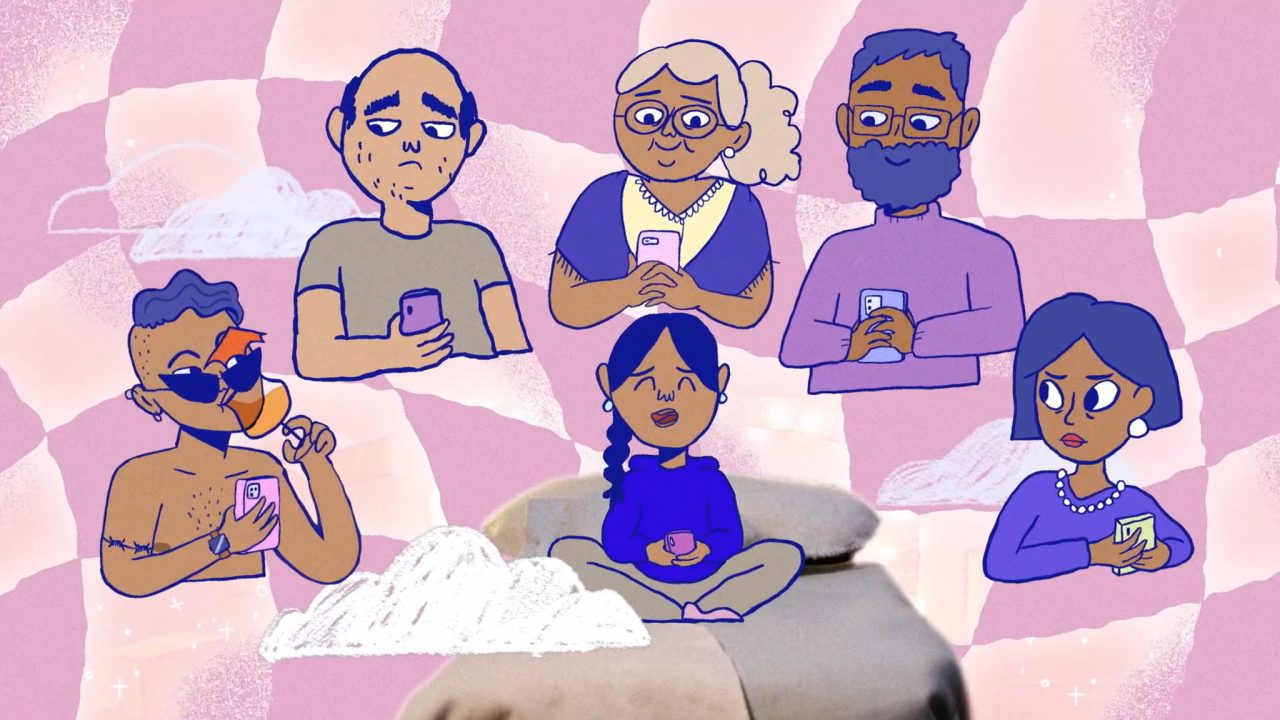 77 Years of Latinx-Canadian Cinema at the NFB (1945-2022) | Curator's Perspective
Since its inception in 1939, the National Film Board of Canada has played a crucial role in modernizing Canada's national cinema(s).
Over the last eight decades, the NFB has produced social-documentary and experimental animated films (or, more specifically, non-mainstream fiction films or series) that have won awards across the globe. More importantly, from its earliest days the NFB has been keen on producing films about Indigenous Peoples, women, youth, Black people, Latin-Americans, Asians and 2SLGBTQI+ communities, outstripping most (if not all) national cinemas around the world.
On that note, this instalment of Curator's Perspective aims to introduce readers to the different phases of NFB films made in Latin America or by Latin Americans, from the mid-1940s until today.
Manichean Eyes (1945–1975)
Only six years after it was created, the NFB began producing films in Latin America, starting with La famille Garviza (1945) and Mexico Today (1947). In these two films, NFB directors/producers depict a Latin America in which "at first glance, the differences [compared to Canada] are many, but quickly the similarities… outweigh the differences."
Mexico Today, , provided by the National Film Board of Canada
But soon after War World II, with the onset of the Cold War, a Manichean world vision took over and Canadian directors/producers made films like Man of America (1956), Chair of Gold (1956) and Background to Latin America (1963), which depicted Latin America as an alien region: "From Cuba to Argentina, [this is] a review of the history of this rich subcontinent and its aspiring but impoverished people… The film shows the proud history of 20 republics and their growing unrest."
Background to Latin America, , provided by the National Film Board of Canada
Geography and history tell us the opposite: Canada and Latin America not only share a hemisphere and its history, but also many other cultural and artistic elements—as we will see later in this blog post.
Latin Americans at the NFB (1975–1999)
Although the NFB continued making films in Latin America for another decade (e.g., Festival in Puerto Rico [1961] or Waiting for Fidel [1974]), it was not until the mid-1970s that Latin American filmmakers actively started enriching the NFB's filmography. In 1975, Chileans Jorge Fajardo, Marilú Mallet and Rodrigo González made the film triptych Il n'y a pas d'oubli (only Fajardo's Steel Blues is available in English from this triptych). This is a rare NFB feature-length fiction film, in which each filmmaker depicts their own experience as an immigrant and the difficult condition of exiles in Quebec after Chile's coup d'état in the early 1970s.
Steel Blues, Jorge Fajardo, provided by the National Film Board of Canada
Later, in the mid-1980s, Colombian Germán Gutiérrez started his prolific career at the NFB with La familia Latina (1986), which depicts "Latin Americans [who] have preferred exile to repression and misery… Who are they? What do we know of their experience, of their culture?"[ii] Gutiérrez, in the early 1990s, made Five Centuries Later… (1991) and Life in the Amazon (1992). These two films, e.g., depict the shared struggles and realities of Indigenous Peoples in Latin America and Canada. And Patricio Guzmán—who, for many, is considered the most important documentary filmmaker in the world alive—made Chile, Obstinate Memory (1997), about returning to his homeland after 23 years of exile and bringing with him the three-part feature documentary The Battle of Chile (1973–1978), "his major chronicle [that] toured the world but was never seen in Chile."
Five Centuries Later …, Germán Gutiérrez, provided by the National Film Board of Canada
The New Millennium (2000–2013)
With the arrival of the new millennium, a diverse group of filmmakers made a wide variety of films dealing with different themes and topics at the NFB. For instance, Spirits of Havana (2000) is a documentary film that depicts "renowned soprano sax player and flautist Jane Bunnett, [who] travels across Cuba with trumpeter Larry Cramer [to] reconnect with old friends… for a recording session." Open Secrets (2003), made by Venezuelan filmmaker José Torrealba, is a universal tale that mixes found-footage material and original recordings and "uncovers a lost chapter in Canadian military history: how the Armed Forces dealt with homosexual behaviour among soldiers, during and after World War II."
Open Secrets, José Torrealba, provided by the National Film Board of Canada
Jelena's Song (2010), by Colombian Pablo Álvarez-Mesa, "is an elegantly structured visual and sonic poem about the transformative power that emerges from an artist's journey through memory and the rituals of everyday life." In Taxi Libre (2011), the main role played by Mexican actor Omar Alexis Ramos Torres, is that of "a Mexican university professor [who] finds himself forced to drive a taxi in Montreal."
Taxi Libre, Kaveh Nabatian, provided by the National Film Board of Canada
This NFB phase particularly shows how close in terms of the arts (e.g., music) and social issues (e.g., discrimination against minorities)—among many other aspects—Latin American and Canadian societies were at that time.
Latina-Canadian/Quebecer Cinema (2014–2022)
In recent years, the NFB has produced various films directed by Latin American women that have enriched the NFB's Latinx-Canadian film heritage.
Song for Cuba (2014) by Tamara Segura started this new wave of Latina-Canadian/Quebecer cinema at the NFB. Her film "about memory and music follows a young Cuban couple charting a new course for their lives on an island in the North Atlantic."
Song for Cuba, Tamara Segura, provided by the National Film Board of Canada
In As Night Descends (2020) by Nadine Gómez, "the filmmaker views the forced downtime stemming from the current crisis as an opportunity to rethink our modes of existence and our relationship to others…". Most recently, the NFB produced Saturday Night (2021) by Venezuelan Rosana Matecki (available to watch on October 10), HotHouse: Lo 100to (2022) by Karla Monterrosa, and Alambic: Modern Alchemy (2022) by Bren López Zepeda, all of which are or will soon be available on nfb.ca/onf.ca for free public viewing.
Saturday Night, Rosana Matecki, provided by the National Film Board of Canada
77 Years of Latinx-Canadian Cinema at the NFB (1945–2022) is an initiative that includes this instalment of Curator's Perspective , two film channels—77 Years of Latinx-Canadian Cinema (1947-2022) and NFB Abroad: Latin-America On Screen—and other features that will be showcased during the month of October on nfb.ca and onf.ca, to commemorate Latin American Heritage Month in Canada.
This initiative aims to feature the different phases that Latin American cinema has undergone at the NFB and to promote the history, politics and arts/culture of this underrepresented Canadian community.
The National Film Board is Canada's family album, truly reflecting the multi-ethnic and pluricultural nature of the country, to which the NFB's Latinx-Canadian cinema is a testament.
NOTE: The list of filmmakers and films in this blog post is not exhaustive. I will continue to explore Latinx-Canadian cinema at the NFB and highlight the work of other outstanding filmmakers, such as Patricio Henríquez and Carlos Ferrand, among many others. Stay tuned.
---
[i] The term Latinx (a gender-neutral alternative to Latino and Latina), used in this blog entry, is intended to also include non-binary Latin American filmmakers at the NFB.
[ii] Film description of La familia Latina (1986) by Germán Gutiérrez.
Header image: Lo 100to (2022) by Karla Monterrosa