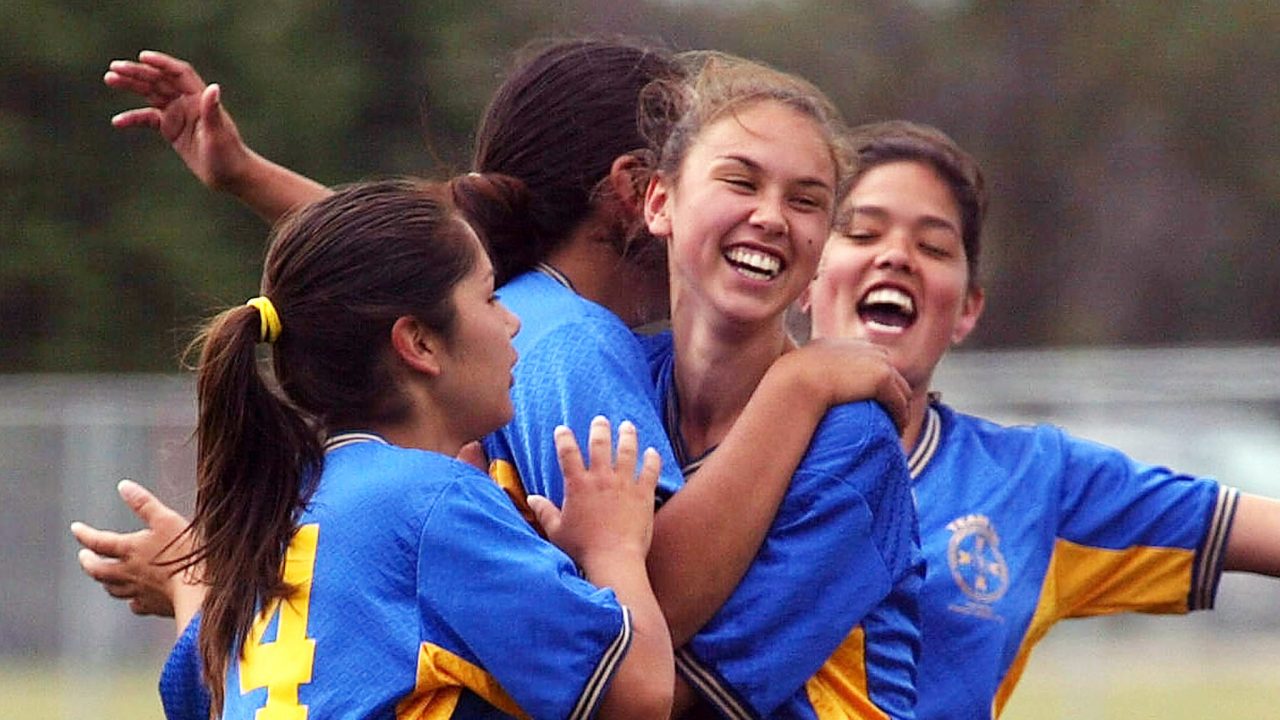 Soccer in NFB Films: More Than a Game | Curator's Perspective
Although team games that involve kicking a ball date back to the third century BC in Asia and other parts of the world,[i] it wasn't until the 17th century that modern soccer took shape in Europe.[ii] With an ever-growing fanbase in Canada and the rest of the Americas,[iii] "the beautiful game," as some call it, has now undoubtedly become the most popular sport on the planet.
And its popularity has been reflected in the various NFB productions that have included soccer games over the decades, from newsreel segments made for the Canadian Army in the 1940s (e.g., Canadians Meet Norwegians in Soccer Play-Downs and Army Soccer Finals); to Children of Jerusalem: Gesho (1996) by Beverly Shaffer, about an Ethiopian kid whose life in Israel revolves around this sport; and even short-films like Soccer (1974) by Shelah Reljic, which "shines a light on British Columbia's soccer culture.[iv]"
Soccer, Shelah Reljic, provided by the National Film Board of Canada
But soccer has also been much more than a game for several NFB directors who've explored the sport on a deeper level. This instalment of Curator's Perspective reviews NFB films that have used the subject of soccer as a means to address a variety of Canadian social issues.
Soccer and Discrimination
Standing on the Line (2018), by Paul Émile d'Entremont, is a feature-length documentary that interviews athletes who've come out despite fears of being stigmatized. The filmmaker shows that both in amateur and professional sports, being part of the 2SLGBTQI+ community remains taboo.
Standing on the Line, Paul Émile d'Entremont, provided by the National Film Board of Canada
One of the main characters in the film is David Testo, who played for three Major League Soccer teams from 2003 to 2011: the Columbus Crew, the Vancouver Whitecaps and the CF Montréal (previously the Montreal Impact). Standing on the Line reveals that the pressure on athletes to compete can be intensified by an additional tension: whether they will be allowed to publicly disclose their sexual orientation. As Testo's mother states in the film, "Nothing is being said […] Your teammates know. Everybody knows […] It just didn't come out. And when it came out, all things changed." Standing on the Line strives to help us, Canadians, defeat sexual discrimination and ensure that our athletes of tomorrow are not excluded.
Soccer and Fair Play
Spirit of the Game (2003), by award-winning filmmaker Annie Fraziér Henry, is a medium-length documentary that follows a few Indigenous athletes from British Columbia over two years, as they make their way to the 2002 North American Indigenous Games in Winnipeg. The film begins with a statement explaining that Indigenous athletes are rarely part of Canadian professional or national teams, and then poses an important question: "Why is it so hard for First Nations athletes to break into mainstream sports?"
Spirit of the Game, Annie Fraziér Henry, provided by the National Film Board of Canada
As the film progresses, Annie Fraziér Henry focusses on several enthusiastic young Indigenous athletes who've been excluded from professional and national teams. The doc devotes a whole section to the Female Soccer Indigenous Team of British Columbia, and to the players who dream of becoming professional or—as they state—of being granted the opportunity to make a living doing what they like most: playing soccer. Ultimately, Spirit of the Game is an homage to the hard work, commitment, and accomplishments of these Indigenous athletes.
Soccer and Immigration
One Sunday in Canada (1961), by Gilles Carle, is a short documentary in which the filmmaker visits a community in northwest Montreal, where about half of the city's 150,000 Italians lived at the time. The film explores the neighbourhood that a Montrealer today would know as Petite Italie (Little Italy), and the streets and houses that were inhabited largely by Italian immigrants in the 1960s.
One Sunday in Canada, Gilles Carle, provided by the National Film Board of Canada
Carle captured one particular Sunday when the Italian community attended a special observance at the Italian church of Madonna della Difesa—which also happened to be the Sunday when Montreal's Cantalia soccer team played against Toronto's Italia. In a long sequence inside the stadium in Montreal, the director decided to focus his camera mostly on the spectators of the match, showing how much soccer–in addition to the religious, culinary, and artistic activities–helped these Italian immigrants feel at home in their new city. One Sunday in Canada is "a very human story of people adapting to life in a new environment."
More Than a Game
There are many other NFB films that have used the subject of soccer, including Children of Jerusalem – Ibrahim (1996) by Beverly Shaffer, about Palestinian child in Israel who wishes to become professional football player; and Hubert Aquin's Of Sport and Men (1959), "a film essay on the passion for sport [and] a lesson in courage and discipline, and a peculiar form of beauty.[v]"
Of Sport and Men, , provided by the National Film Board of Canada
The wealth of films produced by the NFB and others shows that soccer is not just a popular sport: it's fertile terrain for a wide range of cinema and television projects. Today, major film and TV companies, as well as online streaming enterprises, are investing millions of dollars in productions that deal with soccer stories around the world.
As a soccer fanatic myself, and because of the growing interest in this sport in Canada—Canada's team has made it to the World Cup, scheduled to kick off this month, for the first time in 36 years (since the 1986 series in Mexico), and Canada will be co-hosting the World Cup for the first time ever in 2026—I wish Canadian filmmakers would catch the wave and make more films about soccer. The sport's rising popularity here could be a great opportunity for Canadian filmmakers to chronicle a new generation of athletes who are passionately devoted to soccer and, above all, an opportunity to address pressing social issues while helping to popularize this beautiful game from coast to coast.
---
[i] The first known instances of a team game involving a ball are found in Mesoamerican cultures more than 3,000 years ago (the Aztecs, for example, played a sport called tchatali). In China in the 3rd and 2nd centuries BC, a sport called cuju, which involved kicking a ball, was played. See: https://www.footballhistory.org/
[ii] "In 1848 a group of University students [from University of Cambridge] agreed on a single set of rules by which to play football on Parker's Piece. These 11 rules were the first rules for football in the modern era. They were almost entirely adopted by the Football Association when drafting the FA rules in 1863." See: https://www.cambridge.gov.uk/cambridge-rules-sculpture
[iii] Uruguay won first and second FIFA World Cups in 1930 and 1934. See: https://www.fifa.com/tournaments/mens/worldcup/1930uruguay
[iv] Film description, Soccer (1974) https://www.nfb.ca/film/soccer/
[v] Film description, Of Sports and Men (1959) https://www.nfb.ca/film/of_sport_and_men/
Header image: Spirit of the Game (2003) by Annie Fraziér Henry