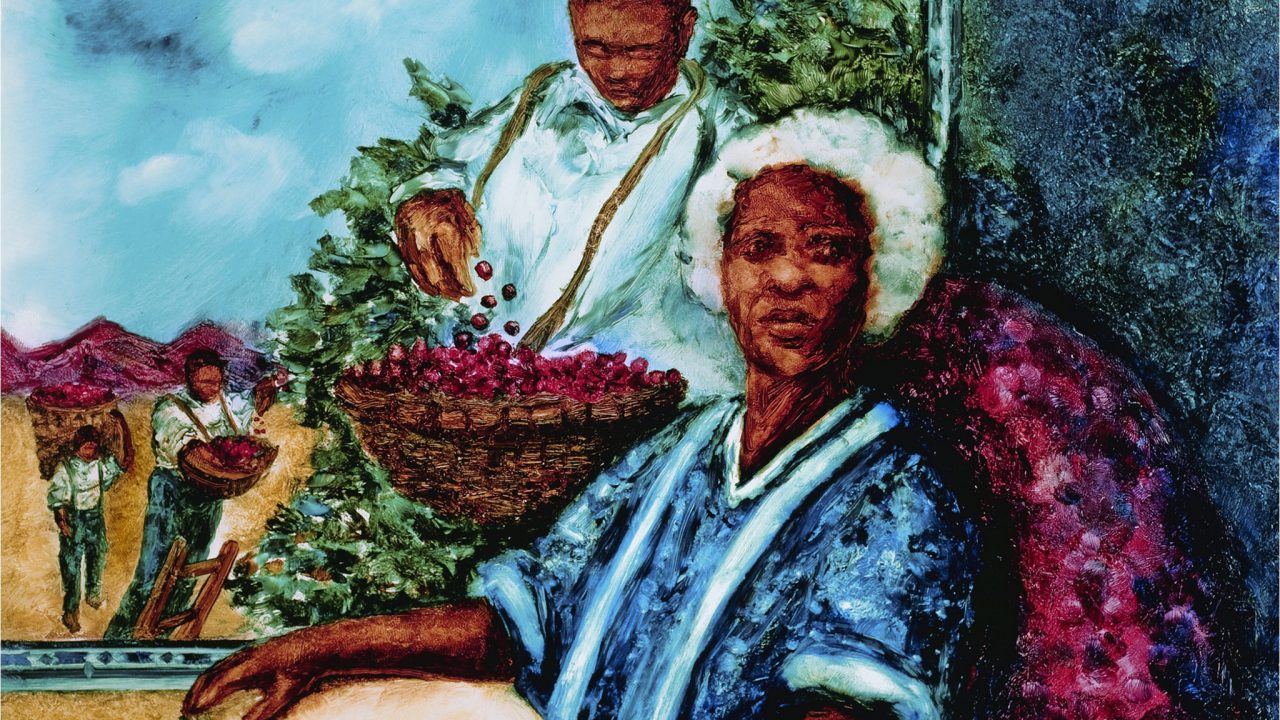 Black Cinema at the NFB: Before and After 1983 | Curator's Perspective
Although the NFB has produced stories about Black communities and characters since 1943,[i] it wasn't until the 1980s that Black people, communities and perspectives were finally depicted by Black filmmakers themselves in NFB films. To mark this year's Black History Month, this instalment of Curator's Perspective offers a brief look at the history of Black cinema at the National Film Board of Canada.
Peripheral Protagonists in Early NFB Dramas
To begin this overview, we should mention Morten Parker's 1965 film A Trumpet for the Combo (digitized and made available to the public this month), which takes place in a high school where a jazz band is auditioning for a trumpet player. The students think Randy is the natural choice as he is seemingly the most talented, but the music teacher favours Bruce, a Black student. Although the film is about the dilemma of whether or not to select Bruce for the band, he's barely in the film: he only appears in the first 33 seconds of A Trumpet for the Combo. What's more, Bruce seems to be the only Black student in the school (or at least, the only one included in the film). Despite its many flaws (including language that's now outdated and offensive), this is a rare example of an early NFB fiction film in which characters broach issues related to racial discrimination.
A Trumpet for the Combo, Morten Parker, provided by the National Film Board of Canada
A Segregated Society
Another fiction film that's usually included in NFB Black cinema retrospectives is Crossroads (1957) by Don Haldane. Some, like the writer of this NFB blog post in 2012, have argued that the film was ahead of its time: "Let's just look at it this way: a decade later, when Guess Who's Coming to Dinner opened in the US, interracial marriage was still illegal in 17 states. Illegal."[ii] But, viewed in retrospect today, although the film is about interracial marriage in Canada, the story doesn't focus on the segregation experienced by Roy (the Black character); rather, it concentrates on the social rejection that Judy (the white character) faces for dating a Black man. Even though Roy is the only Black person featured in Crossroads, this is still a valuable film, because in showing us Judy's rejection by family, friends and even her boss, it exposes issues of racial discrimination and social exclusion.
Crossroads, Don Haldane, provided by the National Film Board of Canada
An NFB Landmark from 1983
Home Feeling: Struggle for a Community (1983) by Jennifer Hodge de Silva and Roger McTair is an NFB milestone in Black cinema: it's the first NFB film made by a Black filmmaker, about Black communities. Unlike A Trumpet for the Combo and Crossroads, Home Feeling is a feature-length doc, and it takes place in north Toronto, in the heart of the infamous Jane-Finch "corridor." The film focusses on several residents from the Jamaican, Grenadian and Guyanese communities, who are among many others struggling to make a living in Toronto, and it explores issues of housing, unemployment and authoritarianism.
It's a powerful look at a neighbourhood that, contrary to its image in the media, is working towards a more positive future. The doc's strengths include the filmmakers' accurate and appropriate use of language when referring to the people and communities depicted, in contrast with most films about Black communities made in the same era, which require a disclaimer. Also, the soundtrack contains a variety of Caribbean rhythms that enhance Home Feeling's memorable portrait of West Indies communities in early '80s Toronto.
Home Feeling: Struggle for a Community, Jennifer Hodge & Roger McTair, provided by the National Film Board of Canada
Epic Journeys
It's important to note that according to its final credits, Home Feeling was written and directed by Jennifer Hodge, with "additional direction" by Roger McTair. So it could be said that this is not only the first NFB film made by a Black filmmaker on Black communities and voices, but it's also the first film made by a Black woman at the NFB. Other women directors would later join Hodge in portraying Black communities, including Martine Chartrand in Black Soul (2000).
Black Soul is an outstanding paint-on-glass animated short that "dives into the heart of Black culture with an exhilarating trip though history [and] the events that shaped their cultural heritage."[iii] The film sketches the epic journey of the Black diaspora in the Americas, with a sophisticated soundtrack that includes music by Oliver Jones, Ranee Lee and Léontily R.S. Cordeiro, among many other acclaimed Black Canadian musicians. Black Soul received the Golden Bear at the Berlin International Film Festival as well as the Prix Iris, an annual award that recognizes talent and achievement in Quebec's film industry.
Black Soul, Martine Chartrand, provided by the National Film Board of Canada
Beyond Black Cinema
I'm concluding this short overview with a film recently completed by Bogdan Anifrani-Fedach for the Alambic creative lab, By Winds and Tides (2022), which, by "exploring the conscious, the unconscious and the self… takes a deep experimental dive into the birth of an idea—how it takes shape, how it is released."[iv]
In this short film, Anifrani-Fedach goes beyond some of the issues Black filmmakers have dealt with in the past at the NFB (e.g., segregated societies, the struggles of a particular community, etc.) and makes use of abstraction, introspection and the deconstruction of film language (as the director explains in this NFB Pause video), crafting an alluring allegorical quest composed of images and words.
Alambic : By Winds and Tides, Bogdan Anifrani-Fedach, provided by the National Film Board of Canada
By Winds and Tides proves that Black cinema at the NFB has not only journeyed a long way, but it's one of the most interesting and important areas of filmmaking here. Today, NFB's programming ensures to include equitably the voices of artists from underrepresented and racialized groups. In the NFB's vaults, there are dozens of films made by Black filmmakers or about Black communities, characters and realities, waiting to be digitized and made available to the public. It's my goal to help shine a spotlight on these titles, and to continue to promote the many faces of Black cinema in future installments of Curator's Perspective.
Curator's Note: This instalment of Curator's Perspective relied on the generous assistance of the NFB's Vault, Archives and Library staff.
---
[i] In Reportages nº 46 (1943) by D. Vincent Paquette, Haitian President Elie Lescot (1941–1946) is depicted in his visit to Quebec City, "paving the way for closer collaboration between the two countries."
[ii] "What's Black and White and Shocking All Over?" by Carolyne Weldon, https://blog.nfb.ca/blog/2012/06/18/crossroads-interracial-marriage-toronto-1957/
[iii] Black Soul film description https://www.nfb.ca/film/black_soul/
[iv] By Winds and Tides film description: https://www.nfb.ca/film/alambic-by-winds-and-tides/
Header image: Black Soul (2000) by Martine Chartrand