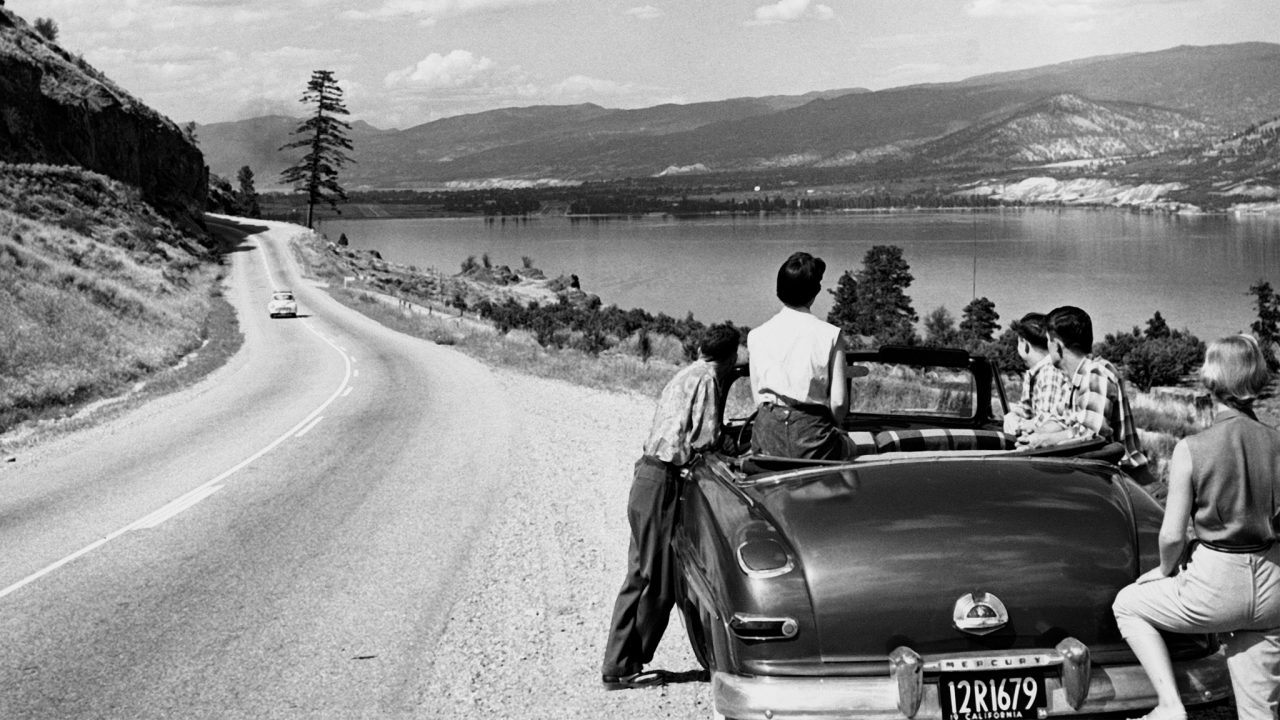 Roll On Down the Highway: The NFB and Road Movies | Curator's Perspective
When we see or hear the term "road movie," we tend to think of fiction features. In films of this genre, as the name implies, one or more characters hit the road. When the impetus for their trip is the need to flee from someone or something, the film is about escape or release; alternatively, they may be trying to find someone or some place, in which case the story is a quest.
These characteristics alone don't define the genre and they aren't all required ingredients, but they give us a good idea of what a road movie is. While Dennis Hopper's Easy Rider (1969) is usually considered the seminal work in the genre, quite a few of our documentaries definitely fit the bill. This blog post takes a look at some of the road movies that have been made at the NFB—a trip that's been ongoing for more than 60 years!
Tourism films
Part of the National Film Board's original mandate was to help people understand Canada's vast landscapes and the people who live there. As such, the federal organization produced a series of "travel films"—in the 1950s and 1960s especially, but also in later decades—to help us explore the country. While not true road movies, these films emphasized journeys, so in a way they were precursors of the genre. Whether by rail (The Railrodder, 1965), in the air (Helicopter Canada, 1966) or floating along on a tiny carved canoe (Paddle to the Sea, 1966), using spectacular footage shot in 70mm (Canada the Land, 1969) or in IMAX (Momentum, 1992), these films invite us on cross-country odysseys.
A coast-to-coast journey by road
One film in this series stands out in particular: Trans-Canada Summer (1958), directed by Ronald Dick. Originally shown in two parts on television, this 57-minute colour documentary takes the viewer along the Trans-Canada Highway, which connects the country's 10 provinces. The travelogue explores the immensity of Canada, the beauty of its landscapes, economic activity in its large cities and the lives of its inhabitants. The film emphasizes the cross-country highway's importance to the nation and the feats of engineering that went into completing it. While at first glance Trans-Canada Summer seems to have little in common with road movies as we know them, the fact remains that it was the first of the NFB's travel films to take to the road and, in so doing, to use the car as its narrative thread.
Trans Canada Summer, Ronald Dick, Jack Olsen & Jean Palardy, provided by the National Film Board of Canada
Quebec in America
In the mid-1980s, many francophone Canadians, perhaps disappointed by the outcome of the May 1980 referendum on sovereignty-association and feeling they were adrift without political or social direction, began to question their identity. In 1986, filmmaker Denys Arcand's feature The Decline of the American Empire was a triumph. The following year, Cirque du Soleil embarked on its first tour outside Quebec, on the west coast of the US. In 1988, Québécois singer-songwriter Richard Séguin had a huge hit with his album Journée d'Amérique. Québécois were suddenly discovering their "Américanité."
Around the same time, a group of francophone filmmakers at the NFB delved into the subject. Producer Éric Michel initiated two series of films: L'américanité (1987) and Parler d'Amérique (1989–1993). Most of the films in both series touch on themes of territory, travel, wandering, loss of meaning, and the domination of American culture. The directors chose formats that differ from one film to another, but many opted for a road-movie approach. The genre was perfectly in keeping with the topics and questions they were exploring.
Journey across America
In his documentary essay Voyage en Amérique avec un cheval emprunté ("Travels in America with a Borrowed Horse," 1987), filmmaker Jean Chabot became the protagonist of his film. After learning that he's going to be a father soon, he takes to the road, heading for the United States in a bid to better understand the world his son will be living in—an increasingly Americanized society. He decides to "traverse the territory of our gradual Americanization."[1] In his eyes, a homogenization of culture is underway in Quebec, creating a void: little by little, America is swallowing Quebec. The filmmaker feels he's part of the final generation "before being engulfed."[2]  A character hitting the road, a quest for meaning, liberation, pessimism—all the classic road movie tropes are here.
"La course destination monde"
In the 1990s, several young filmmakers who'd been crowned winners of La course destination monde[3]—an early reality-show competition on CBC/Radio-Canada's French network that lasted several months and saw participants travel all over the world making short films along the way—made their professional debuts as directors at the NFB. No doubt influenced by their La course experiences, some of them adopted the road movie format for their first documentaries. Denis Villeneuve and Philippe Falardeau and their respective films, REW-FFWD (1994) and Pâté chinois (1997), were among them.
The first recounts the fictional journey of a magazine photographer who's gone to Jamaica to take pictures of a former Miss World but whose car breaks down in Trenchtown, the Kingston neighbourhood with a reputation for being dangerous. Forced to wait for days, he initially withdraws into himself in his car but eventually explores his surroundings. Villeneuve deftly blends fiction and documentary into a one-of-a-kind portrait of Jamaica—what he calls a "psychodrama"[4] and a "broken-down"[5] road movie.
REW-FFWD, Denis Villeneuve, provided by the National Film Board of Canada
The second, which also makes use of fiction traits within a documentary frame, takes viewers on an east-to-west journey. Falardeau plays a young man recruited by a rich Hong Kong entrepreneur to conduct industrial espionage in order to find Chinese restaurants in Canada worth buying. This cross-country road movie, which bears similarities to the travel films mentioned above, chronicles the history of Chinese immigration to Canada by way of visits to eateries dotting the land, all the way from St. John's to Vancouver.
Environmental road movies
Since the turn of the 21st century, environmental challenges have been a core concern of NFB filmmakers, many of whom have addressed those issues in their documentaries and used the road movie format to get their points across. In his feature-length documentary An Ecology of Hope (2001), Fernand Dansereau takes us on a voyage through the Americas, from Baffin Island to the Gaspé to Brazil by way of New York City, and then to Europe—Paris and London, more precisely—as he chronicles the life journey of a man of conscience and conviction: ecologist Pierre Dansereau (a cousin of his who would later die in 2011 at age 99). Being Caribou (2004), directed by Leanne Allison and Diana Wilson, documents the epic 1,500-kilometre trek on foot across the Yukon and Alaska taken by ecologist-filmmaker Allison and biologist Karsten Heuer as they follow a herd of 120,000 caribou, animals threatened with extinction by oil and gas operations. Lastly, Sylvie Van Brabant's Earth Keepers (2009) accompanies eco-activist Mikael Rioux all over the world as he meets men and women who've developed innovative projects that deliver concrete solutions to a range of environmental problems.
Earth Keepers, Sylvie Van Brabant, provided by the National Film Board of Canada
Searching for meaning
A road-movie documentary can also take the form of a quest for meaning. In her post–September 11 documentary Les chemins de Marie (2005), Monique LeBlanc tackles a weighty subject: fear of the Other. She travels the United States by car, showing us a country living in fear at a time when its government is continually announcing threats of terrorist attacks and waging its "war on terror" in Afghanistan and Iraq. That fear of the Other extends far beyond the borders of our neighbour to the south, leading us down paths of selfishness, indifference, inertia and even xenophobia.
In Wintopia (2019), director Mira Burt-Wintonick sets out to complete the final film by her father, celebrated documentary filmmaker Peter Wintonick. After his death in 2013, she found more than 300 videocassettes in boxes in the family basement, containing footage shot by him over some 15 years. The unfinished project was entitled Utopia, in reference to Wintonick's many trips around the world, during which he sought an ideal, a utopia on Earth, where everyone could find happiness. Peter Wintonick had intended to turn this quest for a paradise lost into a film. Using his raw footage, his daughter eventually succeeded in bringing his impossible dream to the screen.
Wintopia, Mira Burt-Wintonick, provided by the National Film Board of Canada
In a more recent documentary just launched on nfb.ca, A Motorcycle Saved My Life (2022), filmmaker lori lozinski embarks on a two-wheeled journey across the roads of northern Alberta. The trip is the starting point of a personal and sometimes painful quest, as she tries to come to terms with the death of her parents.
A Motorcycle Saved My Life, lori lozinski, provided by the National Film Board of Canada
All these examples go to show that the road movie genre extends beyond fiction features. And we haven't even mentioned animation! Animated shorts like Robert Awad's Truck (1975), Anne-Marie Sirois' Joséphine (2000) and Anita Lebeau's Big Drive (2011) also borrow from the genre.
I invite you to watch the films mentioned in this blog post, especially the just-released A Motorcycle Saved My Life. If you want to see more, you can also check out our On the Road channel.
---
[1]. As heard in Voyage en Amérique avec un cheval emprunté (1987) by Jean Chabot, a National Film Board of Canada production [freely translated].
[2]. Ibid.
[3]. As seen in the titles of its first three incarnations, La course des Amériques, La course Amérique-Afrique and La course Europe-Asie, competitors in the first season travelled across North and South America before the scope of the series was gradually expanded.
[4]. As heard in REW-FFWD (1994) by Denis Villeneuve, a National Film Board of Canada production [freely translated].
[5]. Ibid.