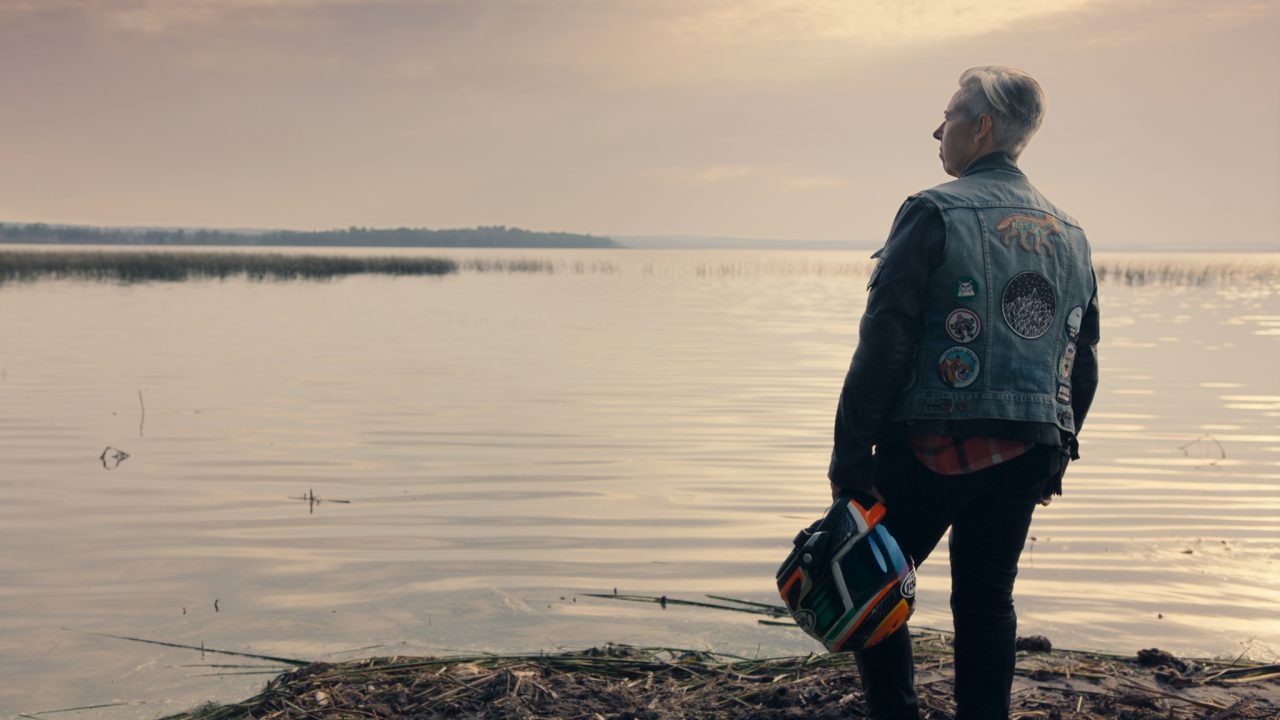 A Motorcycle Saved My Life: What I Learned on My Grief Journey Across the Rockies
"It may be different for others, but pain is what it took me to pay attention. In times of pain, when the future is too terrifying to contemplate and the past too painful to remember, I have learned to pay attention to right now. The precise moment I was in was always the only safe place for me." – Julia Cameron, The Artist's Way
Seems like an oxymoron (A Motorcycle Saved My Life), but while I was drowning in the deep end of sorrow, I discovered the absolute safest place for me was riding a motorcycle.
lori lozinski is an award-winning Vancouver-based filmmaker. She is recognized for producing socially conscious, character-driven stories with female creatives. Her recent film A Motorcycle Saved My Life is now available on nfb.ca.
Vancouver to Valemount, BC – Day 1
We started early on August 11 of 2021. Chris Vautour stayed over at my place, as she's based in Victoria, BC. While I pack up my bike, she goes to pick up the production van.
She is one of my closest friends and someone I trust implicitly. A confidant and spiritual guide. It was necessary for her to be part of this film, not only for her energy and attitude but because it doesn't hurt that she can literally do anything. A gifted polymath who's lived a million lives. An invaluable asset for any experience, especially a small documentary team. At the end of filming, she made a list of 23 credits she felt she earned during our shoot!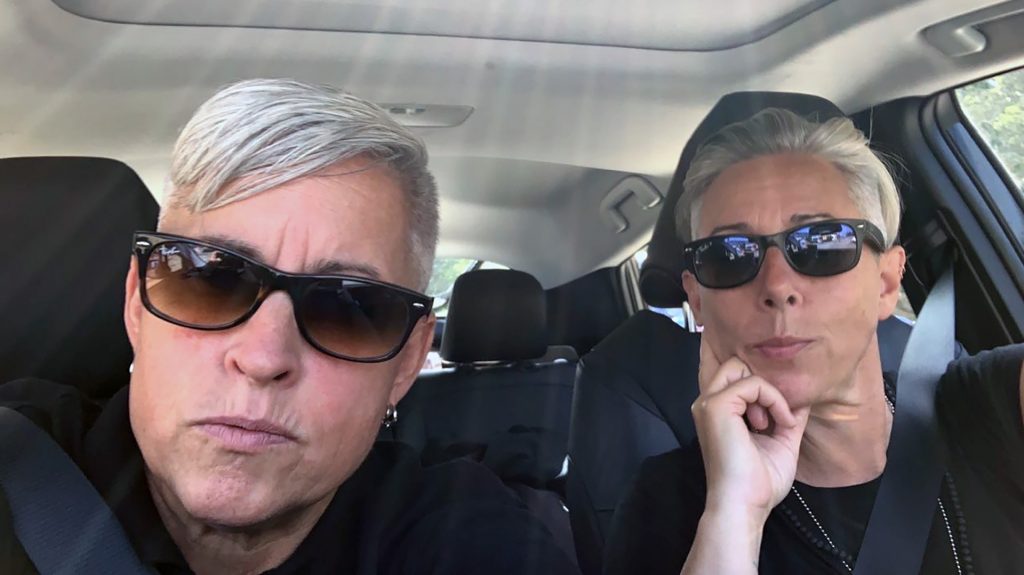 After Chris gets the van, she meets our cinematographer, Diana Parry, and picks up all the camera, lighting and grip equipment. This was my first time working with Diana, and I'd already loved our connection during prep and our test shoot. Grounded, ambitious, confident, talented. I was excited about what the next several days would bring.
I head towards the home of our producer, Teri Snelgrove. Our gathering spot to load up and begin our drive together. Teri and I have been connected for a few years about this project. She is thoughtful, sensitive and wise. She knew this film was about my mother before I could voice it out loud. We went through an investigate phase and a development phase where she met my family on a trip home to record audio interviews with my sister, Stacey Lozinski; my aunts, Deb Lozinski and Sherill Verboom; and my cousin, Wendy Verboom (all seen in the film). She was looking forward to meeting up with everyone again and they, with her.
As we hit the highway towards our next meetup location to gas up and mount the camera, the thoughts of this journey fill my mind.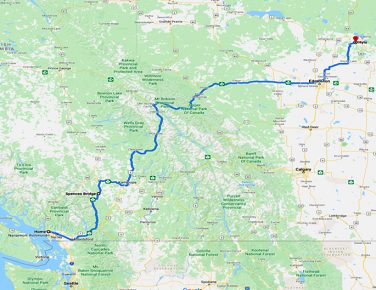 I've spent countless hours in solitude with my own heartache. Alone in my apartment, on forest walks, on the beach and many, many hours in the saddle of my motorcycle. And now, weirdly, and wonderfully, I get to share it with this small team of amazing humans, my collaborators, my friends. My heart is full, and my throat constricts. I turn the volume up in my Bluetooth helmet speakers on a playlist I created entitled "Bad Bitches."
We pull into a gas station in Agassiz, BC. We mount the camera to the hood of the production van to record footage that simulates the point-of-view of my motorcycle. It's set at the same height as my bike, Midnight Margaret—named after my deceased mother. We head out and filming begins.
It's important for me to have the sign for the town of Hope at the beginning of the film. Learning to live with grief is hopeful. It's vital for me to show that this story, while painful, has hope.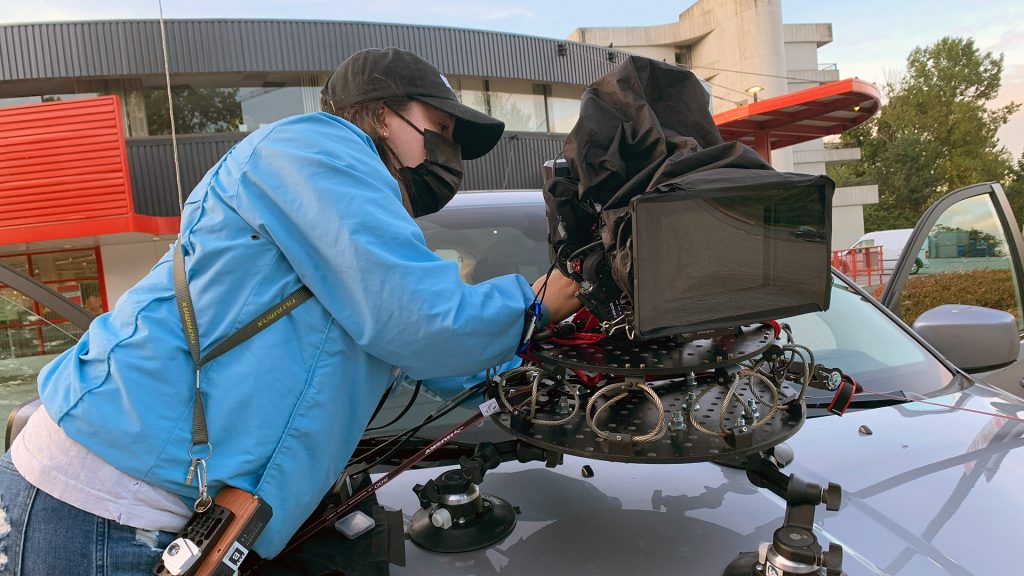 I'm a little disappointed that we must navigate the No. 5 Coquihalla Highway, as it's not my favourite to ride, but the wildfires are blazing and the No. 1 Highway through the picturesque Spences Bridge is closed. There is also heavy grief for the land on fire that weighs on all of us. I wear an N95 mask in my helmet, as the smoke is thick and you can see small fires along the highway. I'm very exposed on this motorcycle. I stay close to the production van.
That's the curious thing about grief: it isn't as tormenting when you share it with others. The making of this film allows us all to enter a veil of emotional safety where we can be vulnerable together. And amazingly, that extended to the life around us along the way.
We start and stop all along the No. 5 Highway through Kamloops, Clearwater and Blue River. We discuss the footage we want. We review what we've shot and what else we need. We enjoy pee breaks by the river and stretching our legs. I'm impatient following, so at a few points I overtake them and twist the throttle for some wind therapy. We eventually land in Valemount for the night.
Valemount to Hylo and Lac La Biche, AB – Day 2
In the morning, we all help pack out and assist Diana in mounting the camera to the hood of the production van. She is quiet, but I chalk it up to not everyone is a morning person. Our activity arouses curiosity among several travellers, and one man comes over to talk with me as I'm finishing loading up my bike.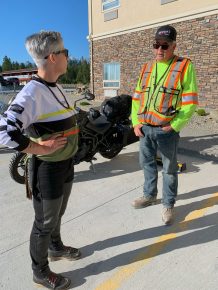 In seconds, I've invited him to sit on my bike and he's telling me about the anger he felt when his wife didn't want him to buy a classic car. He talks about the joy that car could have brought him. He is grieving the joy he didn't get to experience and underneath that, he is grieving the end of his marriage, as he reveals that they fell apart shortly after.
We shared that moment and now somewhere, I hope, he's riding in that car.
We pull into the gas station where another man inquires about what this pack of women is doing with a camera mounted on a van following a motorcycle. I disclose the story of the film, and he reveals he's on his way home to bury the ashes of his father, who had passed during COVID but his family hadn't been able to gather until now. I say I'm sorry and thank him for telling me. We wish each other safe travels.
And then Diana reveals that her grandmother has passed in the night. We all just stop.
Grief finds its people. And it's a truly connecting experience when we are open and heartbroken with each other. It's an experience I was very afraid of throughout most of my formative years, but no longer. I can comfort that grief in others. I know they can feel mine. Our energies soothe each other.
It only takes us about an hour on the road to enter Mount Robson Park, and we must stop to hold Diana and create a space for her grandmother. We gather in the parking lot of these majestic mountains, hold hands and share our hearts. Then we have a dance. I'm grateful Diana is with us during this difficult time.
There is a loose reality in riding a motorcycle. The geography is fleeting and so are my thoughts as I feel the engine in my heart and the road through my feet. We are surrounded by nature's brilliance as we take a rest stop in Jasper, AB. I have recently been immersed in plant spirit herbalism, and as I take a break from the bike, I come across one of my plant allies, yarrow (Achillea millefolium). I share her medicinal and spiritual properties with the team, and I nestle her in a red bandana with white polka-dots on my handlebars.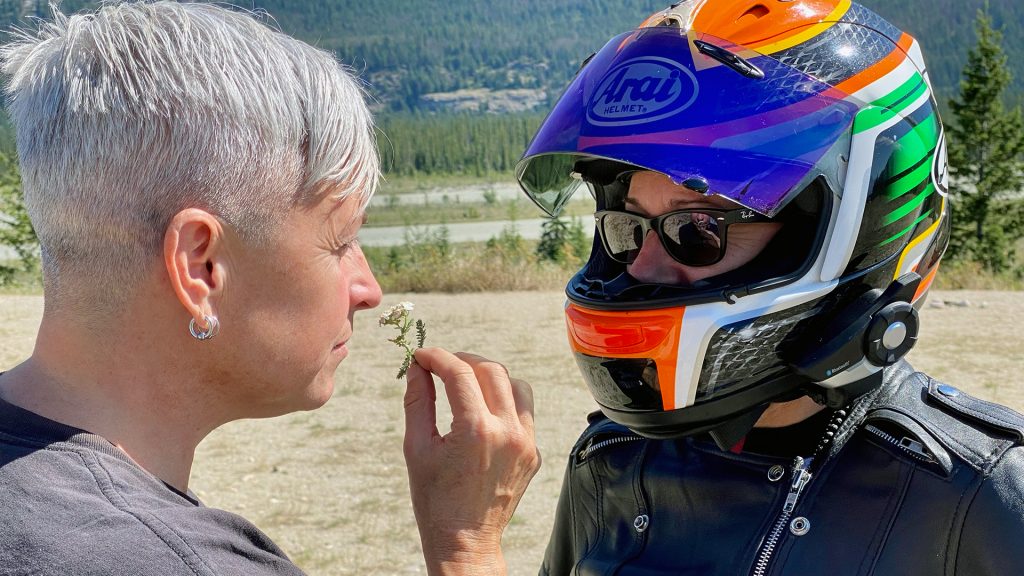 The bandana is also a symbol of my admiration for a brilliant, inspirational woman who has passed on too soon, Jessi Combs. A legend in motorsports who I was fortunate to meet a few times during Babes Ride Out campouts in California. She died breaking the land-speed record when her car failed at 841 kilometres per hour, "the fastest woman on four wheels." I barely knew her, but I miss her light.
There are many stops as I get closer to the lands I grew up on. The camera shield needs constant clearing from all the insects. I don't often stop to think about these little lives, but I do now when I see how many haven't survived our van, camera and my windshield.
But I'm also irritated. It's been a long two days of riding, and I'm almost home.
My breath is shallow and my eyes are blurry with tears within seconds of turning onto the gravel road that leads to my home land. I turn into a field and ride slowly among the most gorgeous green alfalfa and golden bales of hay.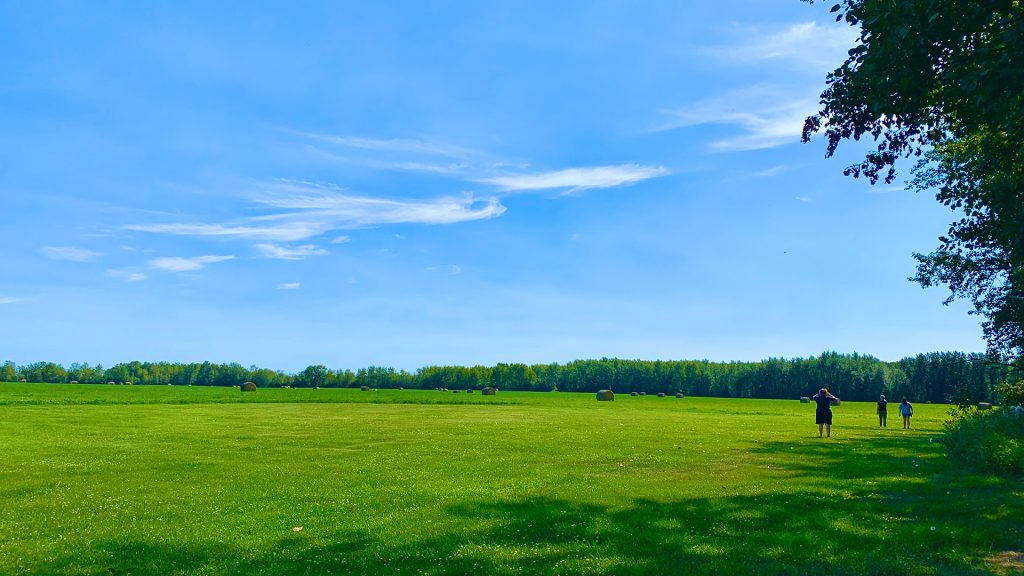 I pull right up to the lake and dismount. The van kills its engine behind me, and we all share a moment of silence in this place—we land. I am home. I learned that to grieve is to belong.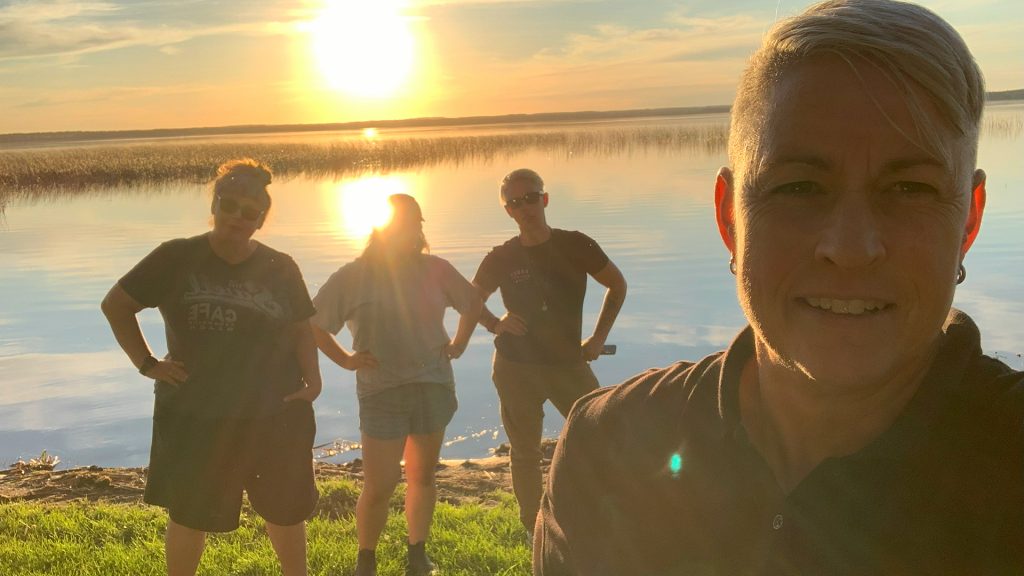 "No coming, no going, no after, no before.
I hold you close; I release you to be free.
Because I am in you, and
You are in me."

– Thich Nhat Hanh