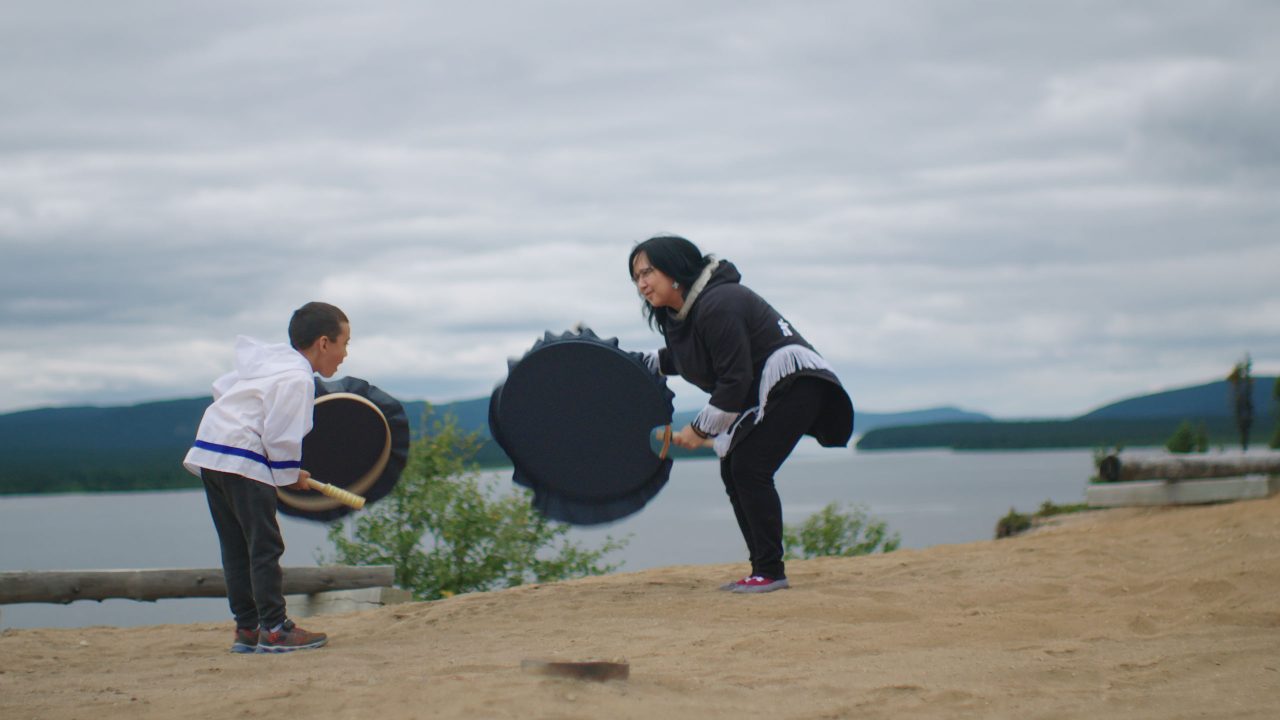 National Truth and Reconciliation Week 2023
NFB Education is proud to partner with the National Centre for Truth and Reconciliation to help teachers educate students about Indigenous realities during National Truth and Reconciliation Week, as well as throughout the year.
This year, the theme of National Truth and Reconciliation Week is "Honouring the Survivors" where we memorialize the children lost to the residential school system and honour Survivors and their families. The expanded program features age-appropriate material for students in Grades 1–12.
All sessions will be held virtually on Hubilo. Registration is required to stream live or pre-recorded sessions and to participate in the Q&A segment.
MONDAY –
The Gift Indigenous People Bring to the World
Primary  
Evan's Drum, Ossie Michelin, provided by the National Film Board of Canada
In Evan's Drum, an adventurous young boy and his determined mother share a passion for Labrador Inuit drum dancing.
Secondary  
Indigenous Languages Playlist (Ages 15-17)  
Celebrate Indigenous languages with this playlist that covers only a fraction of the 60+ dialects within the 12 linguistic families spoken in Canada.  
Adult Learning – Unconscious Bias and Debunking Stereotypes  
Mini-Lesson for Inconvenient Indian  
Enjoy an analysis of Inconvenient Indian that breaks down the central themes and topics while addressing the overarching question: how can practicing and reclaiming culture be a form of resistance?  
TUESDAY – Learning From Survivors
Secondary  
Holy Angels, Jay Cardinal Villeneuve, provided by the National Film Board of Canada
Holy Angels powerfully recaptures Canada's colonialist history through impressionistic images and the memories of Lena Wandering Spirit, a woman removed from her family and sent to a residential school in 1963. 
Adult Learning – History of Residential Schools    
We Were Children, Tim Wolochatiuk, provided by the National Film Board of Canada
The profound impact of the Canadian government's residential school system is conveyed through the eyes of two children who were forced to face hardships beyond their years.
WEDNESDAY – Researching Residential School History  to Share the Stories
Primary  
No Longer Forgotten: Making Space for Métis Stories in the Classroom  
In this time of reconciliation, educators sit with the Calls to Action and are coming to know what reconciliation might look like in their classrooms.   
Secondary  
Mini-Lesson for Forgotten Warriors (Ages 14+)  
This mini-lesson looks at the unforgettable memories and hardships of Indigenous soldiers on the frontlines of battle during World War II. 
Adult Learning – Indigenous Rights/UNDRIP   
Mary Two-Axe Earley: I Am Indian Again  
Learn about Mary Two-Axe Earley who fought for more than two decades to challenge sex discrimination against First Nations women embedded in Canada's Indian Act and became a key figure in Canada's women's rights movement.  
THURSDAY –
Youth Empowerment Event
Primary  
Follow three Cree children as they face challenges and learn valuable life lessons about tradition, cooperation, self-esteem, and ethics.  
Secondary  
Indigenous Cinema in the Classroom (Ages 12-14)  
The films touch on the topics of nationhood, identity, fatherhood, heritage, colonization, and more. 
Adult Learning – Intergenerational Impacts and Ongoing Systemic Discrimination     
After watching the Freedom Road series, you'll be able to answer the question: what conditions are needed for a community to thrive? 

FRIDAY –
Reconcili-ACTION
Primary  
Urban.Indigenous.Proud: That Old Game La Crosse, JL Whitecrow, provided by the National Film Board of Canada
This short film explores how lacrosse has been passed down from generation to generation.  
Secondary  
Mini-Lesson for Hi-Ho Mistahey! (Ages 12+)  
This film focuses on the dream of an Indigenous teenager, Shannen Koostachin, who devoted her short life to ensuring that other young people in Attawapiskat could benefit from an education worthy of the term.  
Adult Learning – Reconciliation – Taking Action  
Reel Injun, Neil Diamond, Catherine Bainbridge & Jeremiah Hayes, provided by the National Film Board of Canada
Cree filmmaker Neil Diamond takes an entertaining and insightful look at the portrayal of North American Indigenous people throughout a century of cinema.  
SATURDAY – National Day for Truth and Reconciliation
This playlist was created to commemorate Orange Shirt Day, which was launched in 2013 to call attention to 165 years of residential school experiences between 1831 and 1996. These films illuminate the intergenerational trauma inflicted through this and other forced-assimilation policies which continue to ripple through communities even today.  
Classroom Activities
A Statement of Reconciliation recognizes the Indigenous nation(s) on whose traditional lands you are currently situated; acknowledges the traditional names of those lands; and cites the associated treaties. The statement must also highlight the inequalities these nations currently face. It is important and respectful to recognize the name of each nation that occupied a traditional territory in its own language (for example, "Kanyen'kehá:ka" instead of "Mohawk").
Click here for a template to start writing your school's Statement of Reconciliation. This was written by Bobbie-Jo Leclair, an Indigenous Education Consultant at the Louis Riel School Division.
Students are then invited to save and share their Statement of Reconciliation on social media, using the hashtag #NationalTRW.
Click here to watch a Statement of Reconciliation by students from the Louis-Riel School Division in Winnipeg.
Teachers are advised to do some preparation before presenting the films and activities in class. Here is a list of key terms, as well as readings and videos on some essential topics in relation to the Indigenous historical perspective and the effects of colonization.
Pour lire cet article en français, cliquez ici.
Discover more Educational blog posts | Watch educational films on NFB Education | Watch educational playlists on NFB Education | Follow NFB Education on Facebook | Follow NFB Education on Pinterest | Subscribe to the NFB Education Newsletter