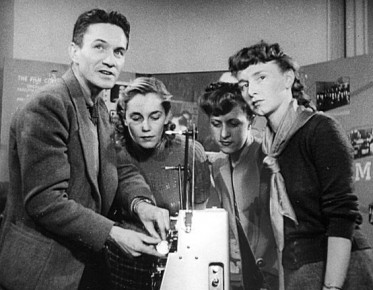 2010 Staff Picks: An unconventional Top 10
Films
We've been posting a lot of lists lately, from ASIFA's best in animation to TIFF's Canada's Top Ten. Feeling all in the spirit, we decided to share our own list. Below you'll find the NFB content team's staff picks for films added to our website over the past year.
My personal favourite was Andrea Dorfman's Flawed (above). It's no secret that this film struck a chord with me as I relentlessly stalked Dorfman for interview after interview. I loved everything about it, from the style of animation to the beautiful sound of her voice, but most of all I appreciated the artist's transparency and the light-hearted tone taken to tell a serious story. Big thumbs up from me. While we only have clips online, you can see the full film through its sister Interactive project.
In the Labyrinth, Roman Kroitor, Colin Low et Hugh O'Connor, Office national du film du Canada
Carolyne Weldon, our fabulous English-language blogger, chose In The Labyrinth, claiming it's "the most aesthetically-pleasing and trippy work co-directed by a guy I did a 6-hour lunch interview with."
The ErlKing, Ben Zelkowicz, Office national du film du Canada
Kate Ruscito, our administrative assistant (aka The Gatekeeper), says, "If you've ever wondered what the cinematic equivalent of the lovechild between Salvador Dali, Guy Maddin and David Lynch would be like, look no further than The ErlKing. I saw this film way back in January, and even 12 months later it's still the one that stands out clearest in my memory. It's haunting and terrifying in the way that all beautiful art is, but it isn't scary. 'Burton-esque' really would be a great way to describe it, but I'll just stick with 'awesome.'"
The Bear and the Mouse, F.W. Remmler et Ingmar Remmler, Office national du film du Canada
Our artistic director, Mivil Deschenes, loved The Bear and The Mouse and calls it the top film in the "Bring the Quik" category. Apparently, it's fun for all ages…
The City (Osaka), Kaj Pindal, Office national du film du Canada
Matthieu Stréliski, my French-language counterpart (heads up content and community), suggests The City (Osaka) from Kaj Pindal and files it under the category, "Best Use of 2 Minutes and 15 Seconds of Black Screen Set to Groovy Jazz Before The Actual Film Starts."
Flash William, Thom Burstyn et John Laing, Office national du film du Canada
Nicolas Renaud, a freelancer we hired to help us with some writing and film descriptions, chose Flash William, claiming it's the "Best Portrait of a Self-Taught Filmmaker in the Canadian North."
The Devil at Your Heels, Robert Fortier, Office national du film du Canada
Albert Ohayon, our collections expert, votes for The Devil At Your Heels in the category of "Best Film About  a Daredevil Jumping Over A River in a Rocket-Powered Car."
How Do They Put the Centres in Chocolates? , Don White, Office national du film du Canada
Our French-language blogger, Catherine Perreault has a soft spot for the How Do They… series. Winner of the "Best Quickies" category, she loves how "they're all very good short films that respond to some of life's most-asked questions."
Night Mayor, Guy Maddin, Office national du film du Canada
Designer Gil Nault chose Guy Maddin's Night Mayor and calls it "The Best Local Cult Weirdo Film." (Both Gil and Mivil have awesome taste, and always manage to unearth the gems in our collection.)
The Underground Movie, Les Drew, Office national du film du Canada
And finally, my big boss, the head honcho, Stephane Bousquet, Director of Digital Enterprises, chose The Underground Movie in the category of "Films That Make Science Cool."
What were your favourites from the past year?