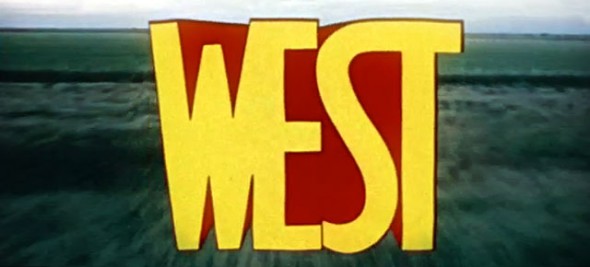 Focus on the Prairies: The West TV Series
Films
In 1972, the National Film Board produced the television series Adieu Alouette, which consisted of 12 documentary episodes shot in English and intended to dispel stereotypes about Quebec. It was felt that most people in Canada had a very limited view of the province (especially after the tragic October Crisis), and that a series of documentary profiles of Quebeckers would go a long way towards helping people understand what Quebec was all about. Following its broadcast on the CBC on January 3, 1973, Alouette became a huge hit, prompting the NFB to look into producing a new series that would focus on another part of the country. It was decided that the Prairie provinces would be next.
And so the West series was born.
Thirteen shows were produced with John N. Smith acting as executive producer and Cynthia Scott (who later directed The Company of Strangers) as associate producer. Stories were shot throughout the summer and fall of 1973 on such diverse subjects as a country singer/security guard, a stage production of the Northwest Rebellion and a self-made millionaire working in oil exploration. Documentary great Donald Brittain directed 4 episodes, while Smith and Scott also directed one apiece.
Sidney Goldsmith, who had worked as an animator for the NFB since the 1950s, produced the eye-popping introduction for the series with Pierre L'Amare (I just love the way the map of the prairies morphs into the word WEST). Bruce Mackay composed the incredibly catchy opening tune. I defy anyone to listen to it and not hum it for hours.
"I Don't Have to Work That Big" was the first episode, broadcast on Wednesday, December 19, 1973, at 10 p.m. on the entire CBC network. Viewers loved it, as did critics, most of whom called it the best episode of the series. Joe Fafard, who is known around the world for his life-sized cow sculptures, is featured in this episode. What makes it so unique is that it focuses not only on Fafard and his unusual sculptures but on the small town of Pense, Saskatchewan, where he makes his home. It is a beautiful study of a typical Canadian small town complete with all its unique characters, some of which are the inspirations for Fafard's work. I also feel this is the best one of the series.
I Don't Have to Work that Big, Michael McKennirey, Office national du film du Canada
The next episode, on oil businessman Bob Keen, was broadcast on Boxing Day of the same year. "Catskinner Keen" was also praised by viewers and critics alike. The same cannot be said for the third  episode, "Starblanket," which aired a week later on January 2, 1974. For one thing, its subject, 26-year-old Chief Noel Starblanket, felt the NFB did a "knife job" on him and distorted the facts about his reserve. Starblanket was particularly upset that the episode made it seem like he was drinking beer during a band council meeting when in fact it was ginger ale. Director Donald Brittain had to appear on a Regina radio station to defend the episode. Reviews, however, were mostly favourable.
Starblanket, Donald Brittain, Office national du film du Canada
The series continued to air throughout the winter but was occasionally pre-empted. On March 13, "The Jews of Winnipeg" (the series' 9th instalment) was broadcast to mixed reviews. The episode attempted to tell the story of the Jewish community in Winnipeg, which had been formed in the 19th century by immigrants who had fled the pogroms of Czarist Russia. Well-known comedian and filmmaker David Steinberg appears in the episode during a family get-together.
The Jews of Winnipeg, Bill Davies, Office national du film du Canada
The 13th and final episode was broadcast on April 17. It was an edited version of Temples of Time, a film without dialogue about the splendour of the Rocky Mountains that was originally released in 1971. Surprisingly, a shot of a naked woman lying by one of the mountains was retained for the broadcast. I couldn't find anything in our archives to explain why this film was used as opposed to filming a new documentary, but I can guess that it probably had to do with keeping costs down.
Temples of Time, William Canning, Office national du film du Canada
Overall, the series was very well received, achieving excellent ratings for its time slot. Critics felt that the earlier episodes were the best and lauded the NFB for showing a part of Canada that had been neglected for too long. All 13 episodes were re-broadcast that summer.
After a second series on a region of Canada met with success, the NFB gave the go-ahead to produce new series about British Columbia and the Atlantic provinces. Pacificanada would go on the air on January 22, 1975, and run for 8 episodes, while Atlanticanada was presented as a 2-and-a-half-hour special on April 9, 1975. (More on these series at a later date.)
West is a perfect example of the NFB fulfilling its mandate to show Canada to Canadians . . . replete with cow sculptures, Jewish comedians and mountain nudes. Plus it has the catchiest intro music ever recorded. Enjoy.
(The following West episodes are also available to view on NFB.ca: Some Natives of Churchill, We're Here to Stay,   Catskinner Keen , Every Saturday Night, The New Boys, Ruth And Harriet: Two Women of the Peace and This Riel Business. )