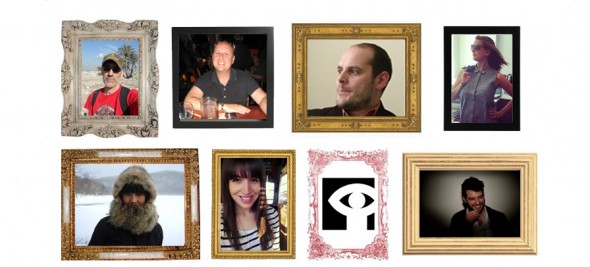 It's That Time Again: 2013 Staff Picks
Films
Our staff is itching to share their fave picks with you. Here are the best of the films from our collection that we've added to our website over past year, according to a few of us. Enjoy!
From Kennedy and Diefenbaker to Reagan and Mulroney, this documentary presents a fascinating retrospective of Canada-United States relations through a study of successive presidents and prime ministers. As we celebrate the 60th anniversary of John F. Kennedy's death, I particularly enjoyed the archival film footage used in the movie.
It's always fascinating to discover a decades-old film that has something eerily in common with today's aesthetics, technologies, and practices. This short animation immediately reminded me of the "bouncing window" screen-saver of my youth, in which the Microsoft Windows logo traveled diagonally across the computer screen. But Mosaic is even more fun and intriguing, with an appropriately spartan yet catchy soundtrack and a bouncing square that seems to multiply into infinity.
It's impossible for me to separate these two films about Glenn Gould, since they capture the dichotomy of the artist so well. Whether he was at home or in the Columbia studio, Gould's interpretations were always so powerful. And the passion Gould transmitted through his ivory keys was perpetual. Wolf Koenig and Roman Kroitor turned their eye to one of the most talented pianists ever, and the results of their efforts is intoxicating.
Kate Ruscito, Community Manager (English): Bydlo (Patrick Bouchard, 2012)
Bydlo is not an easy film to watch. In fact, the first time I saw the film, I was borderline horrified. Then I watched it again. Patrick Bouchard's animation is famous for being macabre and Bydlo makes The Corpse Bride look like Tangled. The sound and score are epic and catchy and the story is brutal and devastating. Plus, it's the only film in our collection that ends with a cannibalistic orgy, and not many films can boast that.
Nominated for an Oscar, Amanda Forbis' and Wendy Tilby's animated short is a real gem. It recounts the touching story of a young dandy who leaves England in 1909 in order to raise cattle in Alberta; the harsh reality hits him upon his arrival. The film is a story of the collision between two worlds, told through stunning images.
An extraordinary documentary on the tragic destiny of an exceptional man, this film is also a fascinating portrait of the Cold War era.
Albert Ohayon, Collection Curator (English): Mobility (Roger Hart, 1986)
This is a fascinating documentary on public transit in several third-world cities showing innovative solutions to a myriad of common problems. It includes a snappy script and narration from Donald Brittain.
Lorne Price, Head of Digital Distribution: Get a Job (Brad Caslor, 1985)
Singing frogs and pencils.  How can you go wrong?!