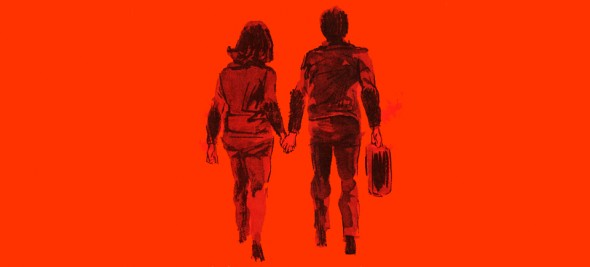 The best of the best: must-watch NFB films from our online collection
Films
As you may have heard, we're celebrating our 75th birthday! That's right, it's been 75 whole years of excellence in filmmaking (and more recently, in digital and interactive projects too). What better way to celebrate than to look back at the most successful, seminal, beloved, and influential NFB films ever?
Short docs: a slice of life in 52 minutes or less
Love a good documentary, but don't have the time to invest in a feature-length film? The NFB pioneered the documentary genre, starting with John Grierson's coining of the term in the 1930s, and we have quite a few short- to mid-length films that will pack a punch without cutting into your busy schedule.
For starters, let's risk tooting our own horn: did you know that the NFB won the very first Oscar in Documentary Short Subject in 1941? The award went to Churchill's Island, a WWII doc about the Battle of Britain.
Churchill's Island, Stuart Legg, provided by the National Film Board of Canada
Want more amazing short docs? Check out The Devil's Toy by Claude Jutra, one of the first skateboarding films ever made. It's haunting, hilarious, and absolutely ahead of its time. (Did you know that we recently released an interactive series of web docs in which contemporary filmmakers from all over the world created homages to Jutra's seminal film? It's called The Devil's Toy Redux and you can check it out here). In the meantime, here's the classic:
The Devil's Toy, Claude Jutra, provided by the National Film Board of Canada
Some other short docs we're pretty proud of include The Stratford  Adventure, which profiles the tiny Ontario town of Stratford-upon-Avon and asks how this obscure little place became a world-renowed Shakespearean festival destination, and Flamenco at 5:15, another Oscar-winner in which a renowned Spanish flamenco teacher moulds the impressionable young bodies and minds of the National Ballet School of Canada.
Flamenco at 5:15, Cynthia Scott, provided by the National Film Board of Canada
The Stratford Adventure, Morten Parker, provided by the National Film Board of Canada
Short animations: the sombre, the hilarious, and everything in between
The NFB's got a pretty darn good international reputation for short animated films. These are films you can't just waltz into your local movie theatre and see; they often run at festivals or as part of special programmes at repertory or art-house cinemas. But good news: the Internet exists! And we've got a ton of these goodies online, for free.
First, the classics: how can you go through life never having seen The Sweater or The Cat Came Back? The former is based on the beloved children's book of the same name, and follows a young boy who must suffer through wearing a Toronto Maple Leafs jersey while all his friends tout the superiority of the Montreal Canadiens. It's proof that hockey rivalries start young in this country! And the latter, an Oscar nominee from acclaimed animator Cordell Barker, tells the familiar tale of the ne'er-do-well feline whose scheming ways are the bane of his beleaguered owner's existence. Give both films a watch now!
The Sweater, Sheldon Cohen, provided by the National Film Board of Canada
The Cat Came Back, Cordell Barker, provided by the National Film Board of Canada
Other classic NFB short animations include The Big Snit (in which a nuclear war coincides with a petty domestic dispute), Getting Started (in which a chronic procrastinator does what he does best—nothing), and Special Delivery (in which a cover-up of the death of a mailman results in disaster). And of course we can't forget about the prolific and brilliant Norman McLaren, whose delightful and pioneering works are too many to mention. Head over here for a vast selection.
More recently, our contemporary animations have racked up accolades, including Oscars for both The Danish Poet and Ryan. In Chris Landreth's Ryan, you'll see a touching portrait of NFB animator Ryan Larkin, whose battles with addiction crippled his once-promising career. In The Danish Poet, you'll follow the curious and melancholic poet Kasper as he searches for answers to the big mysteries in life: love, death, and birth.
The Danish Poet, Torill Kove, provided by the National Film Board of Canada
Ryan , Chris Landreth, provided by the National Film Board of Canada
The crown jewel: feature docs
We've got a solid history of unflinching, topical films about the issues and events that affect Canadians, from environmental concerns to Aboriginal issues and military might. Start with Alanis Obomsawin's Kanehsatake: 270 Years of Resistance, in which the filmmaker follows the 78-day armed standoff between police and the Mohawk community in Oka, Quebec.
Kanehsatake: 270 Years of Resistance, Alanis Obomsawin, provided by the National Film Board of Canada
One of our biggest box office successes was the 1972 documentary Cry of the Wild , by the ultimate outdoorsman Bill Mason (whose Song of the Paddle is also a must-see). In Cry of the Wild , Mason tries to dispel the myth of the bloodthirsty wolf. He relocates three young wolves from the wild to his own property and is able to film tribal customs, mating and birth. This stunning nature doc captures moments in wildlife never before seen on film.
Cry of the Wild, Bill Mason, provided by the National Film Board of Canada
If you're feeling experimental, check out the Oscar-nominated Volcano: The Life and Death of Malcolm Lowry, which harnesses the acclaimed novelist's particularly nightmarish brand of evocative prose to create a haunting film in the same type of atmosphere.
Volcano: An Inquiry into the Life and Death of Malcolm Lowry , Donald Brittain & John Kramer, provided by the National Film Board of Canada
That's a wrap! Dramatic fiction in the spotlight
While we do specialize in documentary and animation, we've got a few fiction features to boast about, too. A film school favourite is Don Owen's Nobody Waved Good-bye, a classical-modernist treatise à la Godard on what the world looks like for an over-eager yet confused young man in mid-century Canada. In 1984, the Toronto International Film Festival ranked Nobody Waved Good-bye number 9 on their list of the top 10 Canadian feature films of all time. Head over here if you want to read more about the unique path this film took to its eventual production.
Nobody Waved Good-bye, Don Owen, provided by the National Film Board of Canada
On a lighter note, Buster Keaton made one of the last films of his long career with the NFB, and it involved—what else?—him brewing tea and knitting atop a railway speeder as he travels from coast to coast. The Railrodder is a curious little gem that will have you chuckling throughout.
The Railrodder, Gerald Potterton, provided by the National Film Board of Canada
Finally, a trip into a uniquely Canadian part of history is the stuff of Drylanders, the very first English-language feature fiction film the NFB ever produced. In this portrait of life on the prairies, a family leaves eastern Canada to stake its future in the middle of the flat, dry lands of this vast country of ours.
Drylanders, Don Haldane, provided by the National Film Board of Canada
Why not make yourself a little checklist to see how many of these seminal Canadian classics you've seen and plan to see? Check me out: I'm batting 100%!
***
Header image: Nobody Waved Good-bye (Don Owen, 1964).