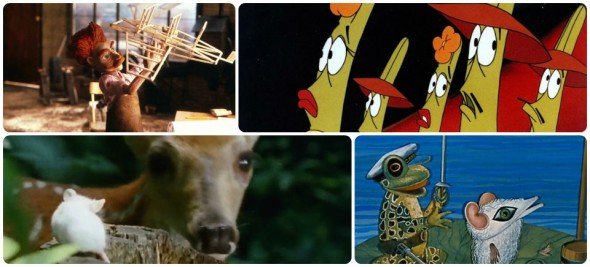 Take a tour of the NFB Kids' Channel, featuring films for children of all ages
Films
Got kids running around the house? The long, hot summer continues, and those little rugrats have all the free time in the world… (so jealous). So what to do with 'em? The Kids' Channel on NFB.ca offers a variety of funny, musical, entertaining, and educational videos, both live action and animated, for kids of all ages. Let's take a tour to see what's on deck.
Animal lovers unite!
Does your kid have a soft spot for our furry friends? Well, you won't be able to contain your "awww"s when you see That Mouse, a lively short film about a teensy white mouse that cavorts around the forest on the back of a big black bear. Best of all, the furry forest dwellers all talk in human voices. It's like Look Who's Talking for fauna!
Other animal-themed films include the beloved classic The Cat Came Back, in which the infamous meddlesome feline keeps coming back… and back… and back. In  Adventures, a curious raccoon strays far from home, and in Animal Friends, you'll be treated to a trio of charming mid-century vignettes about our relationships to animals both domestic and wild.
My personal favourite in the animal category is the delightful Meltdown, a hilarious romp for kids and adults alike. A poor polar bear has to move away from the Arctic when all the ice melts, but unfortunately he can't find a job! This guy's gonna have to edit his resume.
A saucy sing-a-long
Does your little one love to bust out the tunes? Got a future Katy Perry on your hands? Get the kid started with a few delightful ditties, many of which you'll find yourself humming along to as well. I highly recommend the colourful and entrancing Mr. Frog Went A-Courting, in which the classic folk song is brought to life with Evelyn Lambart's signature colour-rich animation.
Incidentally, we recently celebrated Ms. Lambart's centenary over on the blog; why not tell your kids all about Canada's first female animation pioneer?
Other musical masterpieces for the kids include Get A Job, which features a chorus of pencils singing '50s doo-wop (why not?) and Cactus Swing, in which a barren desert landscape turns into a jazzy nightclub overnight (the cacti really know how to belt it out).
Cactus Swing by Susan Crandall& by Beth Portman, National Film Board of Canada
Slapstick, jokes, and all-around absurdity
Got a future comedian at home? You can fan the flames of your kid's sense of humour with some hilarious shorts. Check out Blackberry Subway Jam, a film based on the short story of the same name by the patron saint of children's fantasy lives: Robert Munsch.
Still in the mood for a laugh or two? Check out the absurd short Pigbird by Oscar-nominated animator Richard Condie (The Big Snit)—that'll teach you to attempt cross-border smuggling! And kids will love Lady Fishbourne's Complete Guide to Better Table Manners, an utterly impolite meditation on the DOs and DON'Ts of modern dinner party etiquette. Feet on the table? Sure, why not?
Everything but the kitchen sink
There's just too much good stuff on the Kids' Channel to go through in one post, but here are a few more recommendations from yours truly: The Balgonie Birdman is about a mild-mannered prairie guy who's got a secret double life as a night-time inventor. He's building a flying machine in his shed, and nobody even knows about it.
And what about the colourful and confusing Invasion of the Space Lobsters? Yes, it's exactly what it sounds like: a group of extra-terrestrial crustaceans are visiting planet earth with some dubious plans…
If these recommendations aren't exactly what you're looking for, go directly to the Kids' Channel yourself and see what's playing. There's no shortage of great content for the kids, and while they're laughing, singing, and gawking, they may even learn something new about the world.
Happy watching!