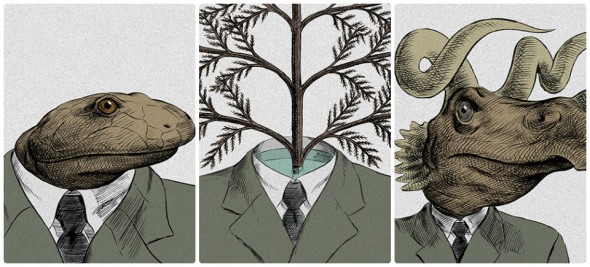 Darwin Said What?! | Celebrate Darwin Day with 4 Off-The-Wall Shorts About Evolution
Films
International Darwin Day, a day used to "highlight Charles Darwin's contribution to science and to promote science in general," was more like International Darwin Week this year. Science was, refreshingly, all over the headlines.
If you missed it, the existence of gravitational waves, these "ripples" in the space-time continuum predicted by Albert Einstein 100 years ago, was finally proven by scientists who were able to observe them, confirming the universe is infinitely weirder and more mind-bending than was previously thought possible.
Celebrate Darwin Day the NFB way with these four highly entertaining animated shorts that playfully revisit the theory of evolution.
Evolution
Evolution, Michael Mills, Office national du film du Canada
Get a crash course in Darwinism with this colourful Oscar®-nominated short that hilariously illustrates the forward march from phytoplankton to monkey. Equal parts legit and wacky, it is fair to bet it would've elicited a chuckle from Charles himself.
From the Big Bang to Tuesday Morning
From the Big Bang to Tuesday Morning, Claude Cloutier, Office national du film du Canada
Enjoy an absurdist version of the evolutionary journey from rock to human (with some surprising twists in between) with this slick pencil-drawn Claude Cloutier short. (More Claude Cloutier films this way.)
Hot Stuff
Hot Stuff , Zlatko Grgic, Office national du film du Canada
Here's when things get heated. Take a tour through mankind's volatile relationship with fire with this zany short by famed Croatian animator Zlatko Grgić (creator of the one and only Profesor Baltazar). More about Hot Stuff here.
How Dinosaurs Learn to Fly
How Dinosaurs Learned to Fly, Munro Ferguson, Office national du film du Canada
Familiarize yourself with the little-known episode in prehistory when dinosaurs skateboarded, only ate junk food, never brushed their teeth and entertained very strange (and dangerous) notions of what constituted a "fun" time with this brilliantly animated short that isn't as apocryphal as it would first seem…