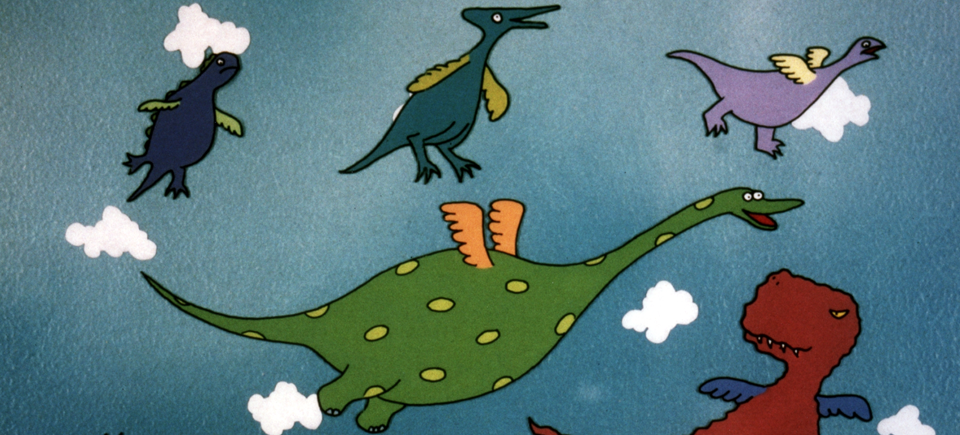 Hold on to your DeLorean as we begin a journey through time. From a primal sea brimming with life, to a dinosaur-filled landscape where the first fledgling fliers took to the sky, to a prehistoric frozen desert where a trunked, furry mass moves silently through a blizzard, to an ancient cave in France where our earliest ancestors painted the world they saw.
So watch these four adventures, fossilized on film for your viewing pleasure, on this ancient list of prehistoric movies. No time machine necessary.
How Dinosaurs Learned to Fly
In biological terms, 'Dinosaur' is a clade of animals that includes everything from Tyrannosaurus Rex to Stegosaurus to…sparrows? Yes, it's a weird fact of life that birds – from emus to cockatoos – are actually part of a sub-grouping of Dinosaurs called theropods. This fun, animated short for kids (and adults!) re-imagines how the earliest dinosaurs learned to take flight – with hilarious results.
How Dinosaurs Learned to Fly, Munro Ferguson, provided by the National Film Board of Canada
Canada Vignettes: Woolly Mammoth
This short film is an animated showcase of an ancient animal that once marched upon the frozen tundras of Canada nearly 10,000 years ago: the Wooly Mammoth. Overall, this is an informative, bite-sized vignette about one of the coolest megafauna to have ever existed. Also, there's an adorable little baby mammoth in it.
Canada Vignettes: Woolly Mammoth, Bill Maylone, provided by the National Film Board of Canada
Evolution
Our next film on this list is this quirky animation which, as its name indicates, is all about the theory of evolution. With a catchy theme and an endearing art style, watch as the cycle of evolution, from the most primitive single-celled organisms, to wading amphibians, to fuzzy mammals, is unraveled before your very eyes.
Evolution, Michael Mills, provided by the National Film Board of Canada
Cave of Forgotten Dreams
Take a trip to Chauvet Cave in southern France. A UNESCO World Heritage site for good reason, this cave is home to some of the earliest known cave paintings on Earth. Naturally, a place where the first artistic forays of humankind are preserved is going to be protected by a lot of red tape. But, in Cave of Forgotten Dreams, filmmaker Werner Herzog is given unprecedented access to the interior of the cave. Featuring gorgeous environmental cinematography, witty commentary, and insightful analysis, keep your eyes peeled as a Palaeolithic portrait 32,000 years in the making comes alive on camera.