Q&A with artist and filmmaker Mark Lewis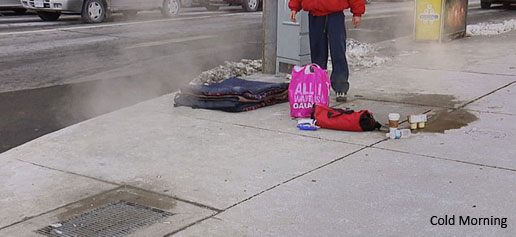 Artist Mark Lewis' latest work is a film trilogy entitled Cold Morning. The 3 films, Cold Morning, Nathan Phillips Square, A Winter's Night, Skating and TD Centre, 54th Floor combine to make up the first major public exhibition of Lewis' work in Toronto, Mark Lewis: In a City.
The exhibit opens at the Justina M. Barnicke Gallery (JMB Gallery) in Toronto on Tuesday, September 8. As part of the opening events, there will be a Talk with the Artist at Hart House at 6:00 p.m., followed by a reception.
For those of you in Toronto, the talk is a unique opportunity to gain insight into the exhibit from both the artist and Barbara Fischer, the curator. If you're interested in attending, visit the JMB Gallery's website for details.
For the past 15 years, Lewis has been making short silent films, which are exhibited as stand-alone film installations in galleries and museums all over the world. His interests lie in the history and aesthetic innovations of the cinema in combination with the activities of modern daily life.
The JMB Gallery describes Lewis' work as pure temporal experiences – visually evocative, predominantly silent films that focus on incidental places encountered in everyday life.
Nathan Phillips Square, shot using rear projection, depicts a couple's frolicking courtship on skates and is made dreamlike by the visually contrasting realities of foreground and background. In Cold Morning, a homeless man struggles to bring order to his environment on the gritty, city sidewalk. And an impassive surveillance of the cityscape from on high in TD Centre, 54th Floor shows street life at a poetic distance.
In the middle of preparing for the opening next week, Lewis was kind enough to take a few minutes for a quick telephone interview.
Julie Matlin: Where does your fascination with film stem from?
Mark Lewis: I'm interested in the extent to which a moving picture can literally be a picture that moves. I suppose that's how film began – as a series of moving photographs. One of the aspects that would have been the most extraordinary to witness at the time is the projection of photographs that move. When the Lumière brothers projected their films at the end of the 19th century, they would project a still image that would begin to move. That must have been a startling effect.
I'm interested in how the origins of film are, in some respects, in the picture that starts to transform. I try to understand the extent to which one can strip film down to be an experience of depiction, of showing something.
JM: Nathan Phillips Square uses rear projection. How does this technique help you explore notions of movement and stillness?
ML: Rear projection is a means by which studio-based films are able to convey, through a crude illusion, that the actors are somewhere on location – in a car driving through New York or passing through the country side – when in fact they were stagebound the entire time. So rear projection can be seen as exigency, but it can also be seen as a process by which film puts itself inside of itself, so it becomes very self-conscious, self reflective – a film of another film.
When one thinks about early modern picture making or painting, there is often a split feel between how the foreground is treated and how the background is treated, so you could have two senses of depths of field, two perspectives – two pictures collaged on top of each other. That's sort of what happens with the rear projection film.
JM: In contrast with a lot of your work, Nathan Phillips Square features two actors. What made you decide to use actors for this film?
ML: I've used actors before, but there were two things about this project that called for actors. I've always wanted to make a film on that ice rink [in Toronto]. I'm attached to it. I skated there as a kid, and when I come back here in the winter, I make a point of skating there. It's the optimal pleasure of skating outside, the sky above you, surrounded by the dense urban structure…  it feels pretty special. As you glide and skate underneath those arches, one of the strongest feelings I remember is the sense of looking up and experiencing the continual changing and transformation of architectural forms… the circular lines of the curves of the arches against the vertical lines of the buildings beyond them. It's almost like being on a dolly. And I've always wanted to shoot a romantic scene, too, so I thought to combine these two [wishes].
JM: Can you elaborate on your interest in architectural forms in relation to film?
ML: Theorists of modernity have noted how the movement through architectural space in a city can feel proto-cinematic.  As you move through modern architectural spaces, you have a strong sense of being inside of a film. In a self-reflexive moment that experience feels cinematic – moving through a space and noticing how the shapes and forms around you are moving and shifting in perspective, aligning and colliding in montages feels cinematic.
Also, the birth of film coincides more or less with modern architecture.
JM: What makes these films a trilogy as opposed to 3 stand-alone films?
ML: Honestly, that they're showing together. They have no real, direct connection to each other, but you could argue that they share a relationship to urban spaces and to a particular… or different kinds of experiences in a city.
JM: Can you talk about the connection between art and urban spaces? What is it about urban space that interests you?
ML: "Urban spaces" is a very loose term. For me, it signifies just about everything except the places that aren't urban. To be interested in urban spaces is to be interested in life.
Having said that, I live in a city (London), and cities are the places I know best and understand best. Obviously I'm intrigued by it – I'm an artist living in a city.
More specifically, I'm interested in depictions of everyday life, the banality of the every day. What most of us spend 99.9% of our time inside of. Everyday life is just what happens to us, and what we do every second. It's not allegorized in cinematic spectacle, in huge arcs of triumph or despair.  It's everyday moments out of which something memorable may (or may not) emerge, but not necessarily in the grand narrative of drama. The spectacular comes out of its ordinariness.
I'm interested in depicting things that happen and trying to understand how things appear to me in the world. I try to make films about things that strike me, make me think twice. I suspect or imagine that others are interested in this too, so I make these films for them. For the person who may or may not share the same type of experience. It might make them think about something else, but it will make them think.
***
Cold Morning was commissioned by the JMB Gallery and co-produced by the NFB. These films formed part of Lewis' presentation as the official representative of Canada at the 53rd annual Venice Biennale.
The installation is part of the Toronto International Film Festival – Future Projections programme and will run until October 26. For more information, visit the Gallery's website.
For more information on Lewis and his work, you can visit his website, Mark Lewis Studio. Also, the Venice Biennale website has a great selection of interviews with him.