Free 3D screenings at the Ottawa International Film Festival, October 15-18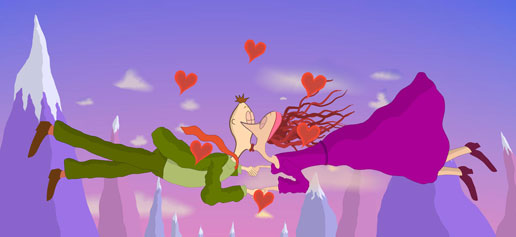 9 short 3D (stereoscopic) films are being screened this weekend at the Ottawa International Animation Festival that will give viewers a glimpse at what we've been up to in our NFB Stereolab over the past 6 years.
This collection of films celebrates 3-D as an evolving storytelling medium and includes Falling in Love Again, June, Tower Bawher, The Wobble Incident, Dead Ringer, Terra, Moon Man, Drux Flux and Facing Champlain.
English screenings are taking place on Saturday at 1 and 5 pm and on Sunday at 11 am, 1 and 5 pm. Admission is free and the program lasts 60 minutes. For more details, check the festival's events schedule or download the 3D Screening schedule, complete with film descriptions.
The NFB StereoLab is an experimental project exploring stereoscopic cinema. For close to 10 years, we have been using various technologies to create three dimensional images. At the heart of these experiments is SANDDE™ (Stereoscopic Animation Drawing Device), a revolutionary digital animation technology created by IMAX® Corporation which allows artists to create hand-drawn animation in 3D space.
And just in case you're like me, and have no idea what the difference is between 3D and stereoscopy, Maral Mohammadian (Head of the NFB Stereolab) explained it like this: 3D traditionally means CGI (computer generated imagery) in the style of Pixar/Disney films, or graphics made in a 3D environment. When it comes to animation, stereoscopy is actually the correct term when talking about films that require special glasses and give you that behind and in-front of the screen depth.