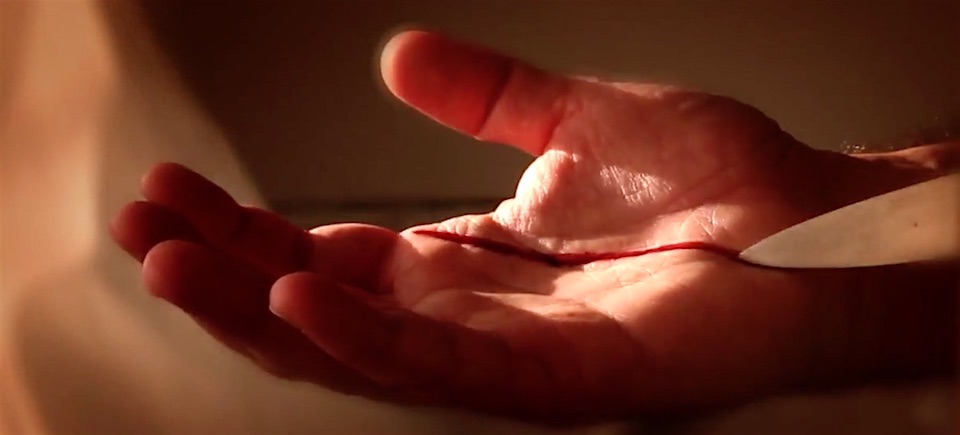 Animation News: Sharp Shorts for a New Millennium
The idea that animation can serve as a vehicle for important public messages is embedded in the very foundations of the NFB animation tradition. Back in 1941, when John Grierson hired his first staff animator, a gifted New York-based Scottish artist by the name of Norman McLaren, his most pressing assignment for the wildly inventive young modernist was to create animation that plugged Canada's part in the war against fascism.
Within months McLaren had conjured up visual wonders like Mail Early (1941), V for Victory (1941), Five for Four (1942) — entertaining, ingeniously crafted shorts that helped mobilize the Canadian war effort, transmitting urgent yet upbeat messages to movie audiences across the continent. This early work quickly established the NFB as a pioneering force in the animation arts. Picasso himself, upon seeing McLaren's dazzling experimental short Hen Hop (1942), is reputed to have declared: "At last, something new."
V for Victory, Norman McLaren, provided by the National Film Board of Canada
Over seven decades later this dual commitment to formal innovation and contemporary content informs Naked Island, an experimental online animation project that has racked up over two million views since its February launch. Framed as "public service alerts for a new era," the 15 mini-shorts are the work of contemporary animation artists who, cleverly subverting advertising conventions, issue brief pointed statements on subjects like climate change, digital culture, consumerism and the nature of 21st century protest.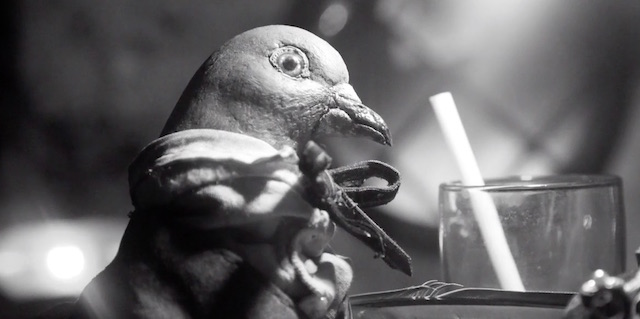 Participating directors include emerging talent like Amanda Strong, Laurence Vallières and Frances Adair Mckenzie alongside veteran animators like Academy Award-winner Chris Landreth and Oscar nominees like Chris Lavis and Maciek Szczerbowski. The series is produced by Jelena Popović and Maral Mohammadian, and executive produced by Michael Fukushima. Pictured above: We Drink Too Much, by Lavis and Szczerbowski.
"Both a look to the future and a throwback to our earliest production"
"Naked Island has been an exciting experiment for us," says Fukushima. "It's both a look to the future and a throwback to our earliest production. Maral and Jelena have found the right editorial tone, a smart tongue-in-cheek approach that clearly appeals to young millennial viewers active on social media networks. At the same time we're referencing those wartime message films, employing an updated post-modernist sensibility, a new urgency.
"The initial response from participating filmmakers was quite spectacular," says Fukushima. "It's as if they'd been waiting for an opportunity to make this kind of work – short punchy films that address current political and social issues."

Naked Island has been capturing attention on the international festival circuit and five titles from the series are among the NFB offering at this year's Ottawa International Animation Festival. Four appear in the Commissioned Animation Competition: Simulated Life, a short sharp jab at VR technology from Alberta-born animator and comic book artist Malcolm Sutherland, and three darkly comic shorts from Chris Lavis and Maciek Szczerbowski, the creative duo behind the Oscar-nominated Madame Tutli-Putli — We Drink Too Much, We Eat Shit and Square Saint-Louis. A fifth title, Be Cool, is appearing in the Canadian Panorama program — an unapologetic poke at selfie-induced narcissism, directed by Chris Landreth who won an Academy Award and multiple other international honours for Ryan (2004).
"It's gratifying to see this work go to Ottawa," says Fukushima. "Naked Island was made primarily for online dissemination, and festivals tend to be reluctant to program work that's already been released online. This success on the festival circuit augurs well for similar projects in the future."
Other titles in Naked Island include Albertosaurus, directed and animated by Munro Ferguson; All We Need Is War, directed by Luka Sanader and animated by Frances McKenzie: Detention, directed by David Seitz and Elle-Maija Tailfeathers and animated by David Seitz; Blood, directed and animated by Theodore Ushev; Hipster Headdress, directed and animated by Amanda Strong; The Law of Expansion, directed by Malcolm Sutherland; Protest, directed by The Sanchez Brothers; Sext Apes, directed by Laurence Vallières; Sober, directed and animated by Elise Simard; and Survival of the Fittest, directed and animated by Eva Cvijanović. The entire series can be viewed online.
Renewing creative ties to former Yugoslavia
Now in its fifth decade, the Ottawa International Animation Festival has grown into a major launching pad for new animation and the NFB is heading to the 2017 edition with no fewer than twelve recent releases. Among them is The Tesla World Light, in which director Mathew Rankin displays something of the same offbeat sensibility of fellow Winnipegger Guy Maddin, riffing on early avant-garde cinema to craft a cinematic fantasy about Serbian-American inventor Nikola Tesla.
Tesla launched this spring at Cannes, during the 56th International Critics' Week, and went on to successful dates at the Annecy International Animated Film Festival, where Rankin had won an Off-Limits Award in 2014 for Mynarski Death Plummet. "An audacious shock of cinematic genius," says Patrick Mullen in POV Magazine. Programmed in the OIAF's Narrative Short Animation Competition, The Tesla World Light was produced and executive produced by Julie Roy for the NFB's French Animation Studio. Read our interview with Mathew Rankin here.
Also on the program at Ottawa are three international co-productions: Manivald, a Canada/Croatia/Estonia coproduction directed by Estonian-born director Chintis Lundgren, is a sweetly perverse tale of bestiality, featuring a repressed mother-and-son duo of foxes and a hot young wolf; Hedgehog's Home, another Canada/Croatia co-venture, directed by Sarajevo-born Eva Cvijanović, employs needle-felted puppets to bring a beloved Balkan children's story to the screen; and the Canada/Norway coproduction Threads is a spacious and elegant reflection on human attachment from Oscar-winning animator Torill Kove, arriving in Ottawa fresh from its North American premiere at TIFF.
"We're particularly flush with co-productions this year," says Fukushima, "and it's no coincidence that two are with Croatian partners," says Fukushima. "Our producer Jelena Popović was born in the former Yugoslavia, and she's been keen to reconnect with producers in the region. Back in the 70s and 80s we collaborated with various Yugoslavian producers, so it's great to be part of the rebirth of animation in that part of the world."
"There's a strong internationalist tradition here at the NFB animation studios," notes Fukushima. "It's always interesting to see how Canadian-based filmmakers like Torill and Eva can find inspiration in their countries of birth. As the son of Japanese immigrants, I'm always struck by this kind of cross-cultural creative collaboration. There's something quintessentially Canadian about it."
Manivald is produced by Chintis Lundgren Animatsioonistudio (Lundgren, producer), Adriatic Animation (Draško Ivezić, producer) and the NFB (Jelena Popović, producer); Hedgehog's Home is produced by Bonobostudio (Vanja Andrijevic, producer) and the NFB ((Jelena Popović, producer); and Threads is produced by Mikrofilm AS (Lise Fearnley and Tonje Skar Reiersen, producers) and the NFB (Michael Fukushima, producer).
My Yiddish Papi Gets World Premiere
Making its world premiere in the Canadian Panorama program at OIAF is My Yiddish Papi, a moving personal work from filmmaker and cartoonist Éléonore Goldberg. Co-produced by Picbois Productions (Karine Dubois, producer) and the NFB's French animation program (Julie Roy, producer).
Also appearing in Canadian Panorama is Skin for Skin, a foray into Canadian Gothic that recasts Hudson's Bay Company history in arresting new light. The handiwork of Calgary animation duo of Kevin D.A. Kurytnik and Carol Beecher, Skin for Skin premiered earlier this summer at Montreal's Fantasia Festival, with upcoming appearances at festivals in Calgary, Edmonton and Quebec City. Produced by Bonnie Thompson and executive produced by David Christensen for the NFB's Northwest Studio.
Competing alongside Hedgehog's Home in the OIAF's Young Audience Section is The Mountain of SGaana, a vivid retelling of a Haida myth from BC director Christopher Auchter (associate producer, Teri Snelgrove, executive producers, Shirley Vercruysse and Michael Fukushima). Mountain goes on to dates at Toronto's ImagineNATIVE and the Vancouver International Film Festival.
As part of its 2017 program the OIAF will also be exhibiting the VR incarnation of Théodore Ushev's Blind Vaysha along with Donald McWilliams' Eleven Moving Moments with Evelyn Lambart, an overdue tribute to Canada's first major female animator, a frequent collaborator of McLaren and important artist in her own right. A former McLaren collaborator himself —and the Honorary President of last year's OIAF — McWilliams playfully contextualizes key examples of Lambart's oeuvre. The Ottawa International Animation Festival runs Sept 20 to 24. Click here for more info.
Finally here's a fascinating example of McLaren's WWII production, two minutes of straight-to-the-point cinema that employs gothic imagery to warn against wartime indiscretion:
Keep Your Mouth Shut, Norman McLaren, provided by the National Film Board of Canada