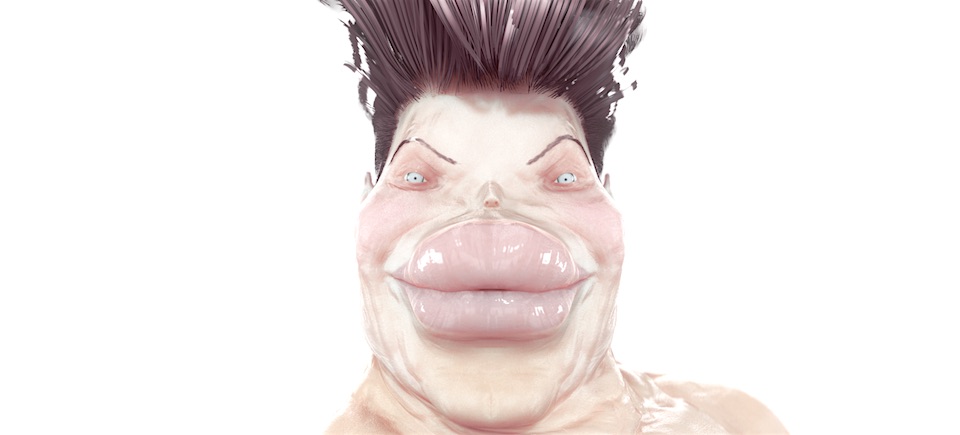 Caterpillarplasty | The Botched and the Beautiful
Blame it on that cool high school teacher.
With his strongest grades in maths and physics, David Barlow-Krelina seemed destined for a career in the pure sciences — but a graphic design teacher in his last year of high school pointed him in an altogether different direction.
Jump forward a decade or so and the would-be scientist is hard at work in the NFB Animation Studio, performing the final nips and tucks on Caterpillarplasty, a mesmerizing and meticulously crafted tale of body modification, medical technology and transcendence.
Caterpillarplasty, David Barlow-Krelina, provided by the National Film Board of Canada
Working with a range of 3D animation tools, he's crafted an unsettling and seductive dream world, a vast temple-like spa where clients submit to dark and mysterious procedures at the hands of a gaunt surgeon with murky intentions and a sphinx-like smile.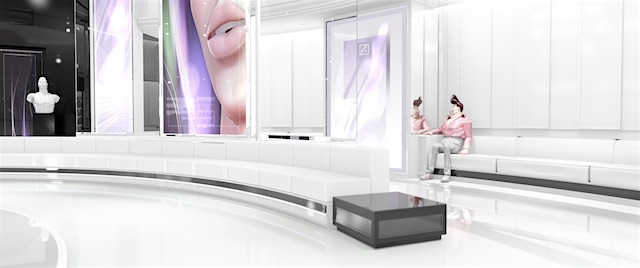 "I like playing with narrative expectations"
"I like playing with narrative expectations," he says. "My main character goes into this place for treatment. We don't know exactly what, some kind of 'next level' procedure. And then it just gets weirder with each scene."
Riffing off the idea of plastic surgery was just a starting point. "What I really love is caricature, drawing and distorting characters, taking what's considered natural and then tampering with it. Caricature is already a kind of plastic surgery, and with 3D animation you can create a visceral sense of skin — its wetness and texture — and then modify it. You can mess with proportions, adding or subtracting, and get these really strange and interesting results."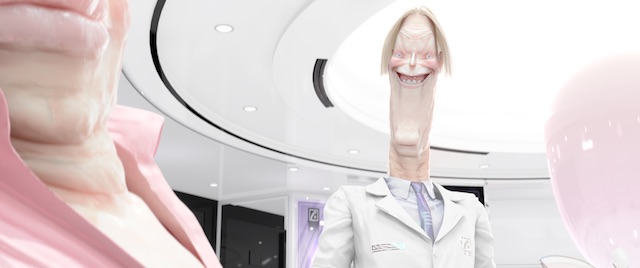 Life, Death…and Ren & Stimpy
As the title suggests, insect imagery looms large. "My grandmother was an entomologist, and I have nostalgic memories of seeing trays of butterflies in her studio. More recently I've been listening to podcasts while I work — and one really stuck with me. It was about metamorphosis, how caterpillars melt down into soupy goo inside a chrysalis and then get reborn. It's that idea of life and rebirth, a recurring theme in all kinds of religions."
An alumni of Hothouse, the NFB animation mentorship program now in its 12th edition, Barlow-Krelina draws inspiration from a multitude of cultural sources — ranging from Timothy Leary and Carl Sagan and to 2001 Space Odyssey and Ren & Stimpy, a cult hit credited with ushering in edgy animation like South Park.
"I was big fan of music videos, especially the work of Chris Cunningham who did amazing things with with robotics, prosthetic makeup and match moving in the early days of digital vfx," he says, singling out Come to Daddy, a video Cunningham made for the pioneering electronica act Aphex Twin, in which he superimposes the likeness of singer Richard James onto every face in a menacing street gang. "It had a really new look, cutting edge at the time. I also like how Cunningham edits to music. His videos often start with traditional narratives, but once the music kicks in, they become these super intense synaesthesia-like experiences."
Geeking out on 'sub-surface scattering'
Producer Jelena Popović has been taken with David's work ever since she saw his first student films. "I remember thinking, wow, who IS this guy! He's an extraordinary artist, a real perfectionist." She was initially drawn to his sense of timing and editing rhythms working with music. Caterpillarplasty takes everything from his previous works — seamless integration of sound and image — and delves deeper into an uncanny form of fantastic digital realism. "Every surface is treated and polished, with layer upon layer of highlights — and the effect is remarkable."
Barlow-Krelina has embraced the art of 'sub-surface scattering,' a set of CG techniques used to capture the play of light on translucent and semi-translucent surfaces like milk, wax —or skin. In a story that revolves so closely around flesh and its transformation, he employs the technique to particularly surrealistic and creepy effect.
"The designers of these 3D rendering packages have managed to deconstruct human vision, breaking it down into specific sliders and knobs that you can adjust however you like," he says. "The more you work with the software, the more you learn about your own perception and aesthetic. You get to deconstruct and reassemble the visual world. It's easy to get lost in all the possible combinations. It's like plastic surgery in that way — always striving to be what you think is beautiful but never really getting there."
Jessy Veilleux and Francois Beaudry, from the Montreal-based CG and animation house Digital Dimension, came on as consultants, finding rendering solutions that met the project's specific needs and creating shader templates that Barlow-Krelina then customized for his own purposes.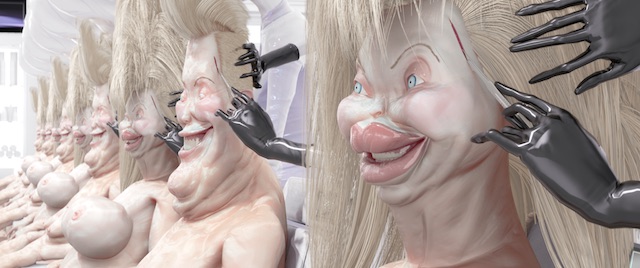 "Every shot was planned, as if we were working in live action"
While 3D computer animation allows for an almost unrestricted variety of camera moves, Barlow-Krelina was keen to stick with certain filmic traditions, consulting with live-action cinematographer Luka Sanader to create detailed digital camera staging and choreography.
"Every shot was planned, as if we were working in live action," he says. "It was important for me to respect conventional cinematographic language, not to have it look too computerized or smooth, or to put the camera in places that aren't possible in real life. I wanted the sense of real camerawork — static camera or dolly shots that give the impression that it was shot in real world locations.
3D animation specialist Dana Darie assisted Barlow-Krelina with character rigging and armatures, and a top-notch team of 3D artists — Patrick Rouleau, Patricia Granato, Tulia Dicaire-Acosta, Laurence Grégoire and Alexandre Francoeur-Barbeau — helped with character animation and set construction.
"I'd been listening to lots of vaporwave"
On a soundtrack without dialogue, music and sound design play a key role in setting a disquieting and strangely upbeat tone. "
I'd been listening to lots of vaporwave, this internet genre where young people sample stuff from the 80s and 90s — smooth jazz, elevator music, sounds from video games, that kind of thing — and then mess with it. It brings back warm-n-fuzzy feelings that I associate with music I heard when I was younger, and I started thinking, this might work for my film. So we start with an ironic kind of corporate mall muzak — but then we take it in other directions."
Canadian artist Blank Banshee has been a vaporwave pioneer.
Barlow-Krelina worked with composer Vid Cousins and sound designer Greg Debicki. Co-founder of Monkey Puzzle Sound Studio, Cousins has collaborated with the likes of Arcade Fire, Kronos Quartet and Kid Koala. Debicki writes generative music software, composes 'glitch music' under the pseudonym Woulg, and teaches electronic music production through his own company Studio Marie Anne.
Debicki also created the score for Barlow-Krelina's independently produced 2013 short Bless You. A hit on the international animation festival circuit, it's one of Vimeo's staff picks. Check it out:
Hothouse: launch pad for auteur animation
Having studied computation arts and film animation at Concordia University, Barlow-Krelina was among the participants in the 2012 edition of Hot House. Since the mentorship program was established, over twenty Hothouse alumnae have returned to the NFB to work on larger-scale animation projects, and sixteen have gone on to direct their own post-Hothouse films.
Barlow-Krelina is one of a several Hothouse alumnae — Paloma Dawkins, Alexandra Lemay and Alex Boya are others — who are currently at work on auteur-driven animation projects at the NFB.
Here's David's own Hothouse effort, the 2012 release The Visitor:
The Visitor, David Barlow-Krelina, provided by the National Film Board of Canada
Enjoy a sneak peek
Caterpillarplasty is a production of the NFB Animation Studio. It directed by David Barlow-Krelina, produced by Jelena Popović, and executive produced by Michael Fukushima. It is scheduled to launch in 2018.