Montrealers! Win tickets to see Higglety Pigglety Pop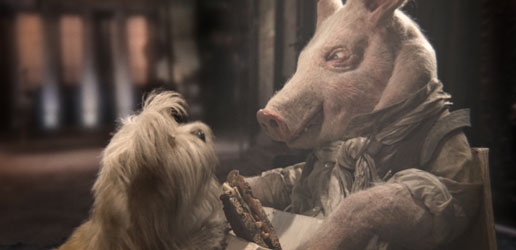 We have 2 family passes to Sunday's premiere screening of Higglety Pigglety Pop! or There Must Be More to Life to give away (4 tickets per pass). For a chance to win, answer the following question in the comment section below:
What recent film was inspired by another story from the American author Maurice Sendak?
Comments must be posted before noon tomorrow (Thursday, February 25, 2010).
Higglety Pigglety Pop! or There Must Be More to Life is one of our newest animated shorts based on the book by Maurice Sendak, and is premiering at the Montreal Children's International Film Festival on Sunday, February 28.
The screening will be followed by a live puppet demonstration by the Oscar-nominated filmmakers, Chris Lavis and Maciek Szczerbowski (Madame Tutli-Putli). The audience will also be invited to meet the star, Jennie the puppet.
The film was produced by Spike Jonze, Vincent Landay and Marcy Page for the NFB and Warner Home Video  and features the voices of Meryl Streep, Forest Whitaker and Spike Jonze. It tells the story of Jennie, a terrier who decides to leave her comfortable home behind in search of  experience and the starring role in the World Mother Goose Theatre.
Following the film's premiere, it will be featured as an exclusive short on the Where the Wild Things Are Warner Video Blu-ray, which is being released on March 2.
For details on the screening, click here. To purchase tickets online, click here.
Good luck!