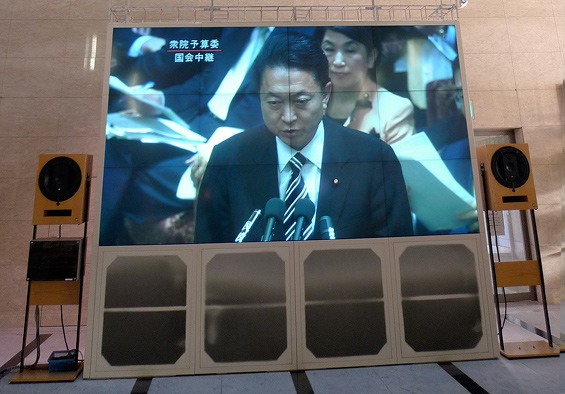 Get a glimpse of future technology – straight from Japan
Note: This post was taken from our French sister site, ONF.ca, and has been translated into English.
Philippe Baylaucq is back from Tokyo, Japan, where he presented his film A Dream for Kabul at the Canadian Embassy. We asked him to give us his impressions of his trip. (Carolyne Weldon, ONF.ca)
* * *
The morning is cool and the sky is exceptionally blue for Tokyo. People are arriving at work at the west entrance of the gigantic NHK complex. (The Japan Broadcasting Corporation (NHK) is like the CBC, times ten). Hundreds of employees file past; the anthill is filling up.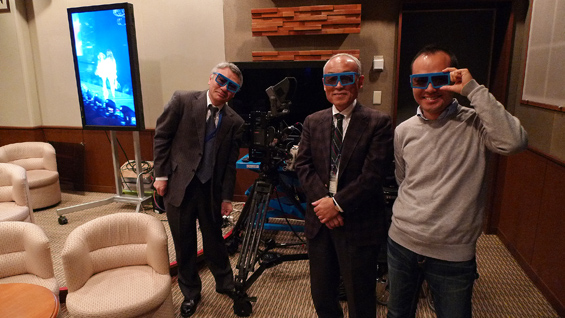 I am greeted by Shin, the young producer who will be accompanying me during this day of touring technology laboratories, modern-day Meccas of image and sound research. First stop: the stereoscopy unit, where I watch a film on the city of Tokyo, disguised as a humdrum tourist documentary. Bit by bit, subtly and tastefully, the film wins over the spectator with its stereoscopic perspective. It is an intelligent mix of mastery and finesse. Never flashy, always soothing on the eyes and mind.
The second leg of the tour takes me to the technology engineering centre, located in the western part of the huge complex. As soon as you step into the modern building you are struck by its austerity. There are flat screens everywhere, even in the elevators, broadcasting a session of the Diet, the Japanese parliament. After all, NHK is the country's public broadcaster.
The visit speeds up, as there are still a lot of things to see and hear. With the help of an ultrasensitive microphone that can detect even the tiniest vibrations, for the first (and probably last!) time in my life, I hear a snail's heartbeat. Can you imagine listening to the noise a centipede makes crawling on sand? At the NHK, you have a chance to hear what it sounds like.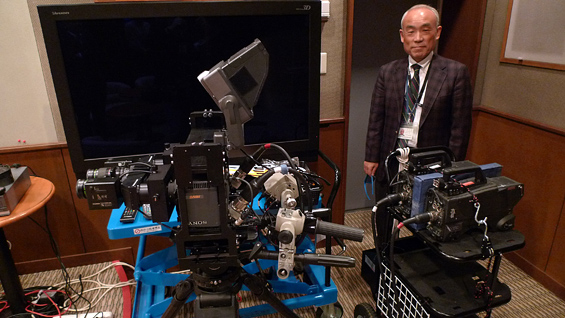 In another lab we are welcomed by a PhD in electronic engineering, who shows us the prototype of the world's fastest camera. It films reality at the rate of a million images per second. We see what it captures when it is focused on a rubber balloon filled with water. Amazing to watch the balloon burst and collapse so quickly that the water is left suspended in space, like a comic-book character who has a fraction of a second to realize that he's about to plunge into an abyss. What a fascinating image: a suspended puddle of water, still shaped like a balloon that no longer exists…
Tomorrow's televisions will be thin and flexible, like a sheet of paper. I've seen one. And people will watch stereoscopic TVs without wearing glasses. Depending on where they are positioned vis-à-vis the screen, each person will have a different spatial experience of the same broadcast. The world's most sensitive camera films shadow as it if were bright sunlight. And what can I say about Super High Vision? A video image projected on a very large screen, immersing you in a visual and auditory experience every bit as good as IMAX – if not better.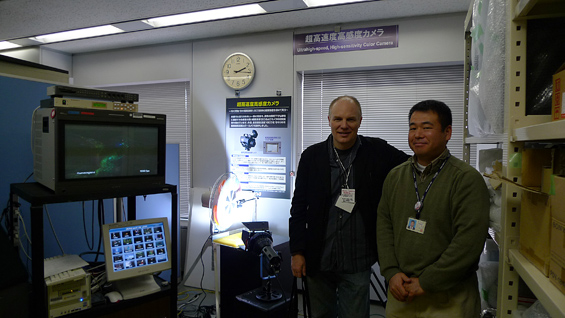 Research has been one of the pillars of this venerable institution since the Second World War. Certain projects under development will take another 15 years to come to fruition. This says a lot about the country's long-term vision. And it also shows the importance the Japanese place on enhancing existing technologies and the childlike pleasure they derive from imagining the unimaginable…
This type of research is important. I can vouch for it.
In my opinion, a society can not only prepare for the future: it can also define the shape of things to come. It's a matter of recruiting the best people and allocating the necessary resources. Despite the recession, Japan's NHK hasn't abandoned applied research. Indeed, what it does is sometimes closer to fundamental research, inspired and inspiring.