DOXA Connexions: Helping youth break into the world of documentary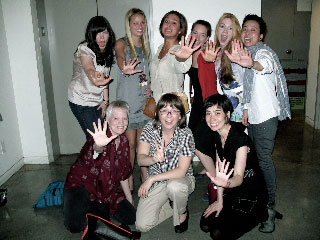 DOXA Film Festival, together with the National Film Board of Canada present the 5th annual Connexions Youth Forum, an educational program designed to foster documentary filmmaking and storytelling skills in youth between the ages of 19 and 26 who face barriers in attaining their career goals.
Connexions immerses 6 promising young participants in the world of documentary through workshops, mentoring sessions and attendance at the DOXA Documentary Film Festival.
For a second year, DOXA is offering the Connexions Youth Forum to young women as they begin to move beyond gender barriers within the film industry. DOXA hopes to address gender inequality within the documentary genre by selecting from a group of talented young women wishing to work in the documentary form.
The talented filmmakers this year are: Josephine Anderson, Kerry Blackadar, Su-An Ng, Emily Newton, Nisha Platzer and Dolly Reno.
These young women have been participating in a 10-day intensive workshop that focuses on the art of storytelling using digital media. The forum also provides the opportunity for participants to work together and network with experienced filmmakers throughout the week as they create their own documentary project that will screen on DOXA's Closing Night.
***
You can learn more about the DOXA Connexions Youth Forum and see the films produced by last year's participants here. As soon as this year's films are ready to go online, we'll publish another post with the films and the director's comments.