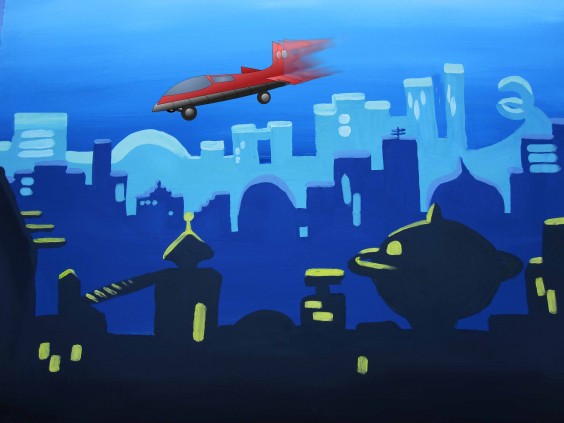 NFB Mediatheque's Jennifer Krick on creating sets and characters for animation films
The following is a guest post by Tanya Koivusalo.
NFB Mediatheque Customer Service Agent Jennifer Krick has one of the most fun jobs in the world – she creates the backgrounds and characters for the Mediatheque's animation workshops and camps. Her creative characters and sets delight the hundreds of children who see and interact with them, but a lot of hard work goes into their creation! I chatted with Jen to see what she's working on now, and whether there will be any late-night painting sessions in her future.
What is your role at the NFB Mediatheque?
I am a Customer Service Agent by day, and the "unofficial art department" by night!  I am responsible for the creation of workshop themes, stop-motion sets and characters, as well as window displays, to promote NFB programs.  I also deliver animation workshops for all ages, including our summer and March Break week-long camps, as well as provide excellent customer service at the front desk.
How long have you been here, and what did you do before?
I have been here for… wow, going on five years now! Time flies when you love what you do. Before this, I had received a certificate in Art Fundamentals, and a diploma in Classical Animation.  After that, I studied Computer Animation at Seneca College, but soon realized that I really wanted to get into stop-motion animation.  I took a maquette workshop at Max the Mutt Animation School to get a feel for sculpting a bit more, and have been sculpting ever since!  Plans for the near future will definitely involve making a stop-motion film of my own, hopefully with the NFB.
The work of animators Chris Lavis and Maciek Szczerbowski have really left an impression on me.  Their creativity and dedication to completing their work (Madame Tutli-Putli specifically) is inspirational.  I can also appreciate the fact that they are not only filmmakers, but animators, sculptors, art directors, writers, you name it….which is how I see myself as well. I am looking forward to their next film, Higgelty Piggelty Pop! or There Must be More to Life.
What are you working on right now? How long do you spend on each project?
Right now I am working on the sets and characters for our summer Saturday workshops in July and August.   Depending on what the theme and technique is, the time I take on each project varies greatly.  On a background, for example, I can take anywhere from two to seven hours working on it.  Demo characters usually take a lot less time, roughly one to two hours for a basic character.  Considering that most of the time we have a minimum of two animation stations set up for the kids, I always have to make doubles of my backgrounds, so each project takes about two or three days to work on.
Where do you come up with your incredible ideas?
Well, I have been doing this for a while, so I know what works with kids and what doesn't. So if I can recall an idea that worked well, I will usually do that again, with slight alterations.  Coming up with different techniques is pretty easy and fun to do; it's the themes that can become challenging, but I try my best and hope the kids will love it.  I also try and get feedback from my fellow workshop facilitators because they have a lot of knowledge to share and they are all super-talented as well.
What are you working on next?
Next I am working on the July 10th workshop prep, called "Back to the future", done with paper cut-outs. Kids will animate their ideas on what the world will look like in the future, and animate their crazy stories in groups.  Kids always leave a workshop with a greater appreciation for NFB history and its animation, and they want to come back again and again, which is one of the greatest joys I get from my job.
Families can appreciate Jen's hard work at the Mediatheque's upcoming weekend animation workshops – starting on July 3rd, every Saturday in July and August we are offering workshops for children ages 3-5 and ages 6-13 at 10:30am and 12:30pm, respectively. Each week includes a different animation technique, a screening program, and a new futuristic theme – What's Your Tomorrow? More information can be found here or by calling 416 973 3012.