4 things about Hothouse animator Marie Valade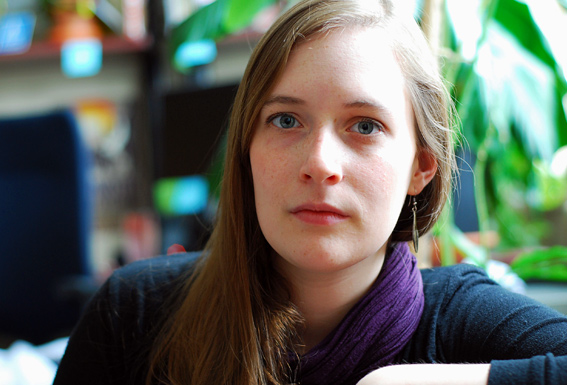 This post is part of a series of interviews with this year's Hothouse participants. Created in 2003, Hothouse is a 12-week paid apprenticeship program for emerging filmmakers that takes place in the NFB's Montreal Animation Studio. This spring, the 6 participants were given 3 months to produce a short animation film, but with a twist: all films had to be in stereoscopic-3D.
I spoke with the Hothouse filmmakers during their last week at the NFB and asked them to tell me 4 things about themselves. Here is what Marie Valade had to say.
1) One thing about herself: Marie describes herself as someone who's "always had a keen interest in both Arts and Sciences". Though she attended Montreal's alternative F.A.C.E. School (the acronym stands for Fine Arts Core Education), a one-of-a-kind school that places art and creativity at the center of learning, she always cultivated a fascination with the "hard sciences." It was at Concordia University that she finally found a branch that merged both her passions: animation. "Animation is obviously an artistic endeavour, but it also has a very rigorous scientific side, in terms of optics, structure, and such. It blends art and science beautifully."
2) One thing about her film: Marie says that she set out to make a film that raises different questions about perception. "I ask questions like 'do you see the same red I see?'" Marie says. Given the stereoscopic 3D context, Marie's exploration also involved different plays on perspective, including procedures generally considered "3D mistakes." "I did things like putting things in one eye and not the other", Marie says. "3D animation is still relatively new. I think it needs to be explored more if we are to articulate its full expressive potential."
3) One thing about working with the NFB: One of the things Marie enjoyed the most about her experience at the NFB was the opportunity to work with others. "Such a nice thing, when you're used to working alone," she says. She also mentioned the "incredible support" of StereoLab Production Manager Maral Mohammadian. "Maral was there for us 24/7," Marie says. "But really, the NFB is that kind of place where when you need someone for something, someone magically appears."
4) One thing she'd like to share with other emerging filmmakers: "You need to have the discipline to learn by yourself," Marie says. "Animation is so vast. You need to look at films – tons of films – and situate yourself in terms of what you like and don't like. As a second step, there are a lot of Web-based resources and tutorials that can help you, once you've discovered the styles and techniques you enjoy."