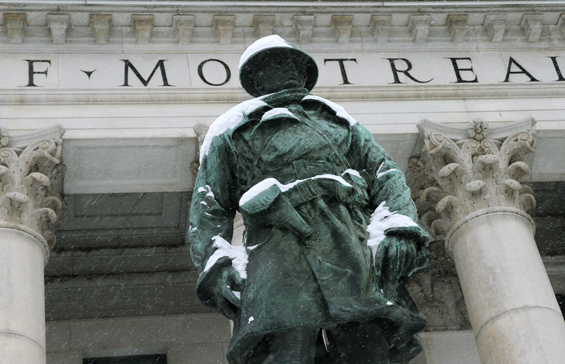 To prevent us from having to change the name of this blog to "Carolyne's Films and Foods", I'm going to go ahead and not tell you about what I had for lunch in Winnipeg. Ha! I will say it involved minestrone, but that's about it. (OK it was delicious and had chunks of squash and fresh homemade egg and spinach pasta in it.)
Instead, I will tell you I really like Winnipeg. It was snowing all kinds when we got there, but I bundled up and went for a nice long walk around town anyway, taking pictures of old painted ads and fancy looking buildings. It took a lot of focus and discipline not to let my little feet carry me to the 10th floor of the Fort Garry Hotel, where a bona fide Turkish hammam hides inside Ten Spa. (Olive oil soap massages! Steam! Heated slabs of marble! Keep walking.)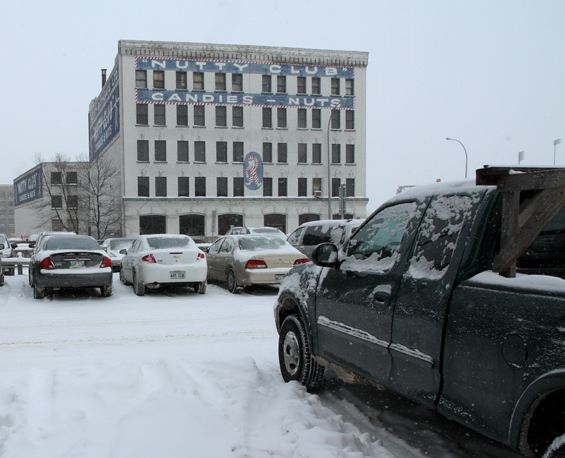 So I kept walking, finally finding my way to the Exchange District, where I looked at a bunch of galleries, vintage clothing stores and local designer boutiques. Soon enough, it was time to meet Tom and the gang for the evening's meeting, which was happening inside Canada's largest independent bookstore, McNally Robinson.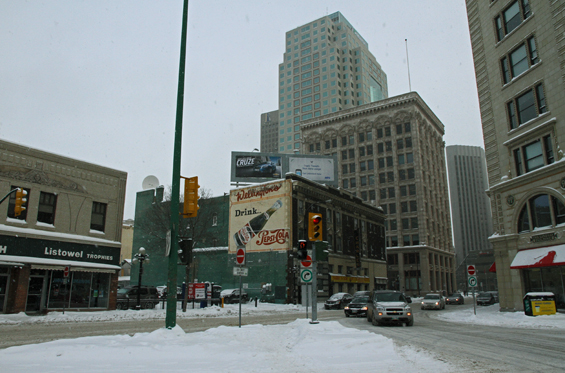 There, a group of people, among them a number of filmmakers upset by the cuts that recently affected the Winnipeg office, had come to meet Tom and take part in the evening's discussions. The first woman to speak said she knew of a good local story that should be made into a film, and would we want to hear about it? She said she personally knew of a man, "here in Winnipeg" who was a WWII vet and a "spy worker." She said he worked during the war as an undercover agent, a saboteur of sorts. "He was Agent 34," she said. For 60 years, he was prevented to speak about his past, having taken an oath of secrecy, but the 60-year ban had just expired and the man had found a lawyer and published a book, titled The Spy Worker. "How do we go about making films?" she asked. "I mean, wouldn't that be a story you'd want to hear?"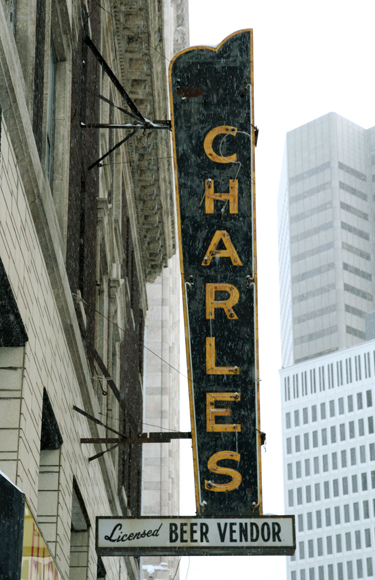 Behind her, a woman who said she was a school trustee for the Winnipeg School Division (which serves 33,000 kids), said that it touched her heart to hear that Tom had come to Canada as a refugee, a fate shared by many young people in the area. "You know," she said, "many people wonder why Johnny is having a hard time adjusting to grade 10. Well Johnny spent most of his life in war camps." She said that from an education perspective, the NFB's contribution was invaluable. "What you do is so important," she said.
A man later spoke of the downsizing of the Winnipeg NFB office. "How can you be expecting to tell stories this way?" he asked, adding that the reason people were so protective of the NFB was because "we love it so much". "The NFB is precious to us," he said. "We want to see it gaining ground here, not losing.'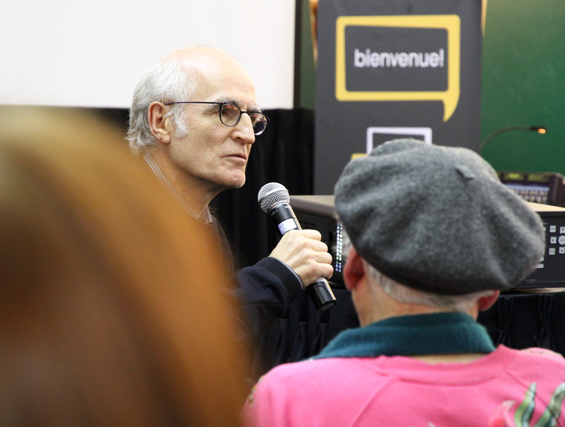 To his right, a woman thanked Tom for his presentation and said it was interesting to note his visit coincided with a crazy snowstorm. "Last time there was this sort of snowstorm, of such proportion and so early, it was 1996. The winter before the floods of 1997," she said. "And now you look at the conditions and all the indicators are there for another big flood come spring." She said she'd been driving around in the snow, that day, stuck in some monster traffic jam, and had about what this all meant. "Three things came to mind," she said. "One: resilience. Because we're not going to stop going places, driving to places. Two: imagination. Because we spend a lot of time inside here, thinking about things. And three: common humanity, because we're going to need to help each other when these floods come."
At the other end of the room, a woman who introduced herself as Métis (half French-Canadian, half Cree) told us a bit about her own story. She said she had been sent to Catholic school as a young girl and that she didn't know she had Cree blood in her until much later in life. "I didn't know my true identity till my 30s," she said. "Such shame." She said that in school they made her read all these things about Indians, and how they were savages and ate the hearts of priests. "I was so scared to meet in Indian you wouldn't believe! But now I am so proud of being Métis. It's like I have double strength in me." She said that often White people were afraid of saying things about Aboriginal people because they fear appearing racist, and that often Aboriginal people were afraid of talking about White people too. "Well I don't care!" she said. "I just say what I want!" She also spoke about her uncle's wife, who was also part Cree and "pretty dark". "Well she wore white flour on her face every day to try to conceal her identity," she said. "Those stories exist. But me?  I'm just me," she said to a healthy round of applause. "I'm me."
Picking up on some of these threads, a woman who said she worked with Aboriginal families said that many of the issues her clientele faced were accessibility issues: accessibility to sports, to equipment, to the Internet. She said she felt the NFB's work was important, in terms of "having our identities reflected back to us," and that she'd be interested in figuring out ways of capturing and sharing stories beyond the written word. "You know for kids… Youtube, films, it really touches people, cause I don't want to say this too loudly in a bookstore but, are kids really really reading books?"