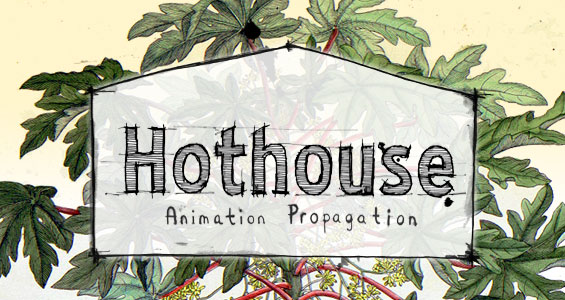 Hothouse 7: Call for submissions
One of the nice things about the NFB is that we don't only make films with established filmmakers, we also help new ones get started. A prime example of this is our Hothouse program, a 12-week paid apprenticeship program which provides emerging filmmakers with the opportunity to make a professional animated short. And here is the good news: the 7th edition of Hothouse is now open for submissions. Among other things, this means this spring could be your chance to bloom into the truly fantastic animator that you are.
This year, a few innovations. First, participants will working to a fixed piece of music, to be selected from a series of 10 specially-commissioned choices. Second, participants will be working from the comforts of their own home or studio but plugged into the NFB live via cyberspace.
If you plan on applying, however, time is of the essence. All applications must be in by 5pm (Montreal time) on Friday February 25. Yes, that's in exactly 2 weeks.
One more thing. This year's theme is "Here Be Dragons", an expression meant to connote both the fear and allure of the unknown. So start brainstorming on that one ASAP.
Conveniently, all the info you need to apply is on the Hothouse blog. It's all there, from submission criteria, to eligibility criteria, to selection criteria. You'll also find tips to make your submission sizzle and the 10 musical tracks (in the form of Soundcloud tracks) that will inspire and guide your filmmaking process. Access all the details here. Good luck!