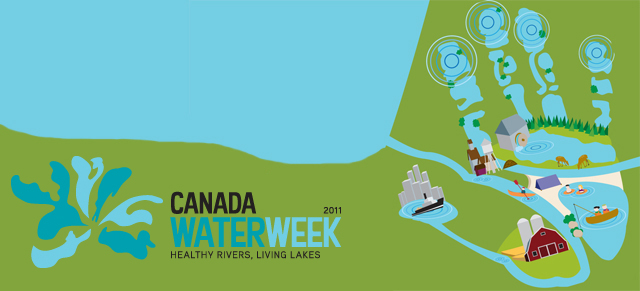 5 NFB films to celebrate Canada Water Week
Every year around March or April, as I try to fight back end-of-winter sluggishness and pounce face-first into spring, I vow to start drinking more water. Water is life, as we all know, and drinking a lot of it is one of the cheapest and fastest way to feeling a lot better about:
1) living inside our bodies;
2) the fact the sun's been MIA since November, which implies
2 a) our complexions are about as vibrant as day-old oatmeal and
2 b) our energy/motivation levels are pretty much on par with this guy's;
3) the last vacation we had was 2 and a half months ago and not necessarily the most rejuvenating. (Oh hello there eggnog! Remember brandy?)
Luckily, I live in the sort of country where clean, drinkable water comes straight out of the tap when I want it. Just like that. I don't have to walk anywhere, bribe anyone, or boil anything. Heck, I even shower in clean drinkable water. So I chug-chug-chug my recommended 2 litres per day and feel very, very lucky.
This week (March 14 to 22) is the first annual Canada Water Week, and to celebrate, we put together a couple films about water you might like to watch to learn more about the immense water resources we have in this country. There's a Jacques Cousteau film in there, (St. Lawrence Stairway to the Sea), and a Bill Mason too (The Rise and Fall of the Great Lakes), so feel free to explore. Also, there's our acclaimed and very popular interactive project Waterlife you might like to take a look at. It's about the Canadian Great Lakes, a.k.a "the last great supply of fresh drinking on Earth".
Also, before I leave you to pondering water use and water movies, can I tell you something I found out while looking up stuff for this blog post?
The Earth and the human brain are both 71% water. I know right? Wild.
St. Lawrence Stairway to the Sea (1982), by Jacques Cousteau and Jacques Gagné
St. Lawrence: Stairway to the Sea, Jacques Gagné & Jacques-Yves Cousteau, provided by the National Film Board of Canada
The Rise and Fall of the Great Lakes (1968), by Bill Mason
The Rise and Fall of the Great Lakes, Bill Mason, provided by the National Film Board of Canada
River With a Problem (1961), by Graham Parker
River with a Problem, Graham Parker, provided by the National Film Board of Canada
Freshwater World (1974), by Giles Walker
Freshwater World, Giles Walker, provided by the National Film Board of Canada
Crapshoot: The Gamble With Our Wastes (2003), by Jeff McKay
Crapshoot: The Gamble with Our Wastes, Jeff McKay, provided by the National Film Board of Canada