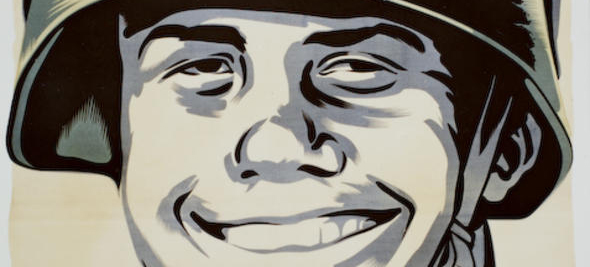 Montreal: NFB Propaganda films from WWII presented tonight at the CCA
Did you know the NFB started off as a producer and distributor of wartime propaganda films? If you live in Montreal, there is an event in town this evening that seeks to shine a light on this important part of the Film Board's past.
Presented through the Canadian Center for Architecture's Architecture in Uniform: Designing and Building for the Second World War exhibition, the talk is part of Wartime Cinema, a series of talks and screenings with NFB Collection analysts.
More specifically, tonight's talk will focus on the NFB's role in the mass distribution of propaganda films during the Second World War. Presented by our very own Albert Ohayon (easily one of the smartest people I know – and definitely the most knowledgeable on all things NFB), it explores the many ways the films were distributed in the days of NFB travelling projectionists. The session will include screenings of NFB propaganda films such as Warclouds in the Pacific (watch below), a short about reactions to Japan's rapid industrialization after the outbreak of the WWII. One of the wild things about that things, as Albert will explain, is it was first released 10 days before Pearl Harbour. Cutting edge!
So do head down to the CCA tonight (1920, rue Baile 
Montreal). The event starts at 7pm and is FREE.
12 May 2011, 7 pm
Mass distribution of propaganda films during the war
(Films repeat on 14 May, 2:30 pm)
For more info, visit CCA – Wartime Cinema
Warclouds in the Pacific, Stuart Legg, provided by the National Film Board of Canada