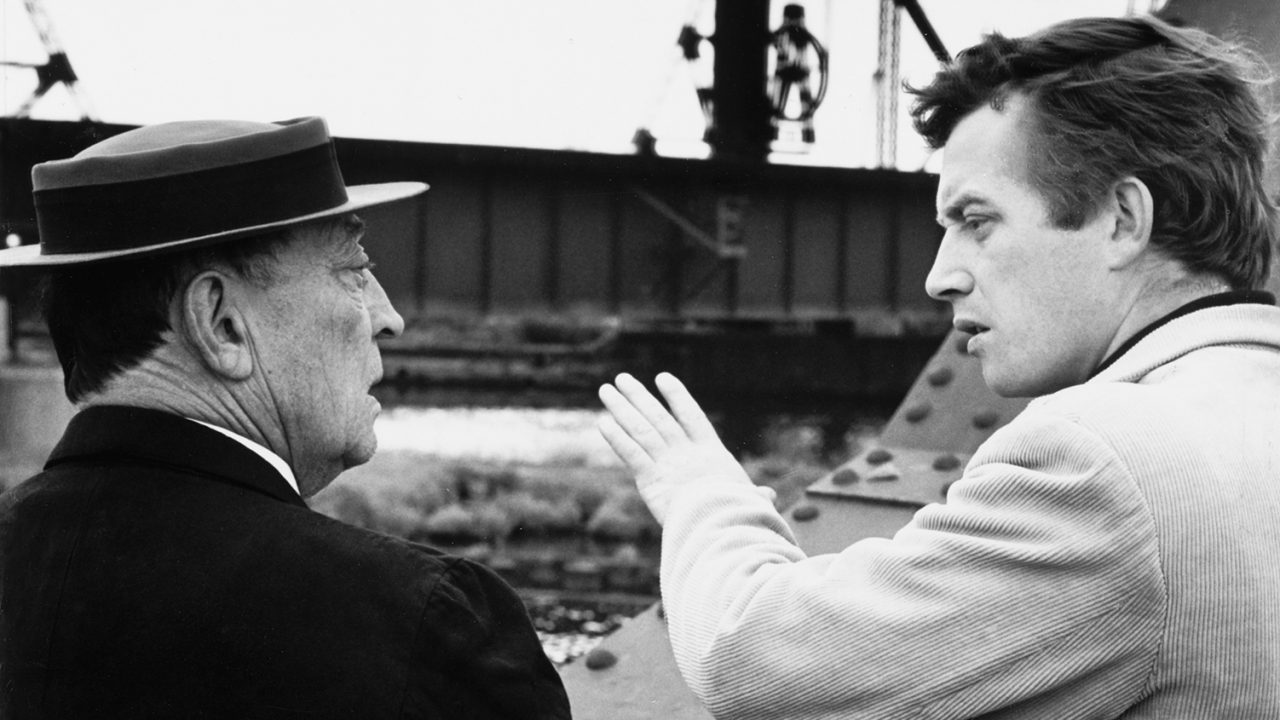 Behind the scenes with Oscar®-nominated animator and filmmaker Gerald Potterton
Recently, NFB collection curator Albert Ohayon sat down with filmmaker Gerald Potterton (The Railrodder, The Quiet Racket) to learn more about Potterton's illustrious career, straight from the man himself.
From animating a TV commercial for a jewerly store to finally working with the legendary Buster Keaton, Potterton's wealth of experience serves as a valuable and entertaining historical archive for filmmakers and audiences alike. Read on for all the details!
Originally written in 2014 following a live discussion at the NFB studios, this post was updated after Mr. Potterton's passing at 91 in August 2022.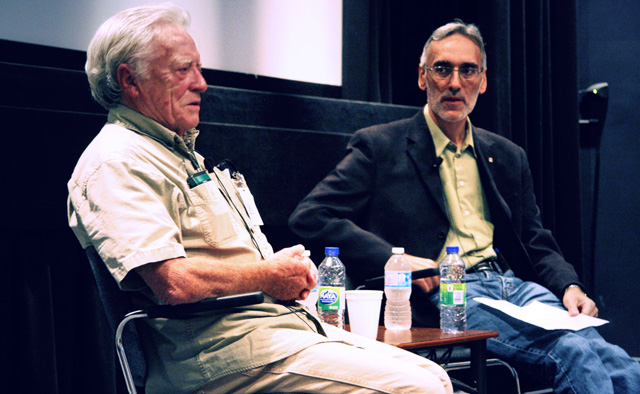 Early years and joining the NFB
A native of the United Kingdom, Potterton was in the British Air Force for two years; his first job involved making hand-painted neckties in London's Soho neighbourhood. "I was painting nudes on neckties, believe it or not," he recalls with amusement, "and they were actually selling!" Potterton attended Hammersmith Art School, and eventually found work as an assistant animator with a man who painted backgrounds on animation features.
Potterton recounts how he saw The Romance of Transportation in Canada—a 1952 short animation by Colin Low—in Picadilly Circus. The film was "so modern, so different," he recalls, "and such a great picture of Canada; it's still a great film when you see it today."
The Romance of Transportation in Canada, Colin Low, provided by the National Film Board of Canada
It was then that Potterton decided he wanted to move to Canada and find work at the NFB. Upon arrival in Ottawa, he got a job animating a TV commercial for a jewelry store, but he was elated when he finally got to meet with Colin Low, who agreed to give him a job.
"I was lucky," says Potterton. "I was also in love with Neighbours, and [I loved] meeting Wolf [Koenig] and Roman [Kroitor]. I was just so lucky."
He shares his recollections ofs arriving at the NFB's celebrated Animation Studio and some of his forays into live action fiction in this Joanne Robertson short from Making Movie History: A Portrait in 61 Parts.
Making Movie History: Gerald Potterton, Joanne Robertson, provided by the National Film Board of Canada
The "incredible freedom" at the NFB… and an Oscar® nomination!
Potterton's first film at the NFB was Huff and Puff, a comic animated look at the serious problem of hyperventilation which was produced for the Royal Canadian Air Force to inform air crews about the dangers of hyperventilation at high altitudes. Potterton worked on the script and animation, along with Grant Munro, and it seems that some wacky antics took place during filming! Potterton remembers that Munro "had been offered a trip in the CF100, and he nearly died of absolutely being scared out of his wits. He brought up his breakfast seven times!"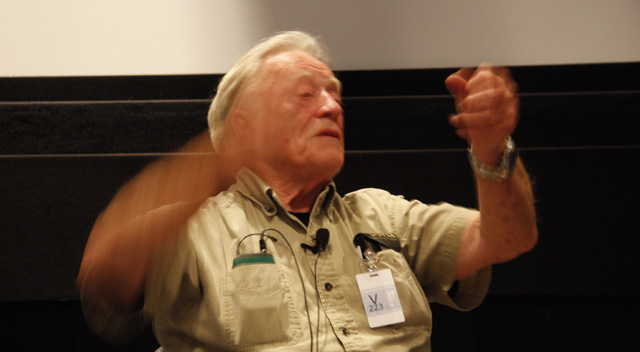 Shortly after, Potterton directed My Financial Career, a short animation based on a Stephen Leacock story. "We always had incredible freedom at the animation department to come up with things. I had read some Leacock stories and thought they'd make good little films. I was afraid of banks in those days; I still am!" The film was nominated for an Oscar® for Best Animated Short Film at the 36th Academy Awards in 1962.
My Financial Career, Gerald Potterton, provided by the National Film Board of Canada
Sticking with Canada: The Ride
In 1960, Potterton moved to New York City. "I came back [to Canada] after a year, mainly because it was incredibly noisy. I was working on Madison Avenue, doing commercials, and I thought, 'this is all rubbish!'. I'd probably be laid out by a truck on Madison Avenue long ago!"
After his success in animation, Potterton wanted to take a crack a live-action filmmaking. "I had been involved long ago in live action films," Potterton revealed. "When I was 16, I was a child extra. I like the idea that when you press the live action camera, the film goes nice and quickly. With animation, you go insane!"
Potterton delved into live action filmmaking with The Ride, a short film about an oblivious wealthy snob who goes on a wild ride atop a sleigh without even knowing it. Potterton himself appears in the film as the chauffeur—check it out!
The Ride, Gerald Potterton, provided by the National Film Board of Canada
A laugh a minute: "It's physical comedy when terrible things happen to people!"
And what were some of Potterton's influences as he delved into live action comedy with The Ride? "I was always a great fan of the Keystone Cops. I'm sure you've all at one time had a great belly laugh, and it doesn't happen to us a lot. Last time it happened to me was about 3 months ago: it was an episode of the Rick Mercer show [Rick Mercer Report]. That's real physical comedy! It's physical comedy when terrible things happen to people!"
Potterton went on to name other influences on his comedic work: Richard Pryor, Buster Keaton, Bob Newhart, Laurel and Hardy, and films like The Dentist, in which WC Fields is hilariously pulling out patients' teeth. For Potterton, these are examples of physical comedy "in the best sense". And he cites the great Jacques Tati, of course, as well as the NFB's own Mon oncle Antoine.
Perhaps Potterton's greatest comedic achievement was The Railrodder, starring the legendary Buster Keaton as an adventurous but confused man who crosses Canada from coast to coast atop a railway track speeder. Check it out below and read on for some behind-the-scenes tidbits from Potterton himself.
The Railrodder, Gerald Potterton, provided by the National Film Board of Canada
Buster Keaton: "He'd be good but he's dead… isn't he?"
One day, Potterton happened to spot one of those little railway speeder carts, and he suddenly thought: "Wow, it would be fun to do something with one of those! Somehow, Buster [Keaton's] name came up, and I said, 'Well, he'd be good but he's dead… isn't he?' and somebody else said, 'he's in New York!' so the next thing I knew, I had written half a page, and it was about a guy coming out of the ocean and getting on this thing and going across Canada. Next thing I knew, I was down meeting Buster on 56th street overlooking Central Park with a half page script. And he was interested!"
The behind-the-scenes aspects of the shooting of The Railrodder are documented in the revealing John Spotton documentary Buster Keaton Rides Again (1965), in which Keaton talks candidly about his life and career between takes. Potterton also reveals a significant snafu in his plans:
"I had storyboarded a gag with the St. Lawrence seaway, but the St. Lawrence people said, 'we ain't puttin' no old guy on that bridge!"
Buster Keaton Rides Again, John Spotton, provided by the National Film Board of Canada
From city to country: The Quiet Racket
Potterton continued with success in the comedic genre with The Quiet Racket, a hilarious film about a guy who's hopelessly trying to escape the noise of the city. But can he ever get away?
"Escaping from the city always appealed to me; that's why I've lived on a farm since 1972," said Potterton. "The guy [in The Quiet Racket] is Jonny Jellybean from CFCF [a local TV station]. He had a noontime show for little kids, and I was always amazed when they told me their budget for their props per month was $25. I guess they didn't pay too well in those days. The trench of the Decarie Blvd. was being built [at the time]," so some of that construction is seen in the film.
The Quiet Racket, Gerald Potterton, provided by the National Film Board of Canada
Life after the NFB: Yellow Submarine and Heavy Metal

In the late 1960s, Potterton left the NFB and began work as an animator on the iconic Beatles animated film Yellow Submarine (1968)—he did his sequences at his office in Place Bonaventure (in Montreal). "I worked on some of the layouts in the Liverpool sequence, with the captain and the running in and out; it's funny, they recently had a screening up in Knowlton [Quebec], and they ran the brand new print, and it's very good. It was made in a year, that film, and made pretty inexpensively, but the music of the Beatles really comes through. They made a gorgeous new print of it, and it's very good."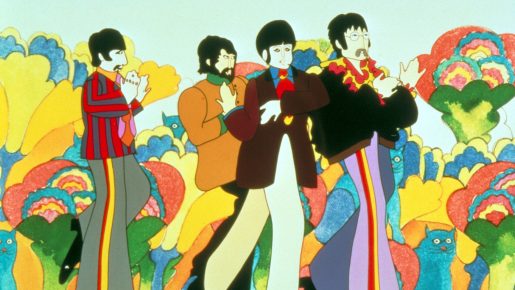 In 1981, Potterton made the science fiction animated film Heavy Metal, which has since become a beloved cult classic worldwide. "I had a call one day from Ivan Reitman. For some reason, he got into animation, [even though] he was a live action guy." Reitman wanted to be involved in Heavy Metal and the rest is history! The film is an anthology of a number of stories adapted from Heavy Metal magazine. "And now John Bruno [who worked on the film] is one of the great special effects people in Hollywood," says Potterton.
So, there you have it, folks: Gerald Potterton's adventurous life and career, as told by the man himself. We hope you enjoy his films. Leave your feedback in the comments below!
Header image: Buster Keaton and Gerald Potterton during the filmming of The Railrodder (1965).