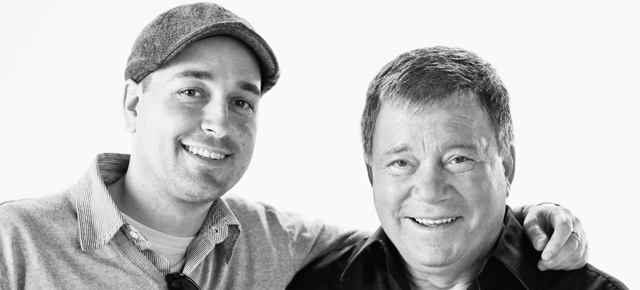 All Shatner All the Time: Paul McNeill on producing William Shatner Sings O Canada
Last Saturday, William Shatner (alongside 7 other notable Canadians) received a Lifetime Achievement Award from Canada's Governor General. As it has for the past 4 years, the NFB commissioned a series of short film to commemorate the winners. Produced by Paul McNeill, the (vastly amusing) Shatner film was screened at the awards ceremony and is now available to for you to watch online.
The following is an interview I recently conducted with Paul. Over email, I asked him about his background, the genesis of the film as well as the particulars of the shoot. Here is some of what he had to say.
Carolyne Weldon: You're new at the NFB. Where did you come from?
Paul McNeill: My background is mostly as an independent filmmaker. I've been really fortunate throughout my career to gain experience in all aspects of filmmaking, from writing, shooting, directing and producing to editing and sound recording. I've also produced some television and a feature film, but my passion has always been social issue documentaries, so this job as a creative producer at the NFB is really ideal.
CW: On a scale of 1 to 10, how much of a Shatner fan would you say you were before meeting him? What was your reaction when you were told you'd be making a film about him for the GGs?
PM: I grew up watching Star Trek reruns with my dad after dinner, so when I found out from Gerry Flahive, that my first project with the NFB would be a short film with William Shatner, I was really excited about the possibilities of working with such a talented and iconic entertainer. I knew that if we could just come up with a good concept, he would make it great, so I spent the next few weeks learning about his life and work and trying to come up with something that would do justice to that. In the process, I developed a really deep respect for him as an artist, because I realized just how many times he has reinvented himself, and I can't think of anyone else who has maintained their relevance for as long as he has. I mean, he's at the top of his game right now, at 80!
CW: Who came up with the idea for the film? Where did it originate?
PM: From the beginning, Shatner made it very clear to Gerry and I that he didn't want to do anything retrospective – he was only interested in the present and the future – so that helped in a way, because it narrowed the scope of the project. It was clear that this wasn't going to be a documentary or anything overly dramatic, we were doing comedy. Once we knew we were working in comedy, I knew I wanted to work with Jacob Medjuck, a Canadian comedy writer/director based in L.A. He's a hilarious guy and we spent over a month brainstorming ideas. In my research on Shatner, I was really drawn to his spoken word poetry, which I think he started doing in the 70s with his rendition of Rocket Man at an awards show and continues to do on late night talk shows, where he does kind of beat poetry versions of Sarah Palin's speeches or tweets. We wanted to capitalize on his great sense of humour and comedic timing, and we also wanted to create something that would have the potential to go viral, because he has a huge online following. Our mandate was also to make something that would represent him and his lifetime achievement at the Governor General's Awards, so having him riff on O Canada seemed like the obvious choice in the end.
CW: How much time did you have with Shatner to shoot the film? What can you tell me about the actual shoot?
PM: I knew from the first conversations I had with Shatner's team that we were not going to get a lot of time with him. When I raised my concerns about this, he told me that he once shot an entire feature film in a day, so it was hard to argue with that. We ended up agreeing to two hours, so to save time I hired hair and makeup artists who had worked with him before, made it a 2 camera shoot and rented a professional studio in West Hollywood to minimize any potential delays with gear. In the end, we only needed about an hour and a half, and I remember looking at Jacob and thinking surely we can't be finished. What did we miss? But we're working with someone who has 50 years of experience. Whatever we wrote on the teleprompter he read as if it was his own, and his improv was gold. There really wasn't a wasted frame, and we had so much to work with in the editing room, we could easily have made a much longer film.
CW: Any anecdotes worth repeating?
PM: At the end of our last take, Shatner started complaining, asking us questions like "Who's going to see this?" and "What am I doing here?" I honestly thought something was wrong. Everything was going great and then all of a sudden he was questioning what this was for and saying he didn't want people to see it and seeming genuinely upset about what was happening. Jacob walked onto the set to try to reason with him and find out what was wrong, and in the middle of this Shatner winked at me, and I realized that he was just having a bit of fun and making his own creative contribution to the film, and in the end we used the audio of their exchange over the credits.
William Shatner Sings O Canada , Jacob Medjuck, provided by the National Film Board of Canada
To watch the other films, check out our 2011 Governor General Performing Arts Awards playlist