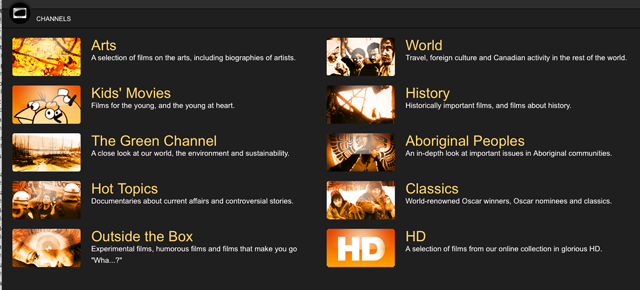 2 new ways to explore our online film collection
One thing I learned from working (and pretty much living) online is that having tons of great content is next to useless if people can't easily find what they want when they want it. With this in mind, we recently introduced new ways to explore our online film collection on NFB.ca.
The first is the new and improved Explore All Films page, which you can find by clicking on the EXPLORE tab (right next to the HOME tab) on the upper left hand corner of the NFB.ca homepage.
If you know what film you're looking for, this page is your gateway to it (provided we have it online). On top of browsing alphabetically by title, you can narrow your search by genre, format (short film, feature length, trailer, etc.,), language, production year, film duration or "downloadability" (whether or not you can download the film to own). You can also have your search apply to all films, or only to newly added ones.
For those more interested in discovering something good to watch than locating that precise title they're dying to see, there's our newly minted Channels. Carefully programmed by our in-house film experts, the channels are 10 distinct destinations curated by topic or theme. They contain around 30 films each.
You will find the Channels by either clicking on the CHANNELS tab (right next to the EXPLORE tab mentioned earlier), or by scrolling all the way down to the yellow and orange thumbnails at the bottom left of the NFB.ca homepage, all the way underneath the daily feature (big image at the top) and new releases (film thumbnails in the middle are of the page.)
The channels are neat portals to explore our online film collection according to your interests. They are:
– Classics: world-renowned Oscar winners, Oscar nominees and classics
– Arts: a selection of films on the arts, including biographies of artists
– Kid's Movies: films for the young, and the young at heart
– The Green Channel: a close look at our world, the environment and sustainability
– Aboriginal Peoples: an in-depth look at important issues in Aboriginal communities
– Hot Topics: documentaries about current affairs and controversial stories
– Outside the Box: experimental films, humorous films and films that make you go "Wha…?"
– World: travel, foreign culture and Canadian activity in the rest of the world
– History: historically important films, and films about history
– HD: a selection of films from our online collection in glorious HD
And one more thing, whilst we're on the topic. Although we've introduced these 2 new ways of finding films, the more traditional way of finding online titles, i.e. the white SEARCH box on the top right hand corner of the homepage, has been giving us all kinds of grief lately – something for which we sincerely apologize.
Please know that we have a team of very devoted and very smart web ninjas working on this very issue as we speak and that finding films by simply typing them into our search engine should soon be as easy and pleasant as a stroll in the park. Thanks for your patience.