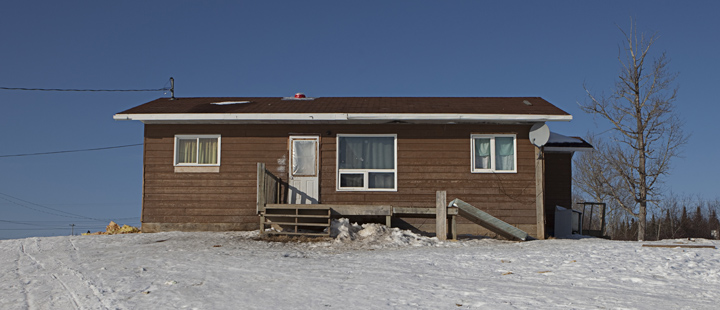 Welcome to God's Lake Narrows
This is a guest post by Gisèle Gordon, a multimedia artist, writer and programmer (Hot Docs, imagineNATIVE) based in Toronto.  In 1996 she co-founded the film production company Urban Nation with Cree artist and filmmaker Kent Monkman, www.urbannation.com.
Look at the map of Canada at the beginning of Kevin Lee Burton's new interactive piece, God's Lake Narrows and it's pretty clear: we live in Indian Country. But how many of us have ever been to a reserve? With 3,063 of them in the country, there's always one around the corner, but some of us might feel as though we need an invitation.
Here it is.
With his unerring instinct for building bridges between worlds, Burton, one of Canada's most innovative young media artists, takes us on an intimate, thoughtful journey to where he grew up: the remote God's Lake Narrows First Nation reserve in northern Manitoba. The screen door is open; it's up to us to step inside.
Burton repaints the picture of reserve life by framing arresting images with his frank and deeply personal writing, all underscored by a haunting, snow-crunchy soundtrack.  It's left to us to connect the dots between uncomfortable historical and statistical truths and real people in their living rooms. Think those pre-fab res houses all look the same? Look again: like a favourite pair of jeans, each is decorated and worn in a particular way — frayed, torn and perfectly moulded to those who call them home.
Satellite dishes, fishing boats, snowmobiles, moose antlers and ATVs personalize the exteriors of each house, eloquently articulating the collision of 24/7 television and traditional hunting culture. Inside the homes, reserve overcrowding takes on new meaning when we see a mattress jammed against the couch in the corner of a small living room.  Shadows of the reserve's recent Third World past still linger in the photos and Burton's text, but, as he reminds us, Lady Gaga lip-synching has found its way here.
Burton shares with us the complexity of his relationship to his reserve; as a young gay kid, life here wasn't always easy. But he could snare rabbits at lunchtime and Burton speaks his language — a rare and precious gift for someone of his generation.  There are differences between these worlds to be sure, but family is still family and home is still home.  Enjoy your visit.
Gisèle Gordon
Visit God's Lake Narrows here