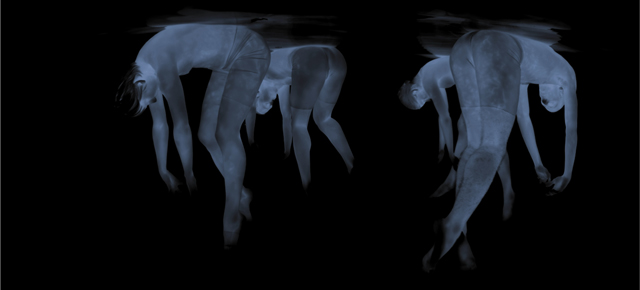 ORA: Innovative thermal 3D dance film to premiere at TIFF
The word is out: our brand-new dance film ORA will premiere at the Toronto International Film Festival (TIFF) this fall. We are very excited.
A terrific collision between dance and cinema, the film was directed by NFB Filmmaker-in-Residence Philippe Baylaucq with the collaboration of dancer and choreographer José Navas. The film marks the first collaboration between the 2 artists since Lodela (1996), another seminal NFB dance film.
In terms of storyline, ORA is an allegory inspired by Darwin's theory of evolution and the myths of Narcissus (the one about seeing your own reflection in the water and falling head over heels in love with it) and Prometheus (the one about being bound to a cliff and having a great eagle munch on your liver everyday as punishment for bringing the humans fire.)
Spawned from Baylaucq's will to work on "colour and movement", the narrative was further fueled by 3 questions posed by French painter Paul Gauguin, namely: Where do we come from?, What are we? and Where are we going?
Seeing the talent involved, that alone would've made for a very strong dance film, but there is more.
On one hand, the film was shot using infrared thermal imaging technology. This means the images you see in the film were captured by extremely sensitive cameras that can detect minute temperature variations. These cameras are very rare and their use is strictly limited to military, medical and scientific applications. ORA marks the first time this type of camera has been used to shoot a complete film. The image above (as well as excerpts from the making-of clip below) will give you an idea of what this ends up looking like. Ultimately, the image you see is body heat in motion.
On the second hand (and because this, after all, is the NFB), the film is also in stereoscopic 3D. The entire film was shot using 2 cameras placed side by side and synchronized (to mimic human eyes), which creates 3D experience. The effect is stunning. In interviews, the filmmaker says he wanted to "enter uncharted territory". I would go ahead and say he has.
Here's Baylaucq, discussing ORA:
It dawned upon us very early that this experience would be unique, and likely a world premiere; the first and maybe last film to have been shot without a single light source. No sun, no natural light. No electric light. The only source of light in the film were the dancers.