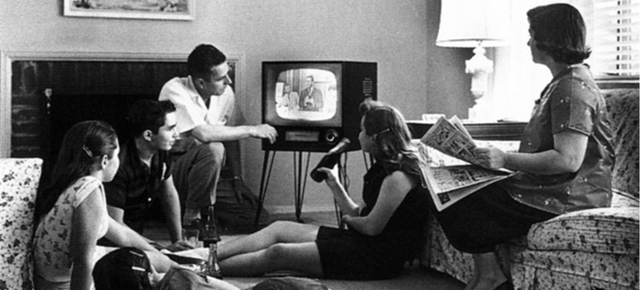 12 sites to watch films online for free
As much as we all nostalgically long for the days we patronized local video stores and supported independent neighbourhood theaters, one of the really cool thing about the age of the internet has to be watching films online, without having to leave the house or shelling a penny.
Because we, at the NFB, feel confident you would never abandon us for another streaming site (I mean, how could you), we decided to put together and share with you a list of destinations for watching films online. All sites in the following list are free; only one requires you become a member. Watch away friends, and by all means feel free to leave a comment if you see I've omitted a landmark. The internet being the beast we know,  it is highly possible I will have.
This site, currently in beta is in my opinion a better general/Hollywood movie site than veoh and OVGuide, where all I ever find is trailers or movie clips. Here you can watch full films for free. I repeat, full films for free! Also, bonus points for the Bollywood section.
MUBI is "an online movie theater where you watch, discover, and discuss auteur cinema". As opposed to other sites on this list, it requires you become a member before you watch films, but once you do, whoa, it's like Ali Baba's Cave in there. If you find yourself wondering what kind of stuff they have, remember it was founded by a group of friends asking themselves "Why can't you watch In the Mood for Love in a café in Tokyo on your laptop?" and "Why is it so hard to meet people who share the same love for Antonioni?" Fun fact: Scorsese's a member.
SnagFilms is a pleasant blue and grey platform offering tons of film to watch for free. From documentaries about Biggie and Tupac to the Secret Life of Cats, there's a lot to choose from. Most of the content is available to everyone, some of it is restricted to the US. Try your luck.
Internet Archive – Moving Images
Don't let the 1997-era web graphics fool you, this site is a real eldorado. The Moving Images arm (how retro) of the venerable Internet Archive, this site is a library containing "thousands of digital movies uploaded by Archive users which range from classic full-length films, to daily alternative news broadcasts, to cartoons and concerts." Many of the videos are also available for free download. To help you browse the goods, the site is separated into sub-collections; you can also check out their blog, which lists interesting titles by topic, such as Little Known Classics You NEED To Watch!, or, perhaps even more interestingly, Black History Month and Famous Banjos. Dig in.
Basically a very neat selection (420 films) of awesomeness for you to watch for free. I don't know about you, but I'm feeling these categories: Comedy & Drama, Film Noir, Horror & Hitchcock, Westerns & John Wayne, Silent Films, Documentaries and Animation.
This one's a bit more of a specialty destination. Catering to your inner cowboy, this site is a "A National Preserve or Documentary Films About American Roots Cultures", which in essence means a lot of down-south rodeo stuff and Navajo documentaries. Cowgirls: Portraits of American Ranch Women, anyone?
For your inner doc-watching politico, everything from Guantanmo, to tobacco companies, to dear lord, we really are destroying the planet, aren't we?
One thing I noticed putting this list together was that a lot of sites that say they offer free streaming actually just embed videos from around the web (Youtube, Google Videos, etc.). At first I thought that was a bit lame, but then I remember how much I despise trying to find anything on Youtube and how precious my life on this earth is, and I thought, hey you know what? These sites are pretty cool! Let them do the work!
Additionally to the ever so aptly named moviesfoundonline.com, here's a selection of sites that curate free online videos found elsewhere. They're all kind of the same, but also all kind of different. (You know how that works.) Check them out.
So that's pretty much it, folks. Happy viewing, and don't hesitate to comment below if you have a favourite site you'd like to share.
Updated on May 21, 2013:
Since publishing this post, we've gotten some suggestions of other sites featuring free content. One such site is another Canadian initiative called DocumentaryStorm.com. According to their About page, they are "dedicated to finding you free, full-length documentaries lovingly chosen from around the web. The main goal of this website is to share knowledge, spread ideas, and have fun."
Know of any other sites we can add to this list? Please leave the name of the site with a URL in the comment section below.