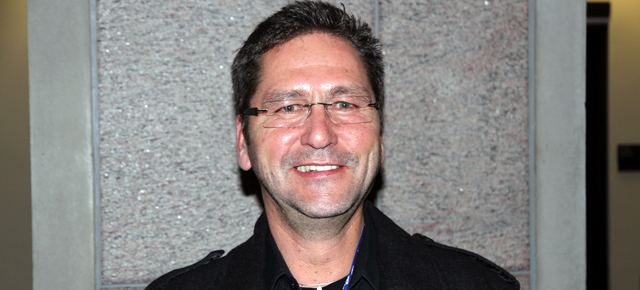 Stories from the world's largest Inuit film collection launch, pt. 1
Recently, on a beautiful fall evening in Ottawa, hundreds of people from across the country gathered at the National Art Gallery for the launch of Unikkausivut: Sharing Our Stories. We'd like to introduce you to some of them…
Daniel Pottle, the Minister of Finance of the Nunatsiavut government, is not like most politicians. Or rather, he's not like that stereotype we have of politicians. You know the one… a little aloof, slightly stiff, and overly concerned about saying the right thing.
When I met Minister Pottle I was struck by his warmth and sincerity.  And when I asked him how he felt after watching the 4 films that were screened at the launch, he made no effort to hide how truly moved he was.
"It's really humbling," he said, and his eyes were glistening. "There are so many emotions going on, it's really hard to describe.  It's just an honour to see Inuit of Canada finally showcased and brought to the fore of this country and have our role as Canadian citizens recognized. It's wonderful."
Daniel Pottle was thinking of his mother and father, and what this collection would have meant to them. "My parents were, like a lot of our people, denied their own culture, denied the ability to speak their own language, to be proud of who they were. They were made to feel inferior to other people." A collection like this, which celebrates that same culture and language, would have shown them "that we are just as special and unique and equal to everybody else in this country."
Of course, that's something the younger generation needs to hear too. Minister Pottle said these films will be important for his nieces and nephews, particularly the ones who don't live in Labrador. "It gives them another tool to learn about their history and who they are." And it's something tangible they can show their friends.
Now, some people might be daunted by the sheer size of the collection: 24 films spanning 70 years of Inuit life… but not Daniel Pottle.  When I asked him how long it would take him to view the whole thing he just shook his head and said, "I think I could sit and watch it all at once!"
* * *
Watch Unikkausivut films on NFB.ca
Buy the DVD box set
* * *
About guest contributor Elizabeth Robertson

Elizabeth's main gig is at CBC Radio. She loves playing with sound and has contributed to every single current affairs show in the province of Quebec. At the moment she's the associate producer of the network show C'est la vie where she likes to make documentaries and ask lots of questions. You may also have heard her work on 2 other excellent shows, Dispatches and Tapestry. Elizabeth was awarded a bronze medal at this year's New York Festival International Radio Awards for the narration of her documentary, Malcolm. She's been a fan of the NFB her entire life.