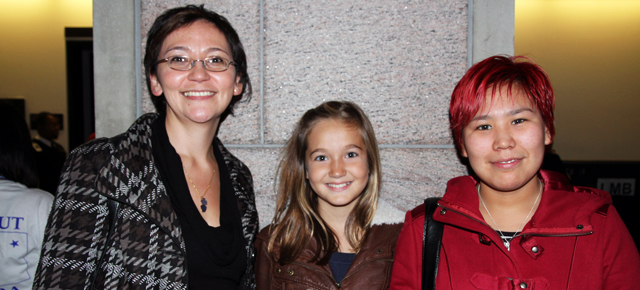 Stories from the world's largest Inuit film collection launch, pt. 2
Recently, on a beautiful fall evening in Ottawa, hundreds of people from across the country gathered at the National Art Gallery for the launch of Unikkausivut: Sharing Our Stories. We'd like to introduce you to some of them…
"It's just so exciting!"
Melissa Irwin was beaming from the moment she walked in the door.
Melissa is the communications officer for Inuit Tapiriit Kanatami (ITK), a national advocacy group representing the four Inuit regions: Nunatsiavut (Labrador), Nunavik (Northern Quebec), Nunavut, and the Inuvialuit Settlement Region in the Northwest Territories. Melissa played a significant role in putting together Unikkausivut: Sharing Our Stories. Her job was to make sure all 4 regions were represented in the collection.
Melissa came to the launch with her daughter, Amber, and her niece, Billie Jo. She really wanted her girls to be there: "They need to see films about who they are." Especially now. Melissa and her family used to live in Rankin Inlet. They moved to Ottawa 5 years ago when Melissa got the job with ITK. And they're enjoying their new life. But now that they're away from home, Melissa feels it's even more important for her kids to learn about where they come from.
And she's not just thinking about her own children. Melissa is thrilled the documentaries will be provided to Northern schools. "Inuit history is a part of Canadian history. And most of Inuit history is not in the school curriculum. Whatever we learn about our contemporary history is what we learn from our parents, from our leaders and from our teachers, not from a textbook. It's not written in our curriculum." According to Melissa, this collection will help fill that gap. "It's very valuable."
When Melissa went to high school in the mid-90s, "We had one Northern studies class and it was about 45 minutes twice a week." Teaching resources were minimal. Since then, the situation has improved but "we're not quite there yet." Unikkausivut is a big step in the right direction. "This series of documentaries is going to provide an amazing learning experience for our classrooms."
But changes to the education system happen so slowly. How does she keep from being discouraged? "You have to be determined. When you have high school drop out rates of 50 to 75 percent you have to just keep going. Being frustrated and giving up is not an option. So I think it's actually more fuel for determination, to work towards an education system that is relevant to our communities, our people our culture, and our language."
* * *
Watch Unikkausivut films on NFB.ca
Buy the DVD box set
* * *
About guest contributor Elizabeth Robertson

Elizabeth's main gig is at CBC Radio. She loves playing with sound and has contributed to every single current affairs show in the province of Quebec. At the moment she's the associate producer of the network show C'est la vie where she likes to make documentaries and ask lots of questions. You may also have heard her work on 2 other excellent shows, Dispatches and Tapestry. Elizabeth was awarded a bronze medal at this year's New York Festival International Radio Awards for the narration of her documentary, Malcolm. She's been a fan of the NFB her entire life.