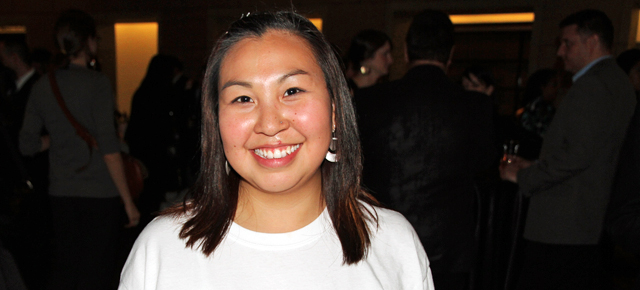 Stories from the world's largest Inuit film collection launch, pt. 3
Recently, on a beautiful fall evening in Ottawa, hundreds of people from across the country gathered at the National Art Gallery for the launch of Unikkausivut: Sharing Our Stories. We'd like to introduce you to some of them…
When I caught up with 21-year-old Valerie Kogvek, she'd just stepped off stage. Her cheeks were still rosy from singing and dancing. Valerie belongs to a troupe of dancers from the Nunavut Sivuniksavut Training Program that performed at the launch of Unikkausivut: Sharing Our Stories.
Nunavut Sivuniksavut is an 8-month program based in Ottawa. And it's pretty special. Young Inuit people from across Nunavut go there to learn about their history, culture and language, and prepare for higher education and employment. Valerie arrived in September. One of her goals is to become fluent in Inuktitut.
"I would love to learn my language," she says. When she was growing up, Valerie only spoke English. "My grandmother raised me and she only talked to me in English." But she doesn't blame her grandmother for not teaching her Inuktitut. Valerie admits that at the time, she just wasn't interested. But that's changed. "Today, I feel guilty inside for not trying hard enough when I was a child."
Now Valerie has friends who speak mostly Inuktitut. And she wants to join the conversation.
I asked Valerie if the films of Unikkausivut will help her learn her language. She was emphatic: "Yes," she said, "it will help me a lot."
When Valerie finishes the program in Ottawa, she'd like to move to British Columbia to study geology. Because, as she told me, when she was in grade 6, "I fell in love with rocks!" Becoming a geologist will also allow Valerie to move back home and work in Nunavut's growing mining industry. "It's a part of our North now."
* * *
Watch Unikkausivut films on NFB.ca
Buy the DVD box set
* * *
About guest contributor Elizabeth Robertson

Elizabeth's main gig is at CBC Radio. She loves playing with sound and has contributed to every single current affairs show in the province of Quebec. At the moment she's the associate producer of the network show C'est la vie where she likes to make documentaries and ask lots of questions. You may also have heard her work on 2 other excellent shows, Dispatches and Tapestry. Elizabeth was awarded a bronze medal at this year's New York Festival International Radio Awards for the narration of her documentary, Malcolm. She's been a fan of the NFB her entire life.