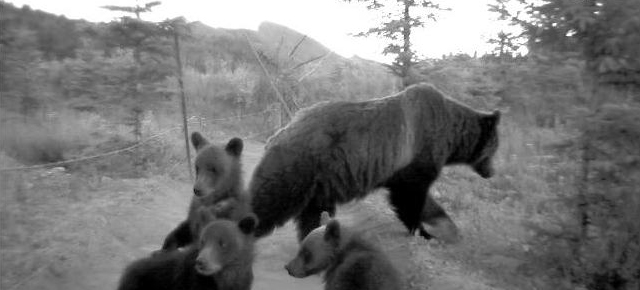 2 Ways to Experience Bear 71 at DOXA
Early this May, Vancouver's DOXA Documentary Film Festival will offer 2 different ways to experience our Webby-nominated project, Bear 71 .
On Friday, May 4th – DOXA's opening night – Bear 71 will be projected on a large screen as co-creator Jeremy Mendes navigates through the site, accompanied by the narration track of actress Mia Kirshner and live music by cellist Heather McIntosh. After the presentation, there will be a performance by electronic musicians and sound artists Loscil and Tim Hecker, whose music appears in Bear 71. The event is historic: it will mark the first time the Vancouver festival's opening night features an interactive project instead of a film. Tickets are $20.
The second event is a NFB Interactive Installation, presented at the Roundhouse Community Centre May 10-12. A smash hit at Sundance, the Bear 71 installation incorporates large-screen projections of the interactive documentary along with an augmented reality app that allows users to explore the bear's world using a tablet. The experience also includes 2 remote trail cams set up in high traffic areas outside the main installation. Admission is free.
The installation is free and open to the public.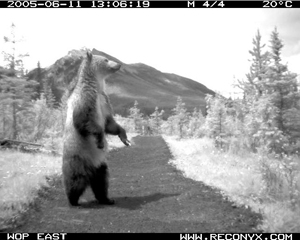 Tracing the life of a mother grizzly bear in Banff National Park, Bear 71 is an exploration of the fraying frontier between the wild and the wired. As every piece of footage used in the project was captured via motion-triggered trail cameras, and later quilted together to form a (poignant) narrative, the project also surveys our relationship to surveillance: how do we feel about watching someone who doesn't know he's being watched? And more to the point, how do we feel about being watched, period?
Co-created by Leanne Allison (Being Caribou, Finding Farley), and Vancouver artist Jeremy Mendes, Bear 71 features a script by J.B. MacKinnon (The 100 Mile Diet) narrated by Canadian actress and social activist Mia Kirshner.
MORE