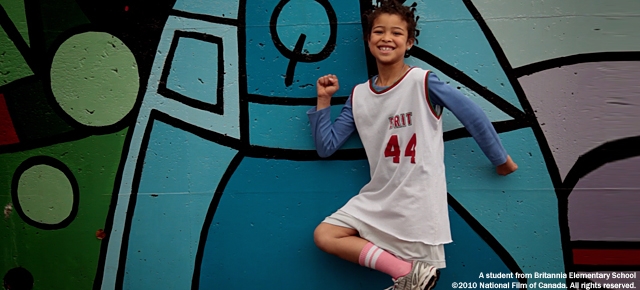 Inspire your class with the Harry Jerome Virtual Classroom
Imagine, a professional athlete in your classroom!
What connects Canadian track hero  Harry Jerome and professional football player Brian Nugent? Well, courage, passion and dedication are just a few of the traits these accomplished athletes share. And while Brian never knew Harry personally, he can definitely relate to his life and challenges. Meet both of these inspiring athletes – one through watching the film, Harry Jerome: The Fastest Man on Earth, and the other, Brian Nugent, live in our upcoming virtual classroom!
The National Film Board of Canada, Physical and Health Education Canada, and Motivate Canada are thrilled to invite you to join us for an interactive event – the  Harry Jerome Virtual Classroom. Professional football player, ESTEEM Team Athlete Role Model, and leadership trainer, Brian Nugent is just a click away and eager to engage with your students (ages 9–12) about his personal and professional journey as an international athlete via a virtual classroom (online webcast) on June 5 at 1:30 p.m. EDT. Act now—registration closes May 18, 2012!
To participate in this event:
Purchase the digital download (DTO) of the 10 minute film Harry Jerome: The Fastest Man on Earth & register for the event
Using the educator's guide that accompanies the film, watch it with your students and formulate questions to ask Brian
Send your questions to virtualclassroom@nfb.ca BEFORE May 23rd, 2012
We will notify students and teachers whose questions are chosen and invite them to participate in a technical test (video and audio)
All participating classes will be invited to participate in a short technical test to ensure their school has the technical capacity to participate
We will send you all log-on information for the technical test and the log-on information for the day of the event by e-mail, in advance
To purchase the film and register – click HERE
For more information and technical FAQs, see below:
About the film
Canadian Harry Jerome overcame racism to reach the heights of track-and-field success. When an injury threatened to end his career, Jerome trained diligently and went on to achieve one of the greatest comebacks in sports history.
Made especially for elementary and middle-school classes, Ileana Pietrobruno's film features two young students who guide us through Jerome's life, the challenges he faced and his legacy, which includes the Harry Jerome International Track Classic, an event that brings together youth and adults in a celebration of track and youth fitness.
About Brian Nugent
A very popular and thought provoking speaker, Brian Nugent's background as a successful pro-football player and businessman gives him an abundance of life experiences to share with people looking to become better in all aspects of life. Brian shares his experience from his time as a youngster growing up in Brampton, Ontario to graduating from York University and becoming the first player in the school's history to be drafted in the 1st round to the Canadian Football League.
After being drafted, Brian went on to play as a wide-receiver with the Toronto Argonauts, Calgary Stampeders and Montreal Alouettes of the CFL and the Indianapolis Colts of the NFL.
As a former actor on both stage and film, Brian can be seen on many television shows such as Off the Record, The Grill Room, and Rogers TV. Brian has a unique background and his focus, determination, and 'never say die' attitude is infectious as he hopes to inspire people of all ages with his stories.
How does Download to Own (DTO) work?
Click the Download to Own button to purchase the film. Download to Own (DTO) means you are downloading the film to the device of your choice (computer, hard drive, tablet, etc.). You don't need to worry about a DVD skipping or the streaming quality of an online video—the film will be cued and ready to go whenever you want to screen it. There are a few things to note:
1) The price is $69.95 and includes all public performance rights (which allows you to screen it for groups), registration for this event, and a comprehensive study guide
2) This file can be downloaded to a maximum of three (3) devices and/or DVDs.
When you purchase the film you will be asked to provide basic information about yourself (name, address, e-mail address, etc.). Please note that the e-mail address you provide will be used for all future correspondence related to this event. You are now registered!
You will receive an e-mail from the team at the NFB thanking you for your registration with further instructions related to the event.
All participants are required to take part in a tech test the week of May 28, 2012. We will use this time to ensure that all classes are able to connect and troubleshoot any issues. We recommend one sign-on per school.
Basic tech requirements:
Windows 2000, XP, 2003, and Vista

Internet Explorer 6/7/8
Firefox 2/3
Chrome 1
JavaScript and cookies enabled
Recommend ActiveX be enabled for Internet Explorer
Intel or AMD processor (1GHz or faster)
At least 512 MB RAM (at least 2 GB RAM for Vista)

MAC OS X 10.4, 10.5

Safari 3
Firefox 2/3
JavaScript and cookies enabled
Requires Apple Java 5 or higher
No support for Remote Access
PowerPC G4/G5 or Intel processor
At least 512 MB RAM
Do I need a wired Internet connection?
Yes. Your computer will be receiving large amounts of streamed video during the webinar, so a wired connection is best. You may experience choppy video with a wireless Internet connection.
Do I need to have access to a phone?
Only if you won't be using your computer's speakers (or external speakers connected to your computer) to listen to the event audio.
REGISTRATION CLOSES MAY 18 and the final date to submit questions from your students is May 23, 2012.
Please send any questions you may have about this event to virtualclassroom@nfb.ca